CESI Modeling Project 01-11
Plant Community Parameter Estimates and Documentation for the
Across Trophic Level System Simulation (ATLSS)
Paul R. Wetzel

Restoration managers rely upon high-quality model simulations to evaluate proposed projects prior to their design and implementation. The Across Trophic Level Systems Simulation (ATLSS), which covers the better part of the Greater Everglades Ecosystem, is a set of models which utilizes three distinct approaches for modeling several trophic levels of the ecosystem.
Following extensive literature reviews, this CESI-funded project developed simple succession models for 31 plant communities covered in ATLSS. These models incorporate the effects of both fire and hydrologic disturbances over 20 to 50 year periods.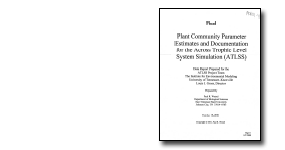 Final Report
(PDF, 1.3 MB)
Contact the principal investigator directly with questions about this study.
Last updated: April 14, 2015