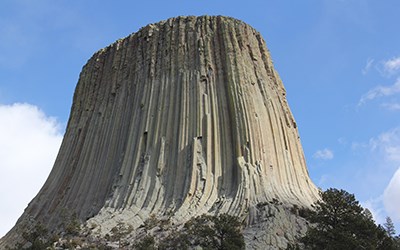 General Information
How tall is Devils Tower?
Devils Tower is 867 feet from its base to the summit. It stands 1,267 feet above the Belle Fourche River and is 5,112 feet above sea level.
How big is the summit of the Tower?
It's approximately 1 1/2 acres, about 180 feet by 300 feet. (About the size of a football field.)
What is it like on top?
The summit is slightly dome shaped and rocky, with native grasses, cactus, and sagebrush. Chipmunks, mice, pack rats and the occasional snake are found on top.
How far is it around the Tower?
The circumference of the base of the Tower is 1 mile. The Tower Trail is 1.3 miles (2 kilometers).
Why is it called Devils Tower?
The name "Devils Tower" originated during an 1875 scientific expedition. The Army commander in charge of the military escort,
Col. Richard Dodge
, wrote that "the Indians call the shaft "Bad God's Tower," which he modified to "Devil's Tower." The earliest official maps of the area label the formation as "Bear Lodge," which is a direct translation of the Lakota name
Mato Tipila.
Other American Indian names include Bear's Tipi, Home of the Bear, Tree Rock and Great Gray Horn.
Some contend that Col. Dodge simply got a bad translation of the indigenous name; others say it was an intentional renaming. The truth is lost to history. When President Theodore Roosevelt declared the site as the first national monument in 1906, Devils Tower was used as the appelation and the name became official. A clerical error resulted in the lost possessive apostraphe (i.e. "Devils Tower" instead of "Devil's Tower").