Campgrounds
Campground Opening/Closing Information
The Belle Fourche River Campground is open for the 2017 summer season.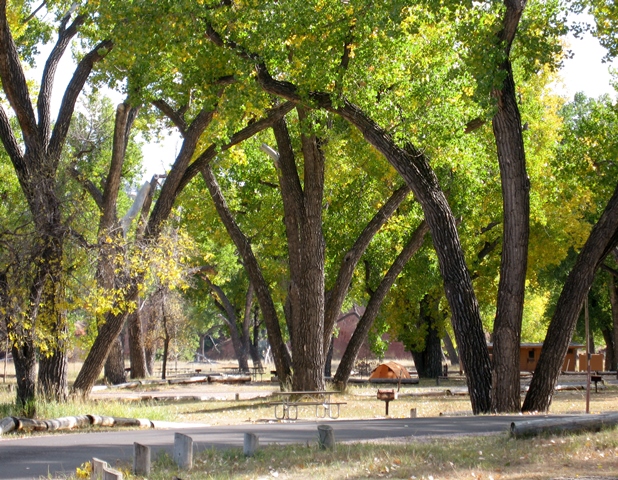 Belle Fourche River Campground
The Belle Fourche River Campground, open May through October (weather permitting), is a 2-loop, 50-site campground with 4 accessible sites and 3 group sites available. Potable water is available throughout the campground and in the restrooms. Picnic shelters and picnic tables are available just north of the campground
No reservations are available for this campground. Occupation is first-come, first-served. Camping is permitted only in established sites. There is a 14 day limit on occupancy.
The 50 sites include pull-thrus with room for RVs up to 35'. No hookups are available.

4 Accessible sites: A2, A4, B11 and B25.

3 Group Sites: B9, B10, and B12.
Camping Fees:
Individual Sites - $20.00 per night, per site.
Group Sites - $30.00 per night, per site.
This campground is a self-register campground. Select a vacant site and pay at the registration area at the entrance to Loop A. Complete a fee envelope and deposit in the fee tube within 30 minutes of arrival. Retain the envelope receipt and clip it to your numbered site post. Pay only for the nights you plan to camp. Refunds are not available.

Check out time is 12 noon. If staying another night, re-register by 11:30 am.
Camping Regulations:
Individual Sites: limited to 8 people and 2 autos or 4 motorcycles. A maximum of two tents per site is permitted.
Group Sites: 10 people minimum; limited to 20 people and 4 vehicles. A maximum of 8 tents per group site is permitted.
Camping is limited to 14 days within a 28 day period. Sites may not be left unattended for over 24 hours.
Quiet hours are from 10 pm to 6 am. Activities must be kept to a level that ensures noise does not disturb other campers. Generator use is permitted from 8 am - 8 pm.
ALL vehicles, including trailers, must be parked in designated parking areas, not on vegetation.
Attaching, suspending, or tying any item from trees which may damage bark or limbs, including swings, hammocks, and slack lines, is prohibited.
Pets are allowed only in the campground, picnic area, roads, and parking lots. Pet owners must pick up after their pets and dispose of waste in a trash receptacle.
Food Storage and Sanitation:
Food must be stored in a vehicle or hard-sided lockable container. Feeding wildlife is strictly prohibited.
Do not leave trash unattended. Dispose of all trash in dumpsters. Leave campsites free of litter.
It is prohibited to use campground faucets or restrooms to wash dishes, clothing, prepare food, or bathe.
Used dishwater must be dumped in the camper service sinks.
Fires and Firewood:
Wood gathering is prohibited in the park. Firewood is available at campground entrance for no charge.
Fires are only allowed in fire grates at each site. Do not leave fires unattended.
During fire restrictions, check with a park ranger or camphost for additional information.
Fireworks are prohibited in Devils Tower National Monument.
Camping Outside the Park
Camping at Devils Tower National Monument is only available in established sites at the Belle Fourche River Campground. Other accomodations are available outside of the park. For ideas on developed campgrounds and/or hotels, see our Eating & Sleeping page; for primitive camping, consider the Black Hills National Forest. The forest has several designated campgrounds and is also open for dispersed camping (Note: closest camping areas will be in the "Northwestern Hills - Sundance" region.)