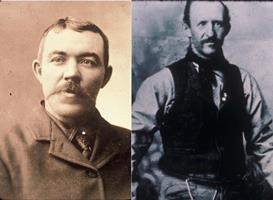 In 1890, a local rancher named Bill Rogers boasted to his brother-in-law, "I'll be on top of the Tower before three years." Like most people with good sense, his brother thought Rogers sure to meet his demise in the undertaking. Rogers, however, was not to be underestimated.
Forming an Idea
The early 1890s saw an economic downturn for the ranching industry. Bill Rogers and his new business partner, Willard Ripley, would talk about Rogers' idea of climbing Devils Tower. They felt that an accomplishment like this could surely draw a crowd and make them some money. Ripley's father supported the idea, and the three men worked to formulate a plan for making it to the summit. In 1893, they were attempting to fly a large kite over the top of the Tower; the idea was to use the kite string to haul a rope over the Tower to aid their climb.
When the kite became stuck in one of the Tower's cracks, a new plan had to be formed. While they were attempting to dislodge their kite, Rogers and Ripley noticed the crack it was stuck in seemed to go from the base of the Tower clear to the top. This crack was to be their path to the summit.