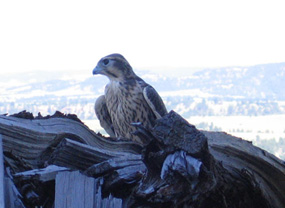 Currently, the west face and southwest shoulder, as well as the corresponding edges of the summit, are closed to climbing activities. This includes routes from "Good Holds for Godzilla" (#135) to "Accident Victim" (#182). Download the closure notice here.
Annual closures
Nesting Falcons
Some routes are annually closed in order to protect nesting prairie or peregrine falcons. Routes are frequently closed
between March and July
. During this time nesting activity is monitored by park staff. Routes will be reopened when no nesting activity is observed. Climbing near raptor nests stresses the birds and often leads to chick death. Defensive raptor behavior is also potentially dangerous for climbers. Please check for route closures when you register to climb. Rangers will strictly enforce these closures.