Current Climbing Closures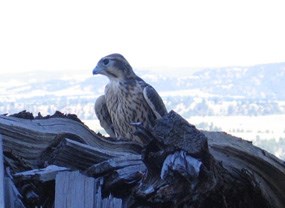 Annual closures
Nesting Falcons
Some routes are temporarily closed each spring in order to protect nesting prairie and peregrine falcons. Routes on the west face of the Tower are closed April 1 through July. During this time nesting activity is monitored by park staff. Routes will be reopened when no nesting activity is observed and/or falcons fledge. Climbing near raptor nests stresses the birds and often leads to chick death or nest abandonment. Defensive raptor behavior is also potentially dangerous for climbers. Please check for route closures when you register to climb - they will be posted on the registration kiosk. Rangers will strictly enforce these closures.
2020 Temporary Climbing Route Closure to Protect Nesting Falcons
Effective April 1, 2020 a number of climbing routes on the west face of the Tower are closed to protect nesting sites and habitat for falcons. Specific routes will be posted here and at the climber registration kiosk near the visitor center starting April 1. Please continue to monitor and abide by all climbing regulations.Routes will reopen once chicks fledge or biologists note that nests are no longer being used. Typically this occurs by July.
June Voluntary Closure
Each year, a voluntary closure is in effect June 1-30 to respect American Indian cultural values associated with the Tower site. This closure applies to the entire zone inside of the paved Tower Trail loop, and includes climbing, rock scrambling, and hiking.
A Balancing Act
The National Park Service (NPS) must balance multiple views and uses of Devils Tower National Monument. The Tower is both a traditional cultural site for indigenous people and a world-famous rock climbing destination. When the monument developed its Climbing Management Plan (CMP) in 1995, a major component was a voluntary closure to all travel inside of the Tower Trail during the month of June.
What is the Voluntary Closure?
NPS asks visitors to refrain from entering the area inside of the paved Tower Trail loop during June. This closure is a personal choice for each visitor; there are no fines or citations given to those who choose to enter the closure area. A "voluntary" closure was agreed upon by a work group which included climbers and tribal representatives.
Why June?
The summer solstice occurs in June, and is a culturally significant time for many of the American Indian tribes associated with the Tower site. Although not tied directly to cultural ceremonies at the Tower, June was chosen as a compromise in a modern world. Visitors may not see actual ceremonies taking place this month. Regardless, traditional cultural use of the Tower often increases during the summer. Ceremonies are private functions which often require quiet and solitude.
American Indians have regarded the Tower as a sacred site long before climbers found their way to the area. Tribes have expressed concerns about recreational climbing at Devils Tower. Some perceive climbing on the Tower as a desecration to their sacred site. It appears to many American Indians that climbers and hikers do not respect their culture by the very act of climbing on or near the Tower.
Success with Your Support
Although voluntary, this closure has been very successful - resulting in an 80% reduction in the number of climbers during June. NPS advocates this voluntary closure to promote understanding and encourage respect for the cultures of the American Indian tribes associated with the Tower.
Last updated: March 12, 2020