Current Climbing Closures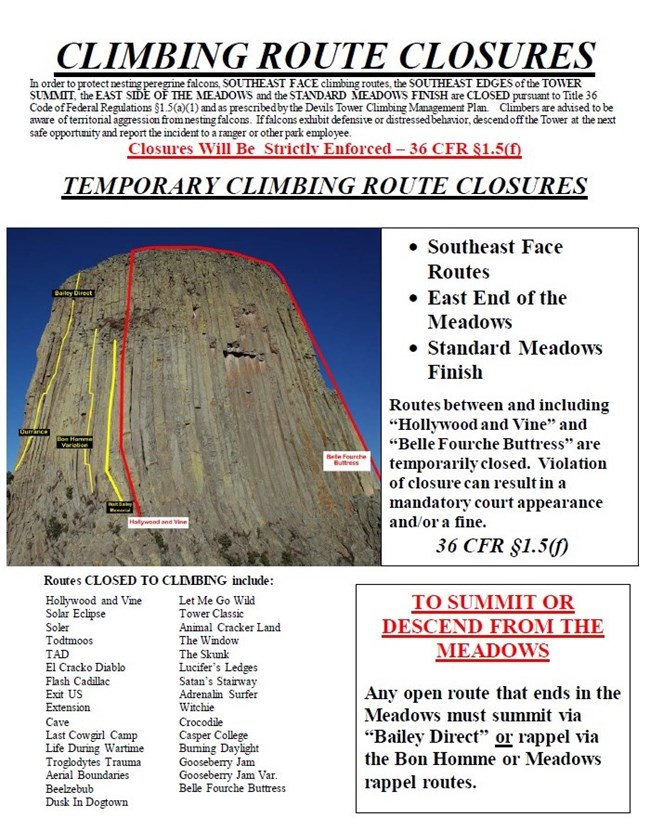 2021 Temporary Closures
Falcon nesting closure in effect: Rock climbing routes on the southeast face and the southeast edges of Devils Tower summit will be temporarily closed effective immediately to protect nesting Peregrine and Prairie Falcons. The closure is implemented annually to provide the falcons with an undisturbed nesting location during this critical courtship and nest-selection period. The presence of climbers near falcon nests can be distressing to parent birds and disturbance from climbing activities may force falcons to abandon eggs or chicks. The closure is also implemented to protect climbers, as falcons are known to defensively dive in order to protect their nests. Climbers are asked to report any defensive falcon behavior to park staff. The climbing routes affected by the closure are between "Hollywood and Vine" and "Belle Fourche Buttress" (numbers 39 - 68 in the 2004 DTNHA Devils Tower National Monument Climbing Handbook). Route closures will be posted at the climber registration kiosk near the visitor center. Over one hundred climbing routes remain open for climbing.Climbing routes will remain closed until the young falcons fledge and are no longer dependent on the nest location or if the nesting falcons move to another location. Park staff monitor falcon activity and the closure area may be moved, extended, or rescinded depending on nesting and fledgling activity. "The closure of these routes to protect falcons is strictly enforced," said Resource Program Manager, Russ Cash. "Climbers play a critical role in the success of falcon nesting at Devils Tower. Please report any nests or observed falcon behavior to a park ranger and remember that all climbers must register before beginning an ascent of the Tower."
---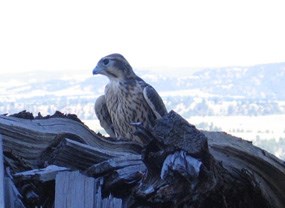 Annual Closure for Nesting Falcons
Some routes are temporarily closed each spring in order to protect nesting prairie and peregrine falcons. During this time, nesting activity is monitored by park staff. Routes will be reopened when no nesting activity is observed and/or falcons fledge. Climbing near raptor nests stresses the birds and often leads to chick death or nest abandonment. Defensive raptor behavior is also potentially dangerous for climbers. Please check for route closures when you register to climb - they will be posted on the registration kiosk. Rangers will strictly enforce these closures.
Voluntary June Climbing Closure
Observance of the voluntary June closure helps balance Native American cultural and ceremonial values, with the status of the Tower as a world-class destination for rock climbers.The June voluntary climbing closure was selected as part of the Devils Tower Climbing Management Plan by a working group that included two climber organizations, two Native American organizations, and other agency and local government representatives. During the month of June climbers are strongly encouraged to consider enjoying the many other climbing options available in northeast Wyoming and the Black Hills area of South Dakota.
I don't see any ceremonies, is it still discouraged to climb?
The voluntary June closure is not tied to the visible presence of affiliated Native American tribes ceremonies at the Tower. These ceremonies occur many days throughout the year, and in various areas throughout the Monument. These ceremonies are spiritual, private, and may not be visible to visitors. Maximizing compliance with the voluntary closure is necessary to achieve balance and foster respect between American Indian cultural values and climber access.
Why is climbing discouraged, but not other recreational activities?
Entering the boulder field, including technical rock climbing, is perceived by some to be in direct conflict with the Tower as a sacred site. One of the key elements of the Climbing Management Plan is balancing the validity of perspectives and uses by affiliated Native American tribes and climbers. The voluntary closure includes all visitors above the Tower loop trail, not just rock climbers.

Why is the closure voluntary, not mandatory?

After collaboration with the Climbing Management Plan working group, the closure was designed to be voluntary in order to give climbers and other visitors the opportunity to educate themselves about the cultures of Northern Plains tribes and choose to show their respect.


Where else can I go rock climbing in June?
There are other outstanding crags—like Spearfish Canyon, SD; the Needles of Mt. Rushmore, SD; the Needles of Custer State Park, SD; Tensleep Canyon, WY; and Vedauwoo, WY —a short drive away that provide plenty of opportunities for high-quality summer climbing in the region.
The Access Fund, a climber advocacy and access organization, supports compliance with the voluntary June climbing closure as a means to:

• Promote understanding and encourage respect for the culture of the numerous
Native American tribes who are closely affiliated with the Tower as a sacred site.

• Promote and advance self-regulation by climbers rather than more restrictive options.
Last updated: June 5, 2021