Ranger Programs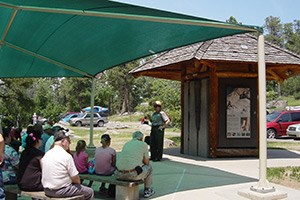 Ranger programs start Friday, May 24 and run through Labor Day (first Monday in September), with limited programs offered through September. Below are the ranger programs for this summer:
10:00 am - Guided Hike, Tower Trail - Join a ranger for a guided walk around the base of the Tower. Meet at the kiosk outside of the visitor center.
1:00, 2:00, 3:00, and 4:00 pm - Ranger Talks - Park staff present a 20-minute talk; topics vary by presenter, and include geology, climbing, park stories and more. Meet at the kiosk outside of the visitor center.

Starting Friday, June 7, we will add a daily talk at 12:00 pm

8:00 pm Evening Program - A 45-minute program on a topic of the presenter's choice. Includes guest presenters on select Fridays and Saturdays throughout the summer. Meet at the park amphitheater, walking distance from the campground.
Astronomy Programs
Devils Tower National Monument will offer several night sky programs throughout the summer. Remember that the park is open 24 hours a day, and you are welcome to enjoy the night skies any time between sunset and sunrise! The programs below will feature park staff and telescopes to guide you in your night sky viewing. Unless otherwise noted, astronomy programs will start at 8:00 pm in the amphitheater.
August 29: Join a ranger for a short presentation followed by galaxy exploration (via telescope!)
September 21: Join a ranger for a short presentation followed by galaxy exploration (via telescope!)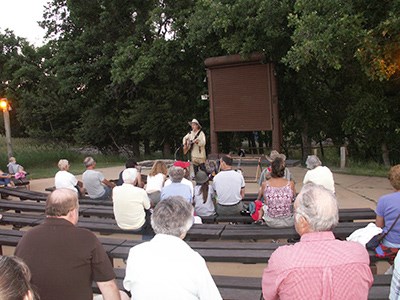 Summer 2019 Special Presenter Series
Every year, Devils Tower National Monument and the Devils Tower Natural History Association host a series of special presentations at the park. Unless otherwise noted, presentations start at 8:30 pm in the park amphitheater.
May 31 and June 1:

Lyle Miller, Lakota artist, will present about how his Lakota heritage is reflected in both his art work and the Tower site.
June 7 and 8: Indiana Bones, "Keeper of Legends" an Emmy award winning writer, producer and performing artist combining archaeology, action, adventure, ancient legends, mythology and folklore. Indy thrills and educates audiences with his unique storytelling abilities.
June 14 and 15: Kevin Loche is a Lakota and Anishinaabe flute player and hoop dancer, as well as a traditional storyteller, cultural ambassador, recording artist and educator.

June 21 and 22:

Gigi Love is a singer/songwriter whose music is inspired by our national parks. Gigi will also be performing during the day on Sunday at the Old Settlers' Picnic.
June 29 and 30: Willie LeClair, Eastern Shoshone from Riverton, Wyoming is a traditional dancer continuing the tradition of the warrior, wearing the eagle feathers of past days.
July 5 and 6: Meet President Theodore Roosevelt as he describes his life and the conservation and preservation measures taken to make Devils Tower the first national monument. President Theodore Roosevelt, portrayed by Mr. Gib Young, declared Devils Tower as America's First National Monument in 1906.
July 12 and 13: Join Buffalo Bill Boycott and Dr. Jo as they present a live musical performance with exciting western songs about Cowboys, The Oregon Trail, The Transcontinental Railroad, Lewis and Clark, Stories in Traditional Native American Indian Sign Language, Cowboy Poetry and World-Class Yodeling. Composer/Performers Bill Boycott and Dr. Jo.
July 19 and 20: Enjoy the lively cowboy poetry and music of Chance Dennis as he presents western life in the Black Hills.
July 26 and 27: Phillip Whiteman Jr., Northern Cheyenne, will share the traditional arts of storytelling, song and dance, and horsemanship to reconnect tribal communities with their histories, cultures and ways of being.
August 9 and 10: Chance Ensemble invites you to take a walk in the woods with the words of John Muir. A musical landscape will surround you, excite you to follow around the next bend, and deliver you to a deep appreciation for one of our country's most influential naturalists. Composer/Performers Cheryl Leah and Ed Willett
August 16 and 17: The Whitebull Dancers visit the Tower again to share their Northern Arapaho culture. Enjoy traditional dances and regalia for an evening of entertainment.
August 23 and 24: Robert Dennis presents cowboy poetry and music from a lifelong love affair with the Black Hills.

August 30 and 31:

Will Buckman, a former park ranger and current local climber, will share his stories about how climbing a strange rock in his backyard led to a life adventuring outdoors.
Last updated: August 12, 2019