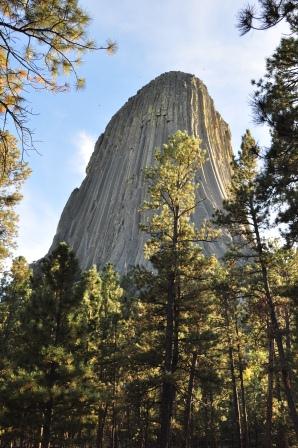 Devils Tower rises 1,267 feet (386 m) above the Belle Fourche River. A sacred place to over 20 Native American Tribes, Devils Tower is also known as
Mato Tipila
or Bear Lodge. Devils Tower is such a special place that in 1906, President Theodore Roosevelt made this America's first national monument.
Things to Do at Devils Tower:
Check out the exhibits and the bookstore in the Visitor Center
Visit Prairie Dog Town

Tower Trail 1.3 mi (2 km)

Red Beds Trail 2.8 mi (4.5 km)

Joyner Trail 1.5 mi (2.4 km)
Know Before You Go

Here are some useful reminders to help maximize the safety and enjoyment of all park visitors:
1. When walking the trails, take plenty of water and wear comfortable walking shoes.
2. All plants, wildlife, and archeological artifacts are protected. "Take only pictures, steal only time, leave only footprints" ~author unknown.
3. Be respectful of this quiet place. Voices and noise travel long distances here.
4. Traditional cultural landscapes are protected places. Please do not disturb prayer bundles.