Hiking Trails
Hiking in the park is a great way to explore and enjoy Devils Tower National Monument. Although limited in quantity, the quality of our trails and views surprises many of our visitors. Most trails are easy to follow, and junctions are marked, but it is recommended visitors take their park brochure/map with them, as well as water, snacks, first-aid kit and other necessities for hiking.
Please note that pets are not allowed on the trails at Devils Tower National Monument. You may walk your pet around the campground, picnic area and visitor center parking area. All pets must be on a leash; please pick up after your pet.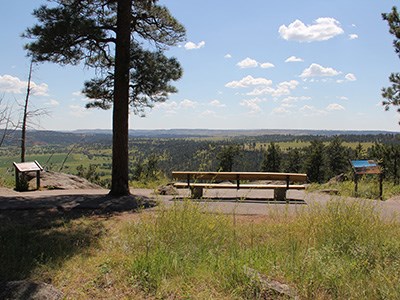 Tower Trail
The most popular hike in the park is the paved, 1.3-mile Tower Trail. It starts across the parking area from the Visitor Center. A short, steep section leads to you a junction that you can take either way to walk around the base of the Tower. The trail goes through ponderosa pine forest and the boulder field. Interpretative signs explain some of the geology and ecology of Devils Tower National Monument. You will find benches along the path to enjoy views of the Tower.
As you walk the Tower Trail, you will notice cloths or small bundles attached to the trees. These are Native American prayer cloths, and represent the spiritual connection many tribes have with the Tower. Please do not touch, disturb or remove these prayer cloths. Some consider it culturally insensitive to photograph these prayer cloths.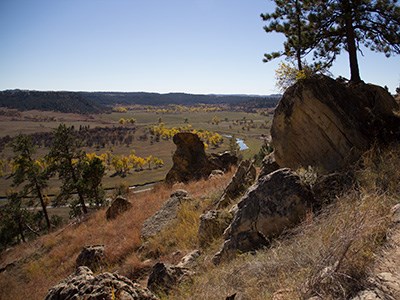 Red Beds Trail
For those seeking a more traditional hiking experience, the 2.8-mile loop of the Red Beds Trail will offer great views of the Tower and surrounding Belle Fourche River valley. You can access this trail from the Visitor Center parking area, or connect to it from one of the other park trails. Parts of this trail are steep, as it climbs up and down between the river valley and Visitor Center.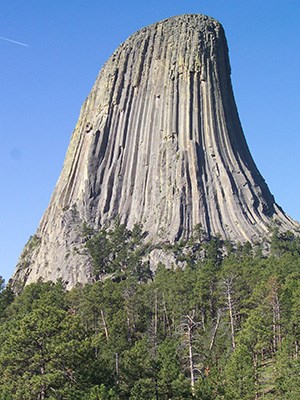 Joyner Ridge Trail
Along the north boundary of the park is a 1.5-mile loop trail that follows Joyner Ridge and dips down into the draw below the ridge. One of the more scenic but less utilized trails in the park, Joyner Ridge Trail provides beautiful views of the Tower, especially around sunset. Access the trailhead by taking the dirt road from the main park road as you head to or leave the Visitor Center. A 0.6-mile connector trail links Joyner Ridge with Red Beds. The east end of this trail has a significant elevation change, dropping from or climbing to the ridge depending on your direction.
South Side / Valley View Trails
Both of these trails start from the amphitheater and proceed through the prairie dog town 0.6 miles to link into the Red Beds Trail. A nice 1.5-mile circuit can be made from the amphitheater by using a section of Red Beds.
Last updated: August 1, 2018