Hiking Trails
The five trails in the park provide excellent views of Devils Tower and allow for adventures of all lengths and expertise. All park trails are connected and can be combined to fit your needs. Pets are not allowed on any park trail.
Essential Essentials
While we recommend carrying all of the 10 Essentials, during this time we emphasize having supplies to keep your hands clean, a first aid kit, extra water and a park map.
Practice Leave No Trace Ethics
You should follow all Leave No Trace practices, but we specifically enourage you to:
Plan ahead. Know which areas are open in the park, check the weather beforehand, wear proper clothing and bring everything you will need with you.

Be considerate of others. Maintain physical distancing, cover coughs and sneezes, and step off trail to maintain distancing while passing others.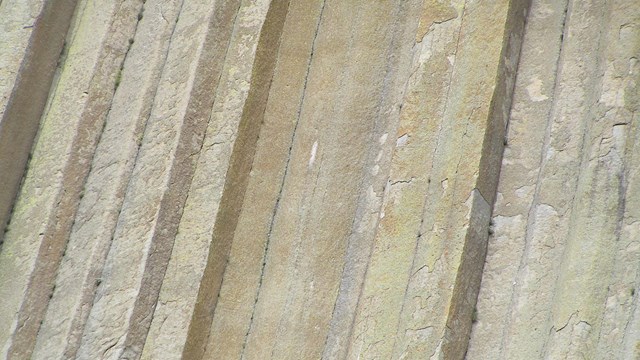 Current Conditions
Updated COVID-19 information, including what's open in the monument.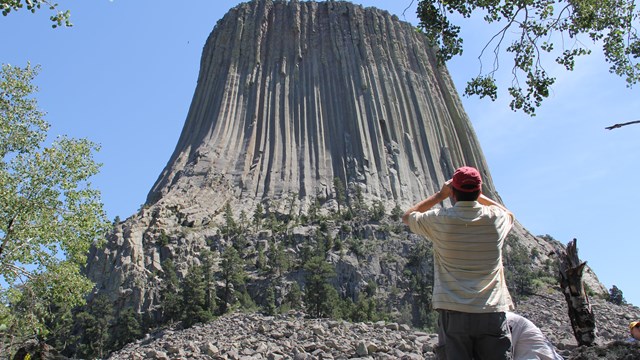 Park Map
Find your way around the monument.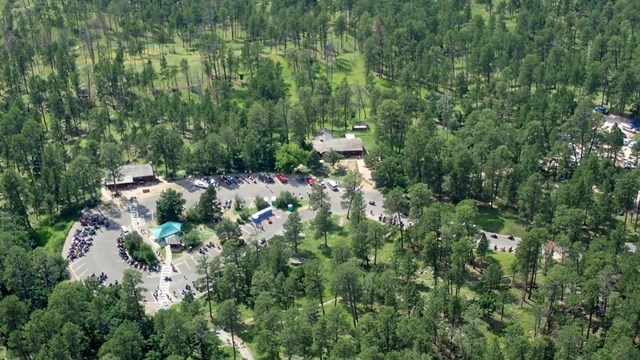 Finding a Place to Park
Parking is limited, especially for long vehicles.
Suggested Hikes to Avoid Parking at the Visitor Center
Whether you're here for an hour or an afternoon, take advantage of all that Devils Tower has to offer! Due to limited parking available at the visitor center lot, here are some great hikes that begin from the picnic area lot.
Less-Traveled Trails
Practice social distancing with a hike on our quieter trails. These hikes offer solitude as well as spectacular views of the Tower.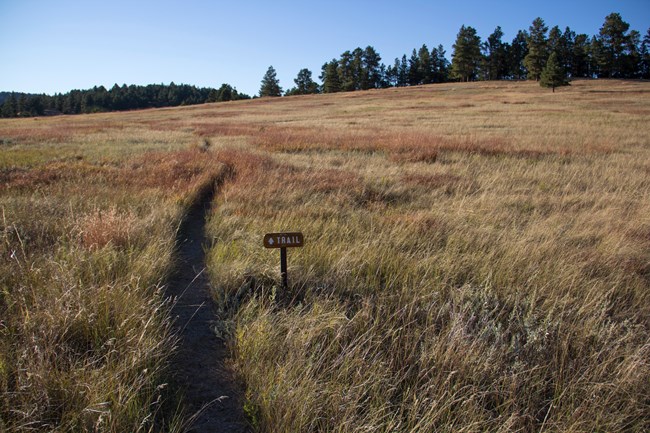 Joyner Ridge Trail
Along the north boundary of the park is a 1.5-mile (2.4 km) loop trail that follows Joyner Ridge and dips down into the draw below. Access the trailhead by taking the dirt road from the main park road as you head to or leave from the visitor center parking lot.
1.5 mile (2.4 km) loop
Trail Access: Joyner Ridge trailhead parking area or Red Beds Trail via 0.6-mile (1 km) connector trail
Significant elevation change along eastern portion, dropping from or climbing to the ridge
Offers scenic views of Tower, prairie, and surrounding landscape
Dirt road access to trailhead/small parking lot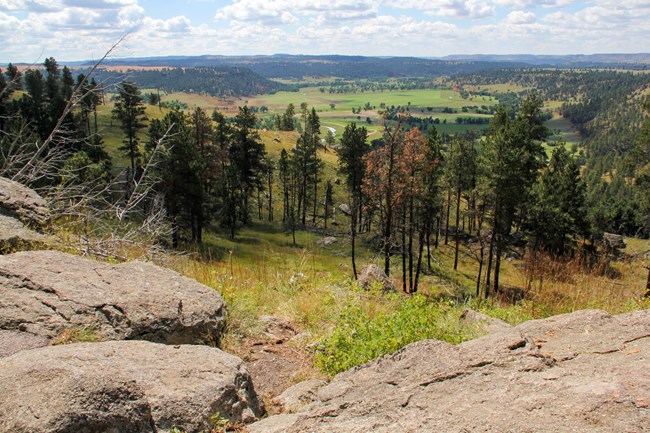 Red Beds Trail
For those seeking a more traditional hiking experience, this 2.8-mile (4.5 km) loop will offer great views of the Tower and surrounding Belle Fourche River valley.
2.8 mile (4.5 km) loop
Trail access: visitor center parking lot or all other park trails
Parts of this trail are steep, as it climbs up and down between the river valley and visitor center
Offers stunning views of the Tower and surrounding geologic formations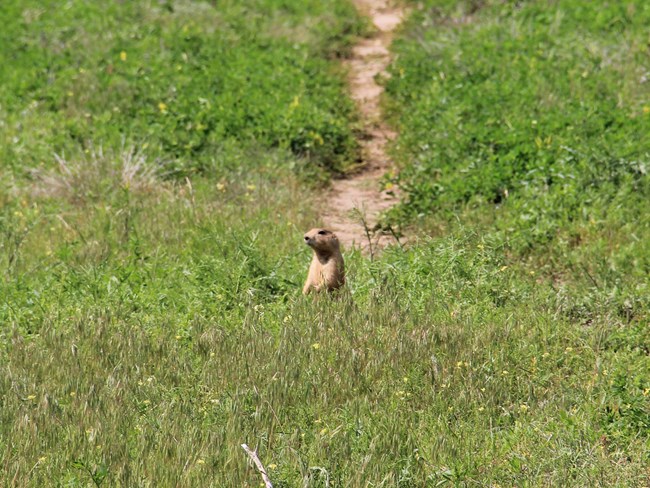 South Side Trail
This trail begins from the amphitheater and proceeds through the prairie dog town 0.6 miles (1 km) to link into Red Beds Trail. South Side Trail can be used with Red Beds to hike to the visitor center from the picnic area parking lot.
0.6 mile (1 km) trail
Trail Access: picnic area parking lot or Red Beds Trail
One road crossing
Walk through prairie dog town with slight/no elevation change
Moderate/steep elevation change once you cross the park road
Connects to Red Beds Trail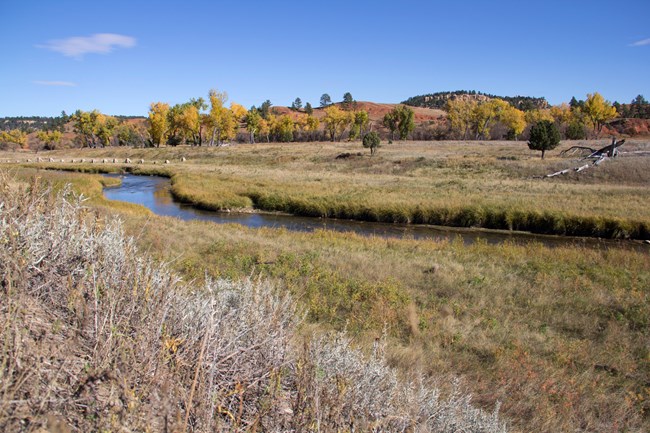 Valley View Trail
Beginning from the amphitheater, this trail winds through prairie dog town and offers picturesque views of the Belle Fourche River. With little/no change in elevation, this is a gentle trail for stretching your legs.
0.6 mile (1 km) trail
Trail Access: picnic area parking lot or Red Beds Trail
One road crossing
Slight/no elevation change
Walk through prairie dog town and see gorgeous views of the Belle Fourche River
Connects to Red Beds Trail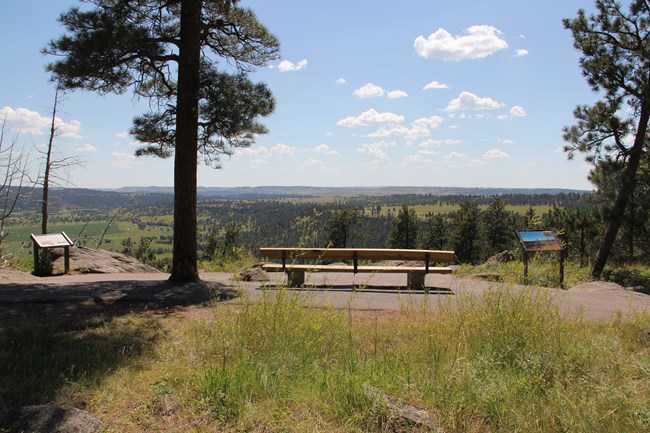 Tower Trail
This paved trail starts across the upper parking area from the visitor center. An accessible concrete path leads past the pavilion and up to the intersection of the loop. After the intersection, this trail is asphalt but not ADA accessible. We do not recommend taking accessibility devices (wheelchairs or power scooters) past the intersection.

With the approach from the parking lot to the intersection and the 1.3 mile loop, you are looking at a total of 1.8 miles out at back.
As you walk the Tower Trail, you will notice cloths or small bundles attached to the trees. These are Native American prayer cloths and represent the spiritual connection many tribes have with the Tower. Please do not touch, disturb or remove these prayer cloths. Some consider it culturally insensitive to photograph these prayer cloths.
1.8 mile (2.9 km) out and back. This includes the 1.3-mile loop trail.

Paved

Trail Access: visitor center parking lot or Red Beds Trail

Stretches of moderate elevation change

Offers close-up views of the Tower and boulder field, as well as sweeping views of the surrounding landscape

Most popular hike in the park, can get very crowded
Last updated: May 17, 2023