Parking at Devils Tower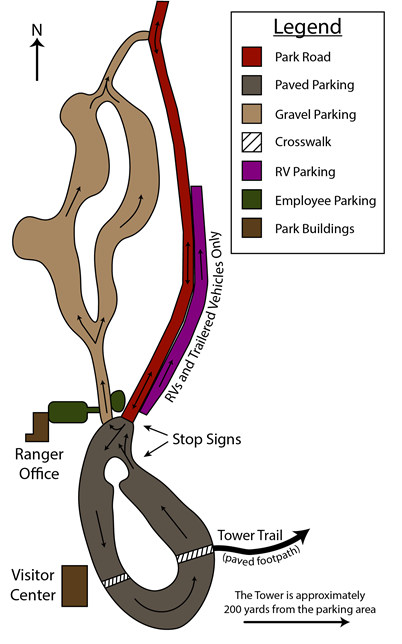 Parking at Devils Tower National Monument is very limited. The main parking areas (diagram at right) have less than 200 spaces. The park sees thousands of visitors per day
during the summer; the parking lot is at capacity between 10:00 am and 3:00 pm.
Reference the diagram shown here to familiarize yourself with the flow of traffic around the visitor center. The main park road (red) has two-way traffic, but all other areas are one-way traffic. This area also has a high volume of pedestrian foot traffic. There are sidewalks and crosswalks in the paved parking area (gray), but no walkways in the gravel lot (tan).
Parking for Long Vehicles
Vehicles longer than 19 feet are prohibited from parking in the visitor center lot from the Saturday of Memorial Day weekend through September 15. Private recreational vehicles (RVs) may use the shoulder (purple) to parallel park along the outbound lane next to the main park road. Passenger vehicles with trailers may also park in this area. All other vehicles are prohibited from parking in this area.
All trailered vehicles are encouraged to use the long vehicle parking area. This is located southeast of the administration building, on the way to the picnic area (see below right). You may unhook your trailer or vehicle and then proceed to the main parking area; this will more easily enable you to find parking. Buses are required to use this parking area between unloading and loading passengers at the visitor center.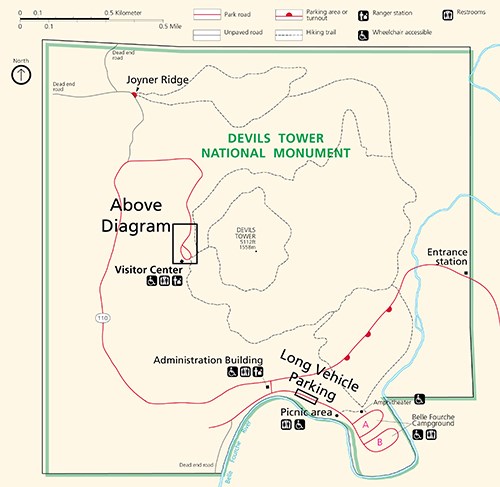 Alternative Parking Options
Parking near the visitor center will be difficult during peak visitation hours (10 am to 3 pm). Consider parking elsewhere; other areas of the park offer less-visited attractions and options to hike to the visitor center.
Picnic Area Parking
~50 parking spaces, paved lot
Circle of Sacred Smoke Sculpture
Prairie Dog Town
The shortest hiking route from the picnic area to the visitor center will take you from the South Side Trail and connect onto the Red Beds Trail; this route is 1.2 miles in each direction, being uphill on the way to and downhill on the way from the visitor center.
Joyner Ridge Parking
Small gravel parking area
Scenic views of the Tower
Joyner Ridge trail head.
*Please note that access to Joyner Ridge parking is a narrow dirt road, and there is limited turn-around space for large vehicles.
The shortest hiking route from the Joyner Ridge trailhead to the visitor center will begin on the Joyner Ridge Trail, then use the connector trail which is found half way around the Joyner Ridge Trail loop to connect onto the Red Beds Trail; approximately 3 miles in each direction over varying terrain.
Last updated: July 25, 2019