Virtual Visit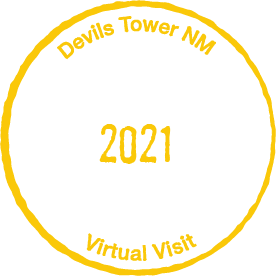 Start your virtual visit by exploring why Devils Tower is an important place for many people. As you dive deeper into the monument's history, you will understand why so many different people feel a connection to the Tower, and begin to form your own.

Have you ever wanted to climb at Devils Tower? Now's your chance! Take a virtual climb of the Tower with our 3D model. The first technical climb at Devils Tower happened in 1937. What can climbers expect to see while climbing the Tower today? What is at the top? Climbing to the summit of the Tower can change your perspective on this important geological feature.

If you like to keep your feet on the ground, you can take in the views at Devils Tower with our webcams. Check out the Tower from all over the park or try to spot some wildlife in Prairie Dog Town! Can you find prairie dogs or birds darting around?

Bad weather blocking the webcams? Our image galleries show the park in the best conditions, any time of year.
Park from Home
Experiencing nature remains a vital way for people to stay both physically and mentally healthy. Here are some activities to help recreate your Devils Tower experience at home!
Last updated: January 13, 2021