Backpacking
How to Get a Backcountry Permit October 1, 2021—April 14, 2022
Due to the ongoing global pandemic during Winter 2021/2022, you may obtain a free backcountry permit via email. You must apply for a backcountry permit
at least 24 hours in advance, but no more than 14 days in advance
of the beginning of your trip. Following a successful permit reservation, we will email you a PDF of your permit.
Step 1:
Use the following resources to help plan and prepare for your trip.
Feel free to email us or call us at (907) 683-9590.
Step 2:
Fill out the Denali Backcountry Permit Application
. Email your completed application at least 24 hours prior to the start of your trip, but no more than 14 days in advance of your trip to:
dena_bcpermits
at
nps.gov
.
Step 3:
We will check the application for completeness, and we may call you to confirm your itinerary and go over important considerations for your trip. If all looks good, we will issue a PDF of your permit and its associated conditions via email.
Please brief your party with the permit conditions.
Violations will invalidate the permit and may result in legal consequences.
Step 4:
Print your permit and/or save it on a smartphone to take with you in the backcountry. You will need to display it to a ranger upon request.
Step 5:
Pack and prepare for your trip. Storing your food, garbage, and scented items in Bear Resistant Food Containers (BRFCs) is not required from October 1 – April 14, but it is strongly recommended during the months of October and April because bears may still be active.
Bring your own BRFC
if you plan to use one; they are not available in the park. Paper maps of the 1:63K scale (1 inch = 1 mile) are recommended, and can be downloaded
free of charge from the USGS
and printed out. Additionally, numerous map apps exist for smartphones, and many of them support geo-referenced maps and KMZ files for
unit boundaries, designated trails
, and
Kennels routes
.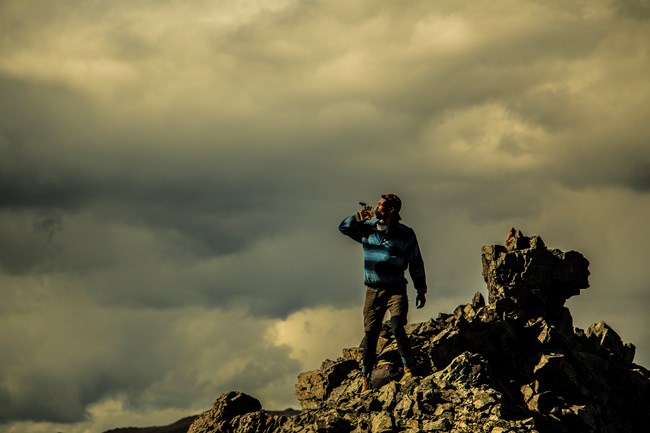 Wilderness—A Land Without Trails
Traveling and camping in this expansive terrain is special. You will find that Denali is different from other national parks. There are no trails, designated routes, or backcountry campsites to guide your wilderness adventure. Our goal is to provide visitors with the means of self-reliance and self-discovery; to encourage hikers to find what appeals to them rather than following specific routes.
Rangers working here will provide you with the knowledge to make your trip as safe and enjoyable as possible - but,
the path you choose in the backcountry will be your own
. The more effort your group invests in planning your trip, the larger the reward. Come prepared to travel cross-country through remote terrain in harsh weather, and to rescue yourself in the event of problems.
It is also your responsibility to help protect Denali by carefully following the principles of
Leave No Trace
, so that your travels do not diminish the experience of those who follow you.
Begin Planning Your Backpacking Adventure
A backpacking trip in Denali is unlike backpacking in most other national parks. Denali is about the size of Vermont, with only a handful of trails - most of which are near the entrance of the park for day-hiking, rather than overnight backpacking.

Backpacking permits are issued only in person, no more than a day before you begin your backcountry adventure - so use the information on this site as a guide, to familiarize yourself with the permit process and the landscape of Denali, but be ready to hash out the details of your itinerary only once you're in the park, speaking to one of our backcountry rangers.
---
Trip Planning Part 1:
Research Before You Travel
Below is a detailed look at what you should think about before traveling to the park for a backpacking adventure.

Answering these questions will make it much faster and easier to get your permit once you're here. Some of these are simple to answer, while others will take some time for you to fully understand and/or answer.
Trip Planning Part 2:
Pack for Your Trip (Gear and Supplies)
This section explains not just what you should bring backpacking, but how you can get it here (e.g., transporting stove fuel can be tricky).
Denali weather can change quickly. The most important food and supplies to consider:
High calorie food—Not only are you hiking, but it's often cold and rainy. That means your body will need more calories than usual.
Bug spray—Mosquitoes are typically a nuisance from May to September.
Tent—We strongly discourage bivy sacks. It's often raining, and bears are more likely to investigate bivvies than tents.
Gaiters—Stream crossings are common. Even if your gaiters aren't water-proof, they'll still help keep debris and rocks out of your boots. Many rivers in Denali are glacially-fed, and they carry a surprising amount of grit and rocks in their murky, fast water.
Trekking poles
Proper layers—Plan on temps ranging from as warm as 75 F to as cold as 20 F, possibly in the same day!
Bear spray—Note that this cannot be carried on planes or trains, nor can you drive through Canada with it. Plan on buying it in Alaska.
Just outside of the park, several general stores and camping stores can be found. Note, however, that they sometimes sell out of certain supplies during the summer. Consider buying your most important items, such as stove fuel, in Anchorage or Fairbanks, before traveling to Denali.
Within the park, Riley Creek Mercantile is the only general store. You can buy backpacking food, but not fuel for a backcountry stove (though they do sell fuel for larger stoves, such as Coleman two-burners). They also sell bear spray here, though they occasionally sell out.
Trip Planning Part 3:
What to Do Once You're in the Park
As mentioned above, all summer backpackers need a free permit. If you're visiting in fall, winter, or spring (mid-September to mid-May), you'll get your permit at the Murie Science & Learning Center.

Regardless of season, you may acquire your permit one day before you go into the park*, or the day that you will begin trip.
Getting your backpacking permit requires a few steps:
Watch the summer backcountry safety videos 
Once per summer, prior to receiving a permit. As the trip leader, please coordinate with your party to be sure everyone has watched these videos online prior to arriving at the park:

Fill out the Denali Backcountry Permit Application
Email your completed application at least two days prior to your trip, but no more than 14 days in advance of your trip, to: dena_bcpermits at nps.gov. We will check the application for completeness and email you a confirmation that the backcountry units on your trip itinerary have been reserved.
Talk with a ranger, plan your backpacking itinerary
At any point while we're open, check which units are available by looking at a whiteboard at the Backcountry Desk. This lets you check if any trip ideas you formulated ahead of time will be possible. If your first-choice units aren't available, think about what other options may work for you, given your timing, the type of trip you seek and what terrain you do or do not want to encounter. Rangers are available to talk through possibilities with you.

Finish filling out your worksheet by writing in which unit(s) you'll camp in and give the worksheet to a ranger. We'll then talk about a few of the most important safety considerations and print your backpacking permit. The safety talk will last 5 minutes.
If needed, buy maps, bus tickets
Once you have your permit and know where you're going, you can buy the relevant topographical (topo) maps. You are not required to buy a map, but we strongly recommend you do so. We also recommend marking the Denali backcountry unit boundaries on your maps—it will be your responsibility to ensure you are camping in the proper unit.

Most backpacking trips involve a bus trip into the park with a certain type of bus, called a camper bus. Only backpackers and campground-users can buy tickets for camper buses.
At this point, you have your backpacking permit and (if needed) your bus ticket.
If you came to Denali with a car, make sure you ask a ranger where you may park it (overnight parking tends to change year to year). There is no parking fee. Arrive at the Denali Bus Depot at least 15 minutes before your scheduled departure, to ensure plenty of time to load your backpack and any other gear.
After your backpacking trip, no matter how many days it lasted, you may use any shuttle bus to exit the park. Simply wait anywhere along the Denali Park Road and wave down a shuttle bus as it approaches. The driver will let you know whether or not there is room for you. Remember to carry a copy of
the transit bus schedule
, available at the backcountry desk.
---
Detailed Planning Resources
After reading through the material above, browse these resources to learn more about specific backpacking topics.
---
Specialized Trips
Certain types of backcountry trips require additional information, skills and equipment. For trips like these, the information and rules listed above generally apply.
---
Contact Information & the Backcountry Desk
Call us
(907) 683-9590 (backcountry office, mid-May to mid-September only, 9 am—5 pm)

(907) 683-9532 (general park information, year-round, 9 am—4 pm)
Find Us
Backcountry Information Center on the Denali Bus Depot campus, backcountry orientations offered outside at 10 am and 1 pm daily July

—

September 23, 2020

Murie Science and Learning Center, open daily in fall, winter and spring (mid-September—May 14): 9 am—4 pm
Last updated: December 2, 2021