Winter Camping
For people using park campgrounds, "winter" in Denali starts in the middle of September and lasts until the Friday of Mother's Day Weekend. When we talk about the rules for backpacking, however, "winter" means October 1 through April 14. If you are backpacking in the other half of the year (April 15 - September 30), all of the
summer backpacking
rules apply.
Campgrounds in Winter
Roughly two weeks after Labor Day each September, after summer bus service ends, all park campgrounds but one close.
One of the three loops comprising Riley Creek Campground, at the park entrance, remains open year-round. There are no reservations or nightly fees needed to stay in this campground outside the summer season. Simply choose an open site to camp with your tent or your vehicle/RV.

This is a rustic campground with no running water and no electricity. Until May 15, water is only available at the Winter Visitor Center (see information lower on this page).

There is a vault toilet in the campground and fire grates at each campsite.

You may collect firewood within the campground, but only wood which is dead and downed—i.e., you may not use an ax or saw to gather wood.

The nearest services, like food, gas and restaurants, are located in Healy, about 11 miles north of the park entrance.
This campground often becomes full in spring (e.g., the first week or so of May), but is otherwise very quiet and fairly empty.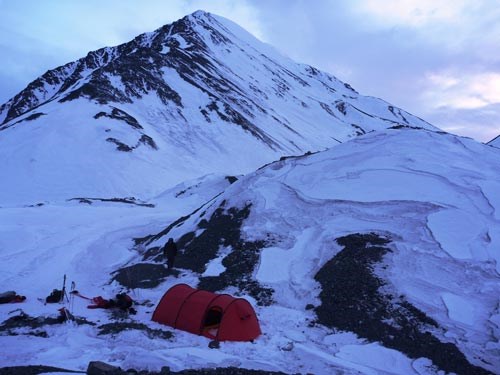 Wilderness Camping
Denali is an amazing place to enjoy winter activities such as snow-shoeing, skiing, or dog mushing. During any of these activities, you are welcome to camp overnight in the park, though you must get a free backcountry permit, in person at the winter visitor center.
Many winter visitors enjoy using the trails created by the park dog teams, which greatly speeds up your travel. You're welcome to set off on your own path, however, and explore more of the park than where we regularly travel.
October 1 – April 15 is the winter camping season, though snow levels in October and November can be pretty thin in some years. The best months for winter travel are typically February and March, when daylight hours are increasing and snow conditions tend to be better than in early winter (i.e., October – December). By April, daytime highs are often above freezing and rivers and creeks may begin unlocking from their deep-winter freeze.
Winter weather and snow conditions can change rapidly. At any point in winter, temperatures can dip as low as -40°F (-40°C) or colder. It is also possible for temperatures to rise from -40 F to 35 F (i.e., above freezing) in just a few short days. You must be prepared with extreme-weather gear and should pay close attention to the weather forecast. You must also be prepared to self-rescue if you run into problems. Cell phone coverage ends just beyond the winter visitor center, so do not rely on a phone to call for help. Be aware of your strengths and limitations, and make wise choices while in the backcountry. It is always safer to travel with a partner or a group than to travel alone.
A winter backcountry adventure in Denali is likely to be a trip of a lifetime, and we want to make sure you come back safe and feeling good about the experience. Whether you are an experienced winter traveler in Alaska, a novice, or somewhere between the two, you can plan a backcountry trip in Denali that meets your expectations, skills, and comfort level. Even a short-mileage, one-night trip in Denali will feel like you've entered a remote winter wonderland of your very own.
Cell Phone Additional Information
Internet Additional Information
Accessibility Information
Last updated: November 4, 2022