Hiking
There are two ways to hike in Denali—on a marked trail, or off-trail in nearly any direction you choose.
Trail hiking
There are not very many marked trails in Denali, and most of the trails here are short (less than 2 miles) and near the park entrance. One of the reasons Denali exists is to provide people with a place to explore a trail-less wilderness, and a result of this is a limited trail network.
Off-trail hiking
Hiking off-trail can seem intimidating at first, but is a memorable and unique experience. The information on this page aims to provide you with some knowledge of where and how to begin such an adventure, but you may want to talk to a ranger upon arriving to clarify any questions or concerns you have before starting a hike.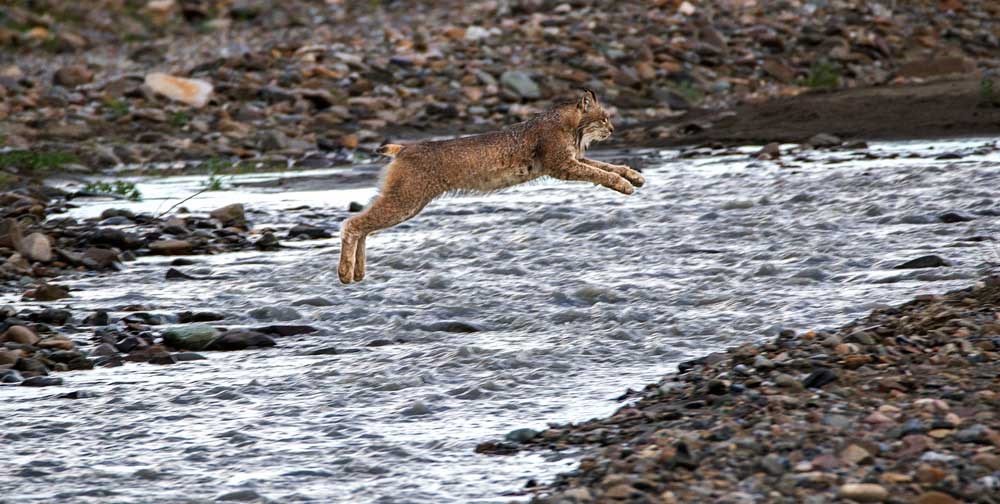 Trail Guides
Check out information for self-guided trail hikes. These trails are all within a few miles of the Denali Visitor Center. You may wish to download or print these materials in advance, though cell / data service is available while on many of these trails, if you decide to access them while hiking.
Trails Around the Entrance of Denali
Trails in Denali are largely centered around the Denali Visitor Center.

Some of these trails are utilitarian—they travel alongside the Denali Park Road and connect the visitor center with other important facilities in the entrance area of the park, such as the park sled dog kennels, Riley Creek Campground and the Denali Bus Depot. Other trails offer a departure from the immediate surroundings of the park's only road, allowing you to seek a bit of solace and quiet, while still having an obvious, established path to follow.

Below is a map featuring trails in the park. Zoom in and click on the various trails to get descriptions, difficulties, and lengths. A few trails exist farther west in the park, and can be seen by scrolling in that direction. The menu in the upper-right of the map lets you change what type of base map you are using, make it full-screen, and print if you wish.

A simplified, print-friendly trail map is also available.
---
Trails Not Near the Park Entrance
A few trails exist deeper in the park, beyond the first three miles of the Park Road. You can find them in the map above by scrolling to the west-south-west.
Note that buses are currently only traveling to Mile 43 and will not reach the trails in the Eielson or Wonder Lake areas. Check the Current Conditions page for the latest information before making plans.
Savage River Area
Located around Miles 13-15 on the Denali Park Road, you can either drive to Savage River and park for the day, or you can board a free bus, called the
Savage River Shuttle
, at any entrance area facility.
The 2-mile long Savage River Loop is a mellow walk along the river. The surface is uneven and rugged in areas, but there is no significant elevation change.
The more strenuous Savage Alpine Trail runs more than four miles, and connects the Savage River area with Savage River Campground. Use the Savage River Shuttle to travel back to your starting point if you need to pick up a car, or use it to return to the park entrance if you have no vehicle; or, you can walk about two miles along the park road.
This area is not accessible in winter. Winter begins when snow falls, typically late September or early October. Learn more about the Savage River area
Eielson Visitor Center
Located at mile 66, you can reach this center by any
shuttle bus
traveling to Eielson or beyond. On a clear day, the entire area offers magnificent views of Denali.
The Tundra Loop is around a third of a mile through alpine country, very close to the visitor center. A spur trail leads an additional quarter of a mile, one-way, off the Tundra Loop.
The Thorofare Ridge Trail is a very steep hike of around 1,000 feet. The trail is a bit less than one mile one-way, up Thorofare Ridge. The views are particularly impressive on clear days!
The Gorge Creek Trail descends 600 feet to the Gorge Creek and Thorofare River bars, with access to numerous dayhiking opportunities and backcountry camping units. A creek crossing may be required if you want to hike past the end of the trail.
Bus service to Eielson occurs from June 1 to mid-September each year.
Wonder Lake
Located at mile 85, you can reach Wonder Lake with either a Wonder Lake or Kantishna shuttle bus. Bus service to Wonder Lake occurs from June 8 to mid-September each year.

There is one trail in this area, called the McKinley River Bar Trail, leading from Wonder Lake Campground to the McKinley River. It is 2.5 miles one-way, with negligible elevation gain. The trail travels through spruce forest and past several small ponds, offering chance to see water fowl and terrain which is different from much of the park. It is plagued most of the summer by mosquitoes, so bring a head net.

return to top of page
---
Trail Details
Note that some trails are loops, and so a round-trip time and distance is offered. Other trails are not loops by themselves, and so the time and distance numbers are for a one-way hike. Add multiple one-way trails together to estimate a larger loop (e.g., a loop combining the Rock Creek and Roadside Trails).
An additional wrinkle is that not every trailhead is at a visitor center or road. In those cases, you might need to add a bit more time (e.g., the Meadow View Trail is only a third of a mile long, but to get to either trailhead you must hike along one of a couple different trails from the visitor center). Some of the longer trails are explained in greater detail on separate pages, linked below.
You can download a print-friendly map and chart of trail info, with additional details like connecting trails, max grade and trail surface.
Trail
Brief Description
Time (Leisurely Pace)
Distance
Roadside Bike Trail
Travels right along the Denali Park Road, between the entrance and the visitor center. Little elevation change. The surface is well-compacted gravel. 5% maximum grade, 10' width.
45 minutes one-way from the Denali Visitor Center
1.7 miles, one-way
Horseshoe Lake Trail
A popular trail that descends to, and travels entirely around, a lake. The surface is five feet wide, with uneven soil with rocks and roots. It begins with a short, steep uphill to a bench overlooking the lake. The trail then descends 250' steeply to the shore of the lake. The trail grade averages 5% with sections up to 20%.
2 hours round-trip from its trailhead (add about 30 minutes if starting/ending at the Denali Visitor Center)
2 miles, round-trip (add about 1 mile round-trip if starting/ending at the Denali Visitor Center)
Jonesville Trail
A steep shortcut from Riley Creek Campground to the Canyon, the business district outside the park. It has a surface of compacted gravel. From west to east, it drops about 150 feet.
10 minutes one-way from either trailhead
0.3 mile, one-way
McKinley Station Trail
Descend from the visitor center to Hines and Riley Creeks, and pass under the Alaska Railroad trestle. The trail is compacted gravel. It has an 8.5% grade maximum, dropping ~100 feet in the process via one long, gently sloping hill. The trail is 5' wide.
1 hour one-way from the Denali Visitor Center
1.6 miles, one-way
Meadow View Trail
A very narrow trail (about 30" wide) overlooking a meadow, forming a short connection between Rock Creek and Roadside Trails. The trail is relatively level, but has a steep drop to one side.
15 minutes from either trailhead
0.3 mile, one-way
Morino Trail
A short trail through spruce forest. Good for a quick walk while waiting on a bus or train.
15 minutes one-way from its trailhead
0.2 mile, one-way
Mount Healy Overlook Trail
An increasingly steep hike out of the forest and into the alpine country, with potential views of Denali, if skies are clear. The trail surface is rough soil with rocks and roots. Eventually becomes very steep, maxing at a 25% grade. Generally 24" wide.
2 hours one-way from the Denali Visitor Center
2.7 miles, one-way
Oxbow Loop Trail
This rustic trail contours along the west bank of the Nenana River, offering views from high above the river. The trail wanders in and out of spruce forest and eventually drops down to the edge of the river. This trail provides walk-in access to a gravel bar on the Nenana River, which might be useful for rafters.

Note: The trailhead is located on the east side of Highway 3, about 7 miles south of the park entrance, near a bridge over the Nenana River.
1 hour round-trip from its trail-head
1.5 miles, round-trip
Parks Hwy Bike Trail
Paved path alongside Highway 3.
30 minutes one-way
1.0 mile, one-way
Roadside Hiking Trail
Travels uphill from the visitor center to the sled dog kennels and park headquarters. Runs generally uphill from east to west, up to a 15% grade; generally 36" wide.
1 hour one-way from the Denali Visitor Center
1.8 miles, one-way
Rock Creek Trail
Occasionally steep trail through forest. Similar route to Roadside, but a bit longer and much quieter, as it's farther from the road. Runs generally uphill from east to west, up to 15% grade; generally 30" wide.
1.5 hours one-way from the Denali Visitor Center
2.4 miles, one-way
Spruce Forest Trail
A short trail through spruce forest. Good for a quick walk while waiting on a bus or train. 0% grade change, with a width of about 5 feet.
20-minute loop
0.2 mile, one-way
Triple Lakes Trail
Denali's longest trail, with bridges over two creeks and great views of three lakes. The surface is a mix of compacted gravel, soils, rocks, roots, and sections of planks over marshy ground. The trail is up to 20% grade at times, generally 24" wide. Note: The southern trailhead is located on the west side of Highway 3, about 7 miles south of the park entrance, near a bridge over the Nenana River.
5 hours one-way from the Denali Visitor Center
9.5 miles, one-way
Mountain Vista Trail
Located at Mountain Vista Rest Area, at Mile 13 of the Denali Park Road. Can be accessed by the free Savage River Shuttle and private vehicle, with ample parking available. The trail has a 5% maximum grade and is 6 feet wide.
30-minutes, loop
0.6 mile, round-trip
Savage Alpine
Connects Savage River and the Mountain Vista day use areas. Parking available at either end. Use free Savage River Shuttle to return to your vehicle. Considered strenuous, the trail has steep sections up to 25% grade and is generally 24" wide.
Three hours, one way from Mountain Vista Trailhead
4 miles, one-way
Savage River Loop
Located at the Savage River at Mile 15. Very limited parking available. Can be accessed by free Savage River Shuttle. On the western half of this loop, the first quarter-mile of the trail is around 2 feet wide and very flat; gradually the trail narrows and has more impediments like rocks and uneven surfaces.
90 minute loop
2 miles, round-trip
Tundra Loop
From the Eielson Visitor Center, at Mile 66 of the Denali Park Road, this short loop explores alpine tundra. Negligible grade change and generally two feet or wider at all times.
15 minute loop
0.3 mile, round-trip
Thorofare Ridge Trail
From the Eielson Visitor Center, this switchback trail climbs to a ridge for high, scenic views of Denali and a vast expanse of tundra beyond.
One hour, one way from Eielson Visitor Center
0.8 mile, one-way
Gorge Creek Trail
The Gorge Creek Trail descends 600 feet to the Gorge Creek and Thorofare River bars, with access to numerous off-trail dayhiking opportunities and backcountry camping units. A creek crossing may be required if you want to hike past the end of the trail.
~ 90 minutes round trip
~ 2 miles, round-trip
McKinley River Bar Trail
From a road junction approaching Wonder Lake Campground, this trail passes through wet meadows and enters spruce forest, and ends at the McKinley River
90 minutes, one way from its trailhead
2.4 miles, one-way
---

Hiking Off Trail

Denali is nearly the size of Massachusetts (or just over half as large as Switzerland), and most of the park is devoid of human-made trails.

The idea of hiking in the wilderness, with no trail to follow, excites some hikers and confuses or intimidates others. However, the nature of Denali's Park Road and bus system, and the terrain itself, can make trail-less hiking more approachable than it may seem at first blush.
Where to Go?
This is a question that only you can answer. Every person will want something slightly different out of their day hike, and the sheer size of Denali prevents any one spot from being "the best." Some people will want to hike up into steep terrain to gain big views, while others will prefer a stroll along a river. Some people don't mind pushing through thick brush for part of a hike, while others will want to avoid anything more than shrubs and small bushes.
Starting an Off-Trail Hike
A good strategy is to take an early shuttle bus into the park, traveling to either Eielson Visitor Center or Toklat River, and scouting the terrain from the Park Road. On your return towards the park entrance, you can tell your driver to let you off at whatever area looked most appealing. (Buses going to Wonder Lake and Kantishna probably take too long to incorporate a decent hike into your day).
Ending an Off-Trail Hike
After your hike, you need only return to the road and wave down any passing shuttle. You can get a copy of the latest bus schedule upon arriving in the park, or you can
download a schedule
to bring with you. While uncommon, the first shuttle or two that you try to re-board may be full, so prepare for a worst-case scenario of waiting an hour for a ride. Many hikers will carry a book, or will browse through their digital photos just taken during the hike to make the potential wait go by quicker.
Terrain
In a trail-less wilderness like Denali, you will dictate your route. By avoiding terrain traps like pockets of spruce forest and alder, you can make navigation easier. Tree-line in Denali is generally around 3,000' above sea level, and much of the 92 mile Park Road travels near or above that level.
Above tree-line, you will find either brushy tundra, with plants that may slow your travel but allow you to see over them, or alpine tundra, with extremely short vegetation that offers no impediment to your speed or your visibility. In many parts of the park, you will find that the Park Road stays in your view, even after several miles and several hours of hiking.
Learn more about terrain types in Denali
Equipment & Travel Tips
The list below is not exhaustive, but should help in planning your off-trail adventure.
Carry adequate food and water. There are no restaurants or amenities west of mile 3 on the Park Road.

Bring a means to treat water, such as purification tablets or a water filter.

Wear appropriate clothing. Avoid cotton and choose either quick-drying synthetic materials or wool, which insulates even when wet.

Plan for bad weather. Rain is likely (and snow is possible) in summer. A hat, gloves, rain jacket and rain pants may be necessary.

In the case of a storm, avoid high ridges and exposed areas.

Other gear, such as trekking poles, calf-high gaiters, and ankle-high boots will make your hike more comfortable.

Be prepared to self-rescue and carry a first aid kit. Travel immediately to the Park Road and flag down a ranger or bus driver if you need assistance.

Bring a plastic bag to pack out your trash, which includes toilet paper and menstrual products.

Be aware of wildlife closures and avoid hiking within them.

If your children require a child seat on the bus, keep in mind that you'll need to either carry them or safely store them before setting off on a hike. Child seats can be left in the food storage sheds at any campground, in the food lockers at the Toklat River rest stop, or at Eielson Visitor Center. Car seats may not be left by the roadside—they often have food smells that attract animals large and small.
Stay Safe

Ideally, you will be hiking with at least one other person, and will stay in areas where visibility is excellent - allowing you to see animals at a great distance, and avoid them when necessary. In areas of brushy or alpine tundra, you can sometimes see for miles.
However, you will likely face areas of reduced or limited visibility while day hiking. When your visibility is reduced, you should make noise, either by talking with your partner, singing, or simply shouting "Hey bear!" every few minutes. The human voice is distinctive, and tells wildlife that you are in the area - thus minimizing surprise encounters, which are the most likely scenario for a large animal to harm a person. Bear bells, whistles, etc., are no substitute for your voice. The first few "Hey bears!" may seem silly, but with enough repetition, they will seem a natural part of hiking in Denali.
Read more about wildlife safety
Last updated: August 29, 2022