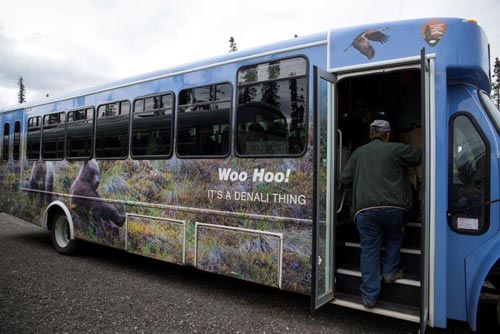 There are three free bus services available in the park's entrance area to facilitate visitor travel between the various visitor service buildings. They are called the Savage River Shuttle, the Riley Loop Shuttle and the Sled Dog Demonstration Shuttle.

As the facilities are somewhat spread out, the courtesy buses eliminate excess traffic, confusion, and parking challenges for those visitors not wishing to utilize the trails that link all facilities.
The main entrance area bus stops are located at the north end of the Wilderness Access Center (WAC) and the Denali Visitor Center (DVC) bus stop - between the Alaska Railroad Depot and the Denali Visitor Center complex.
All entrance area shuttle buses are wheelchair accessible. All operate daily and are free. Reference a map of the entrance area of the park to orient yourself.