Transit Buses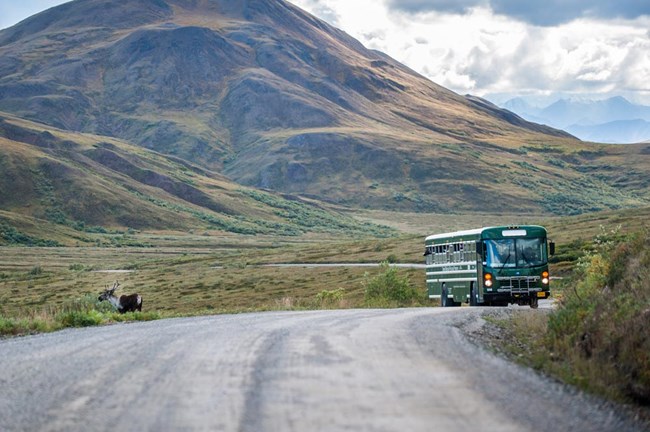 Note: An ongoing landslide at Pretty Rocks is impacting bus service. All transit buses will travel only to Mile 43 of the 92-mile long Denali Park Road.
Schedules
Please keep in mind that schedules are subject to small adjustments throughout the season. Always acquire the most recent schedule upon arriving in person, either at the Denali Bus Depot or Denali Visitor Center.
Download the 2024 transit bus schedule.
2024 Ticket Prices
Ticket prices for non-narrated transit buses do not include the park entrance fee.
| Destination/Service | Adult (16 and older) | Children (15 and under) |
| --- | --- | --- |
| East Fork Transit (Mile 43) | $33.25 | Free |
| Camper Bus (Mile 43) | $33.25 | Free |

As the table above indicates, children (15 and younger) ride free on all non-narrated buses. They do still need a reserved ticket, however, when you are booking over the phone, online or in person at the park.
The Tek Pass
This is only available to people staying in Teklanika Campground. The Tek Pass costs the same as a camper bus ticket each year. Learn more about Teklanika Campground and the Tek Pass. Contact the bus concessioner directly to inquire about special packages or other possible deals.
Reservations
All transit bus, tour bus, and campground reservations are handled by our concessioner, Doyon/ARAMARK Joint Venture.
You can make reservations online or call them at 1-800-622-7275 (or 907 272-7275 for international or local Anchorage callers). Reservations for a given summer can be made as early as December 1 of the year prior to your trip.
Children (15 and younger) ride for free on transit buses. Alaska's car seat laws apply to young children.
Understanding Transit Buses
All non-narrated buses, called transit buses, are designed to move people around within the park. They make regular restroom stops and wildlife-viewing stops, just like the narrated tour buses.
Unlike tour buses, however, you're not limited to staying on the bus in which you originally started. Thus, this is the type of bus you want to take if you're interested in a day hike, or just want to experience the park on your own terms rather than as part of a tour group.
If you get off your initial bus, you can flag down any other non-narrated bus going in your desired direction—i.e., farther into the park, or back towards the entrance. Re-boarding is on a seat-available basis, so you may wait anywhere from five minutes to an hour or more for a bus with ample seating. Transit buses are painted green, to help you identify them from far away. Narrated tour buses are tan-colored and will not stop to pick up hikers.
Trips on these non-narrated buses are informal. The drivers provide basic park and safety information, assist you in spotting wildlife along the road and answer questions, and make restroom stops—but they do not provide a formal talk or program. Tickets are priced based on destination. There are over twenty non-narrated buses each day in mid-summer, all of which go to their destination on the road, where they turn around and travel back to the entrance of the park.
Prepare for Departure
The Denali Bus Depot is the starting point for nearly all non-narrated bus trips. There is ample parking, though the lots do get somewhat full, so arrive at least 20 minutes early to make sure you can park and walk into the building.

Bring food and beverages with you. No food or drink is available once you depart the

Denali Bus Depot

.

Rest stops occur around every ninety minutes throughout the trip. Stops usually last 15 minutes, though they might be longer or shorter if you are ahead of or behind schedule. The stop at your turnaround point will generally last 30 minutes.

Trash cans are not available at every rest stop. Bring a bag to pack out your own trash.
---
Camper Buses
Camper buses are used to transport visitors to campgrounds and/or backcountry units within the park. They have more storage space than other buses as the rear seats have been removed to accommodate backpacks.
You must have a reservation at an eligible campground or a backcountry permit in order to reserve camper bus tickets. Campers at Riley Creek Campground and Savage River are ineligible to buy camper bus tickets, since they can drive or ride a free shuttle to their campground.
Each bus has room for up to two bikes, for people who are biking the park road as part of a camping trip. Reserve space for bikes when you make a camper bus reservation, as space is limited.
Camper buses are listed on the transit bus schedule (see the top of this page). Camper buses are marked with a small tent icon to differentiate them from regular transit buses.
Service: Typically June 1 to mid-September each year (weather permitting). Prior to June 1 each year, campground and backcountry users can ride regular transit buses.
---
Destinations
Learn more about the locations you can visit on a transit bus. Due to the Pretty Rocks Landslide, buses are traveling only to Mile 43. East Fork is the only destination available. Use the map below to orient yourself to these locations and preview what the views along the road look like.
Transit buses travel to the East Fork River at Mile 43 on the Park Road. There are excellent hiking and wildlife viewing opportunities in the area. There are no trails here, but stairs provide access down to the gravel banks of the river where you are encouraged to explore. Rangers are sometimes present to answer questions about the area.
It takes approximately 4.5 hours to travel to and from East Fork, round-trip, on a transit bus. Round-trip time includes driving on the winding, gravel road, restroom breaks, and stops to view wildlife along the way.
Last updated: November 14, 2023