Cycling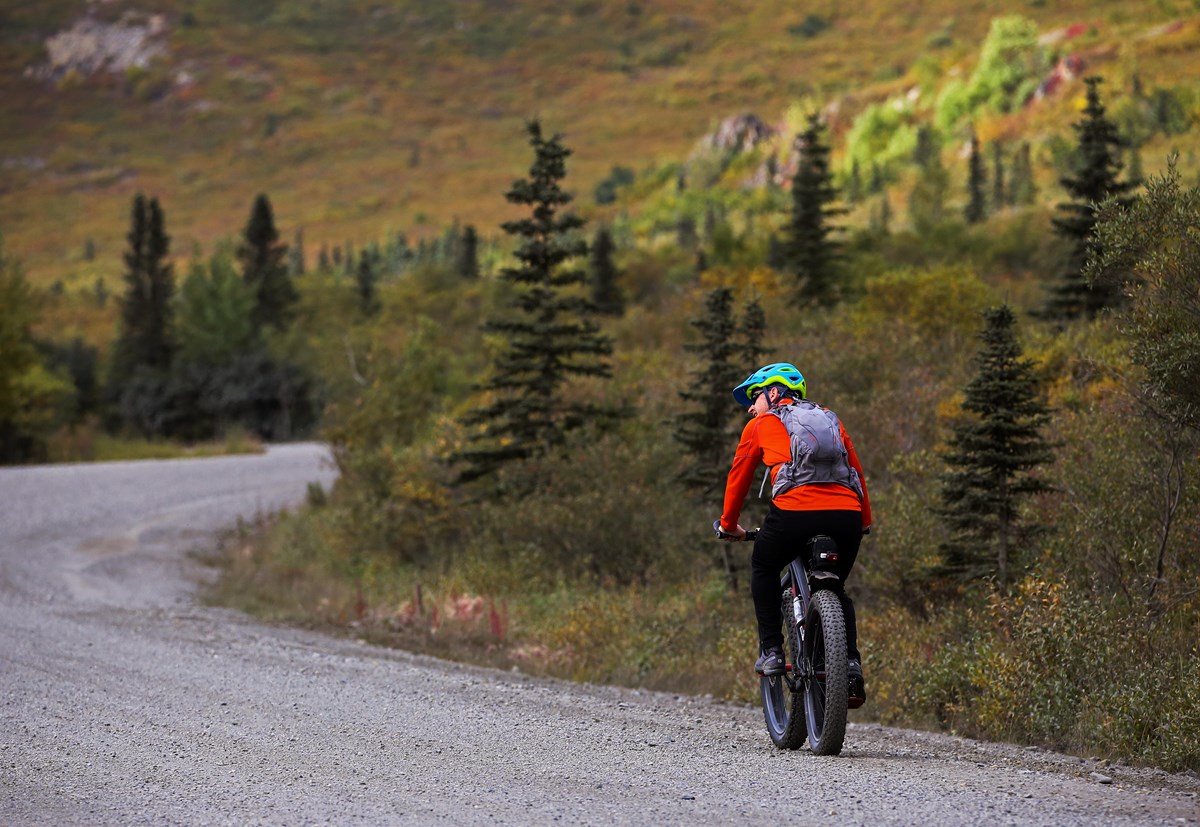 Note: An on-going landslide at Mile 45.4 will affect travel on the Denali Park Road. Check the
Current Conditions
page for the latest information before making plans. Visit the
Pretty Rocks Landslide
page for more information about the landslide.
Cycling the Park Road can be a fun and enjoyable way to see Denali National Park and get some exercise at the same time. Visitors are allowed to cycle all 92 miles of the Park Road (if no additional safety closures are in effect, such as for wildlife or road construction).
Before you get started, here are some things you should know.
Rules of the Road for Bicycles
Denali has just one road, spanning 92 miles from the entrance area on the east side of the park to Kantishna in the west. It is paved to the Savage River rest area (mile 15) and is graded gravel beyond. There is no shoulder or bicycle lane on any section of the road.
All non-commercial traffic is allowed to Savage River, meaning that in summer, there is fairly frequent traffic. Past that, traffic is restricted to buses, heavy equipment, and non-public/administrative traffic.
The road narrows after Teklanika River (mile 31.) For a better idea of the character of the Park Road, watch our Rules of the Road video.
Know where to ride
Cyclists may ride on the Park Road, parking areas, campground loops and the designated Roadside Bike Path between the Nenana River and the Denali Visitor Center. Bicycles are prohibited on all other trails.

Respect wildlife
Denali is home to grizzly and black bears. If you are unfamiliar with traveling in bear country, become a student of bear behavior before your trip. You wouldn't go skiing in avalanche terrain without the proper training and equipment, so do the same for cycling in bear country! There is a lot of information out there, but some good resources include the Interagency Grizzly Bear Committee's bear safety page, the Board of Review recommendations for mountain bike safety in bear country, and a publication from the Flathead National Forest in Montana. While the Park Road is wider than a single-track trail and generally has better sight lines, steep inclines like those coming off Sable Pass and Highway Pass overlap with excellent bear habitat. If a bear is in the road or within 300 yards of the road, wait at a safe distance for a bus to transport you past or for the bear to move on. You cannot cycle faster than a bear, so don't try. It is a losing race for all involved. Be sure to slow down, make noise, and be cautious on blind corners.

Obey all wildlife closures. Some closures, like the Sable Pass closure, allow foot and bicycle traffic to pass along the road, but some do not (e.g., if a bear is eating a dead animal next to the road).

Never feed wildlife. This includes arctic ground squirrels, Canada jays, and short-billed gulls. Wild animals are curious and opportunistic. Food and scented items must not be left unattended at any time.

If you carry bear spray, be sure to have it someplace accessible (not stashed away in your pack or pannier.)

Know how to ride
The Park Road is like riding on any other road when it comes to traffic rules. Cycle single file, stay to the right, and obey the speed limit. Be aware of your surroundings. You are sharing the road with pedestrians, vehicles, wildlife, and other forces of nature, so we don't recommend cycling with ear buds or headphones. The surface of the road is highly variable and can include dust, slick mud, deep gravel, large rocks, and other obstacles. Vehicles are required to pass you at a no-dust speed, but this is impossible if you are cycling at speeds greater than 10 mph. We recommend you stop and put a foot down to allow vehicles, especially buses, to pass. This also shows the vehicle driver that you are aware of them and that they can pass you safely. Control your speed when traveling downhill.

Mind the blind corners
There are frequent tight corners and obstructed views all along the Park Road; you may not be able to see or hear an oncoming vehicle—or wildlife—until it is right in front of you. Slow down, stay to the right, and be extra alert as you enter any turn where you can't readily see what's around the corner.
Electronic Bikes (E-Bikes)
The term "e-bike" means a two- or three-wheeled cycle with fully operable pedals and an electric motor of less than 750 watts (1 horsepower).
E-bikes are allowed
in Denali, in accordance with the provisions of
36 CFR Part 4
. Specifically, e-bikes are allowed on park roads (e.g., the Denali Park Road and roads within campgrounds), parking areas, and the Roadside Bike Path).
E-bikes are prohibited
where traditional bicycles are prohibited under
36 CFR 4.30
. Notably, that section articulates that the following are prohibited:
Operating a bicycle during periods of low visibility or between sunset and sunrise, without a white light or reflector on the front, and a red light or reflector on the back, of the bike.
Operating a bicycle abreast of another bicycle (i.e., you should ride single-file).
Except where use of motor vehicles by the public is allowed, using the electric motor to move an e-bike without pedaling is prohibited. Functionally, this means that you cannot use an e-bike's motor alone in an area that is open to traditional bikes, but closed to motor vehicles.
A person operating an e-bike is subject to the same sections of
36 CFR Part 4
that apply to the use of traditional bicycles concerning general cycling rules. These general cycling rules are articulated above, in the "Rules of the Road" section.
Except as specified in the
Denali Superintendent's Compendium
, the use of an e-bike within Denali National Park and Preserve is governed by State law, which is adopted and made a part of said Compendium. Any violation of State law adopted by this paragraph is prohibited.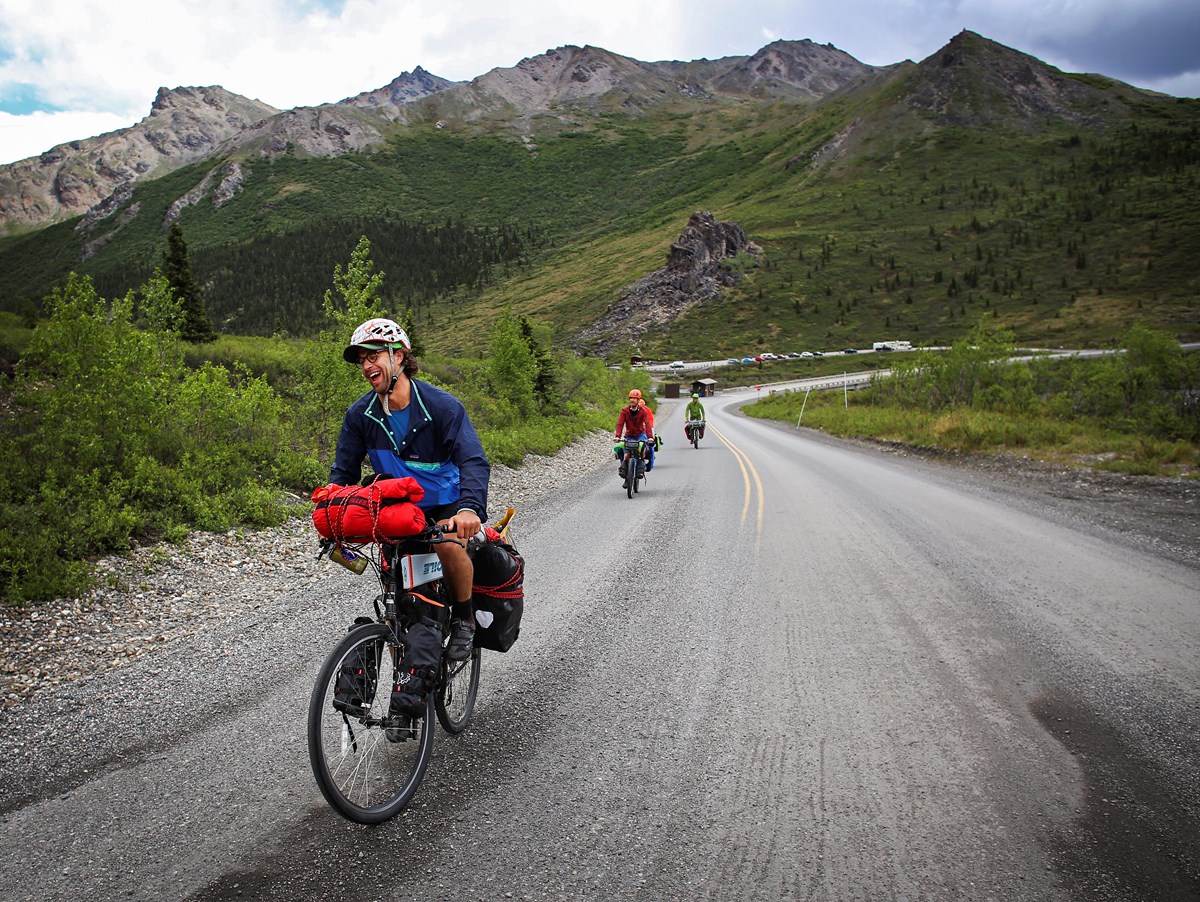 The first step to Leave No Trace is to plan ahead and prepare. The following information will get you started and highlight some information specific to cycling on the Park Road.
Buses
Bicycles can be transported on the free Savage River Shuttle and on transit buses, but space is limited to two bicycles. Transit buses require a ticket to board unless it is truly a life or limb emergency, or you need to be transported around a wildlife closure. Discounted one-way tickets can be purchased at the Denali Bus Depot or the Riley Creek Mercantile.

Please note that bicycles such as fat tire, recumbent, tandem or electric will not fit in the standard-size racks on transit buses. "Standard size" in this case means up to a 29" tire, with a max tire width (without deflating) of 2.3." Be sure to bring your own pump in case you need to slightly deflate your tire to squeeze it into the rack. Accommodations for larger dimensions are sometimes available on a camper bus. For additional information about accommodations for fat tire bicycles, et al., please call the bus company at 1-800-622-7275.

Bicycle racks
Bicycle racks are provided at campgrounds, rest areas and visitor centers. If you go day hiking from the Park Road, carry your bicycle 25 yards from the roadway and hide it from view. If you're leaving it overnight, refer to our bicycle camping information.

Repairs
There are no repair stations along the way so plan to fix your own flats and other common problems.

Water
In summer, potable water is available at the Teklanika Campground (mile 29) and Eielson Visitor Center (mile 66.) Otherwise, be prepared to carry sufficient water or treat water from streams or rivers.

Weather
Plan for many types of weather at any time in the park. Sun, rain, hail, wind and even snow are all possible in the summer. Warm, sunny conditions usually mean the Park Road will be really dusty, while rain or snow means the road surface will be slick and muddy. Bring a buff or neck gaiter to help with the dust, and bring plenty of layers for the chilly downhill ride including warm mittens or gloves.

Entrance Fees
Day trips into the park require nothing more than the usual park entrance fee. You can pay this in conjunction with your bus ticket, you can pay online before coming, or stop by the Denali Visitor Center.

Cycling with dogs
Your leashed dog can generally go wherever a car or a bicycle can go, meaning park roads, parking areas, campgrounds, and the Roadside Bike Path. Pets are not allowed on park buses or in the backcountry. You must have your pet on a leash at all times; the leash can be no longer than 6 feet..

Remember that wildlife can be found anywhere along the road, and a squirrel darting in front of an untrained dog tethered to a bicycle will probably result in a crash. If you've never cycled while attached to your dog, Denali is probably not the place to start. Learn more about visiting Denali with a pet.

Road construction
In most summers, road construction projects occur and cause temporary closures. Road work is usually timed to avoid big delays for the buses, but your cycling schedule might vary from buses— so you may find yourself waiting for several hours during construction work. Check at the Denali Visitor Center, Backcountry Information Center, or the Denali Bus Depot for information about closures. Details about road construction are typically not available until the start of the summer season.

Spring and Fall
Before and after the main summer season, the Park Road is open to all non-commercial traffic to the Teklanika Rest Area (mile 30) weather permitting. Very few buses operate during this time, so vehicles on the closed portion of the road (i.e., beyond mile 30, or Mountain Vista at mile 14) are limited to heavy equipment and administrative traffic.

In spring, our road crews begin plowing the road in late March. Spring snow and wintry conditions can hamper their progress, and it is difficult to predict each year just when the road will open. We encourage you to call or email before visiting in the spring. Be especially aware of bears this time of year. They are just waking up, hungry after a long winter, and the road is the path of least resistance (and also provides good early season foraging). Become a student of bear behavior and come prepared.

Conversely, the road can close unexpectedly in the fall as winter weather descends. Have a backup plan if the weather is uncooperative.

Cycling in Kantishna
Some former mining trails originate in the Kantishna area at the western end of the Park Road. Many trails cross private land and it is your responsibility to ensure you do not trespass on private property. When in doubt, stick to the Park Road.

Overnight trips
Bicycle camping, or bike-packing, on the Park Road is unlike anywhere else—and takes some extra planning. See the bicycle camping section below for more information. Note that to camp overnight in the park you either need to make a campground reservation or get a backcountry permit. Camping is not allowed at visitor centers and other developed areas, including the Eielson Visitor Center and Toklat Rest Area.
Denali Park Road Elevation Profile
The Denali Park Road was built in the 1920s and 1930s and was designed to take advantage of scenic vistas, so it goes up some improbably steep grades.

If you cycled the entire road east to west (i.e., park entrance to Kantishna), you would gain 10,928' and lose 10,907'. The elevation contour below gives you an idea of some of the highest spots on the road.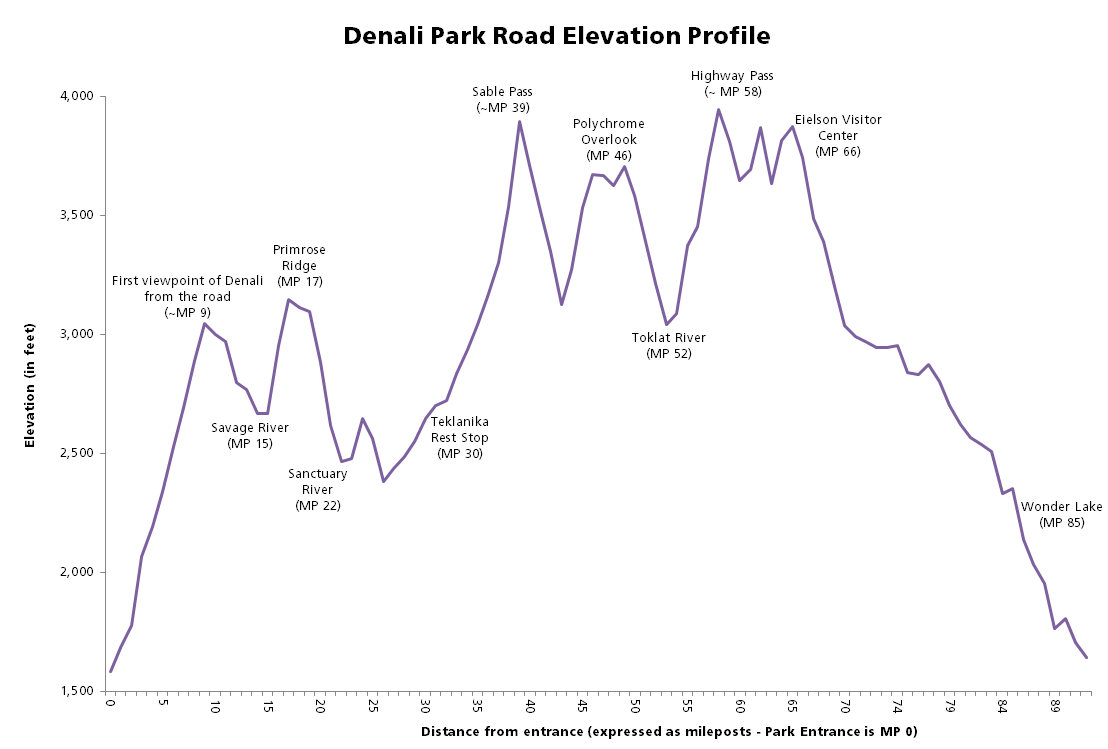 The elevation profile, above, is meant to help indicate the flow of the park road. Looking east to west (left to right in the profile), certain major climbs exist, particularly:
Park Entrance to Mile 9 - about 1,500' elevation gain over 9 miles
Just after Sanctuary River to Sable Pass - about about 1,500' gain over 14 miles
Polychrome - about 500' gain over 3 miles
Toklat River to Highway Pass - about 1,000' gain over 6 miles.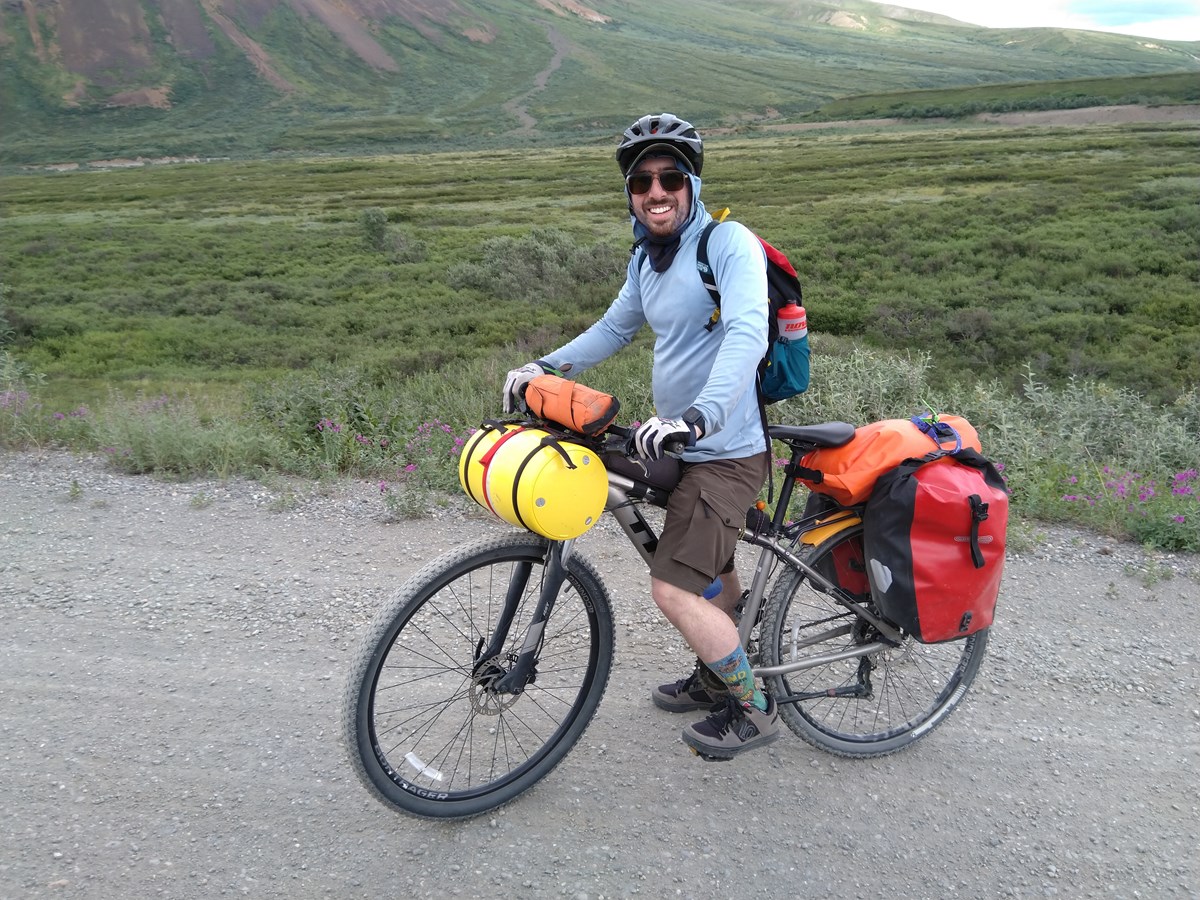 Experience the Road on Two Wheels
Bicycle camping, or bike-packing, on the Park Road is a memorable experience, but it takes careful planning and some extra consideration. Be conservative when you estimate how many miles you can cycle each day. The road traverses several mountain passes (see elevation profile above,), wildlife in the road could delay your travel, and weather can be unpredictable. Tickets are required to ride the transit buses unless it is truly a life or limb emergency. You can purchase a discounted, one-way bus ticket as an insurance policy or as part of your planned trip.
Camping
Campgrounds
Campgrounds are convenient for bike-packing since they have bear resistant food storage and are right next to the Park Road. There are six established campgrounds: Riley Creek (Mile 0.25), Savage River (Mile 14), Sanctuary River (Mile 22), Teklanika River (Mile 29), Igloo Creek (Mile 35) and Wonder Lake (Mile 85). Note that it is 50 miles between Igloo and Wonder Lake campgrounds, a stretch of road that includes three significant passes (Sable, Polychrome, and Highway.)
You can reserve all campgrounds in advance except for Sanctuary and Igloo, which are reserved in-person on a first come, first served basis at the Denali Bus Depot or the Riley Creek Mercantile. Riley Creek, Savage River, and Teklanika all allow vehicles, but you cannot leave your vehicle parked in campgrounds if you are not planning on staying there again that night (i.e. while you cycle to another campground in the park.) Overnight parking is allowed in designated areas in the frontcountry.
Backcountry Camping
If you wish to camp outside of an established campground, you must obtain a backcountry permit at the Backcountry Information Center. This process takes about an hour and permits are free.
You can consider a bike-packing trip in Denali as a cycling trip AND a backpacking trip, where you cycle to your backpacking trip. You must carry an approved Bear Resistant Food Container—which can be awkward to mount on a bicycle if you haven't planned for it. We recommend having a backpack (it can be challenging to bushwhack while carrying panniers) and appropriate footwear for traveling across trail-less terrain. You must camp at least ½ mile (1.3 km) from the road with your tent out of view of the road. The need to be out of view of the road means campers must travel farther than a ½ mile in many backcountry areas.

This type of trip means you'll leave your bicycle overnight. Stash bicycles at least 25 yards from the road and out of sight. They must be marked with your name, backcountry permit number and date that it will be picked up (bicycle tags are available with your backcountry permit), so that rangers know the bicycles weren't simply abandoned. Remember where your bicycle is and be warned that it is not uncommon for bicycles to be damaged by wildlife. Animals may be attracted to the salty sweat that accumulates on bicycles, mostly on the seats and handlebars. Denali National Park and Preserve assumes no responsibility for any damages accrued to bicycles by wildlife or other park visitors.
If you wish to have your bicycle locked overnight, plan on using a designated bicycle rack at one of the campgrounds, visitor centers, or the Toklat Rest Area (Mile 52.) These designated bicycle racks also make it easier to locate your bicycle.

Remember that there is no camping allowed at visitor centers and other developed areas, including the Eielson Visitor Center and Toklat Rest Area. If you're unsure whether you'll make it to your camping location for the night, consider buying a one-way bus ticket as a backup.
Parking
Overnight parking is allowed in the Riley Creek Day Use Area, the small area next to the Backcountry Information Center, and at the Denali Visitor Center. Overnight parking is not allowed in the campgrounds (including Teklanika) or other developed areas such as Mountain Vista, Savage River or Teklanika Rest Area (unless it is the shoulder season and buses are not running.) For the most updated information, ask at the Denali Visitor Center, Backcountry Information Center, Denali Bus Depot, or Riley Creek Mercantile.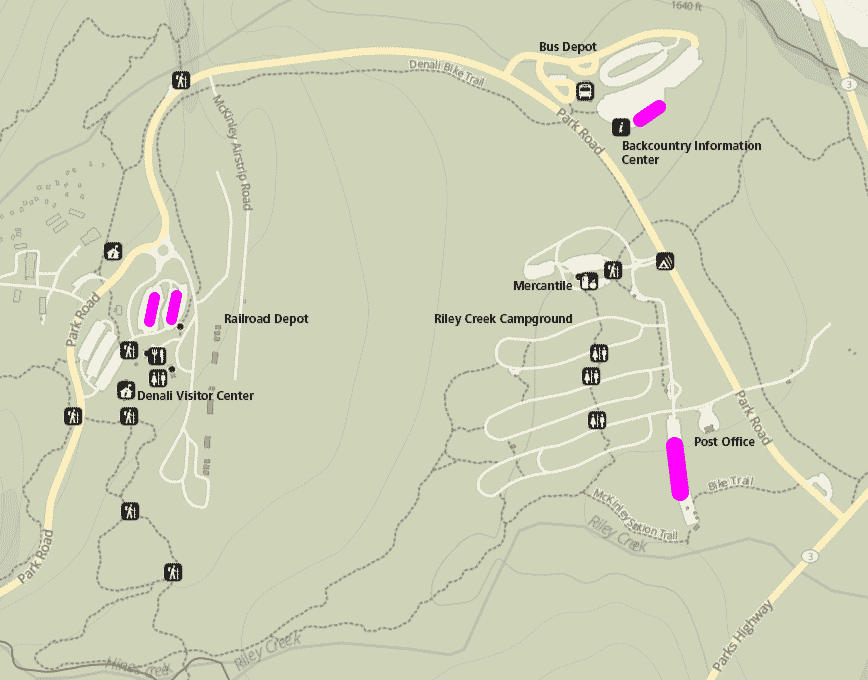 Last updated: December 9, 2021