Packrafting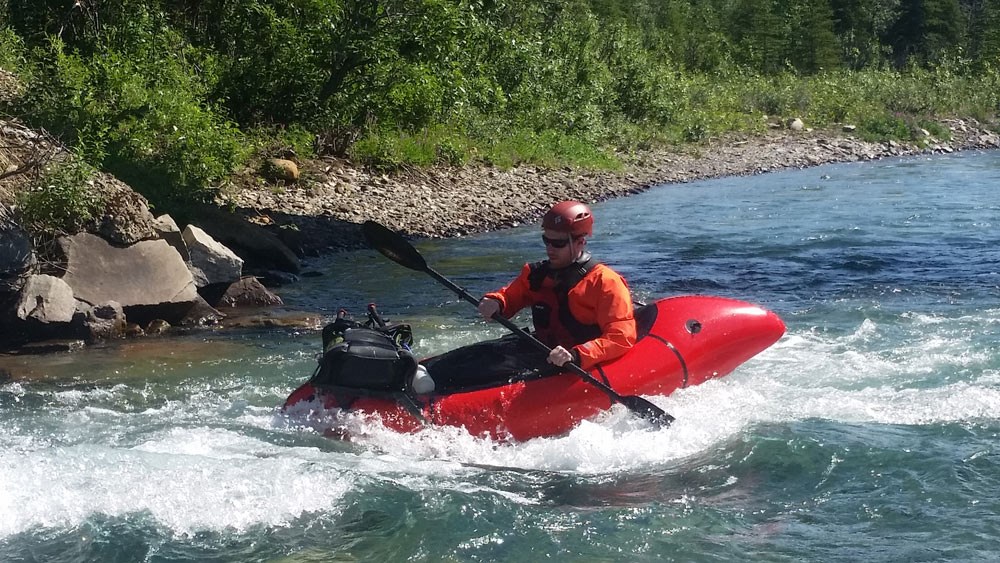 Travel by packraft can be both fun and rewarding. Denali's backcountry offers many possibilities for combining a day or overnight hike with packrafting. While there are many opportunities for beginners, the hazards and risks of any whitewater travel are great. You are responsible for understanding these risks and acquiring the skill and experience to be self-reliant.
Packrafting is inherently more dangerous than a backpacking adventure. Keep the following in mind:
Prepare for the worst.
Many packrafting rivers in Denali are extremely remote, and may require days of arduous cross country travel to reach the put-in. In these circumstances, even a minor injury or punctured boat can have serious consequences. Simple mistakes, such as failing to properly secure a backpack to a packraft, can lead to lost gear and wet, miserable nights in the backcountry. Prepare for the worst case scenario and have a plan on how to deal with it. We recommend carrying the following items in a small dry bag on your person in case you become separated from you boat: firestarter, compass, mirror, water purification, emergency blanket and some form of communications device such as a satellite phone.

Expect the unexpected.
Compared to commercially run rivers, packrafters can expect to deal with more unforeseen hazards such as fallen trees and hidden rocks. Fallen trees are particularly dangerous because they form strainers, where water passes through the branches of the tree but solid objects, like people and packrafts, do not. Strainers can trap a packrafter underwater, even with a PFD. Knowing how to recognize strainers or other hazards in the water and avoid them are some of the essential skills that should be learned by every packrafter before they hit the water.

Rain or shine, rivers can rise.
Rivers in Denali can rise rapidly depending on rainfall and meltwater from upstream glaciers. A calm Class I stream may quickly turn into raging Class III whitewater at higher water levels. There are few gauges on rivers in Alaska to accurately determine current water levels and predict when high water events will occur. You can contact local guides or the Backcountry Information Center to inquire about current river conditions throughout the area, but be aware that information received from second-hand sources should not be considered definitive. There is no substitute for assessing the river in person and practicing safe boating techniques. At a minimum, try and anticipate river conditions based on weather and seasonal flows, and be prepared to change your itinerary if the water levels are unsafe.

Dress for the swim.
The water in Denali is almost always exceptionally cold (usually around 38 degreees Fahrenheit). As a result, even relatively calm water poses significant risks. An unexpected plunge in icy water limits your ability to swim away from hazards such as strainers, or can lead to hypothermia if you are submerged for a prolonged period of time. The shock of hitting cold water also causes involuntary inhalation, which can result in drowning if you are underwater. Because of these risks, drysuits are highly recommended on all of Denali's rivers.

Always wear a PFD and a helmet.
The shallow nature of Denali's rivers means that there is always the threat of foot entrapment and colliding with rocks. Wearing a personal floatation device (PFD) and helmet are highly recommended in order to prevent drowning and potential head and spine injuries.

Water attracts wildlife.
Rivers and creeks are often the easiest paths of travel for animals in Denali. Because of this, wildlife activity is generally more concentrated around these corridors than other areas in the park. However, thick brush along stream banks and tight bends on narrow creeks may make it difficult to spot animals from a safe distance while on the river. Rapids or constricted sections of water may even make some wildlife encounters on the river unavoidable. Packrafters should anticipate sudden, close encounters with large animals such as Moose or Grizzly Bears and be prepared to quickly eddy out or ferry across the river to avoid these animals. As a precaution, carry bear spray within reach while on the water and know how to use it.
Pre-Trip Questions
Before you go, ask yourself these questions:
Does the trip match your group's experience and skill level?

Can you read whitewater and quickly recognize hazards such as strainers, holes, and undercuts? Do you have the skills to avoid these hazards or safely eddy out and scout unknown water?

What are the known hazards of the river you are running (e.g., named rapids or portages)? More importantly, what are the unknown hazards (e.g., unforeseen rapids at higher water levels or newly fallen trees on the river)?

Do you have a plan in case you lose your paddle or a member of your group is injured?

Have you run this river before or know someone who does? Is the water level at a safe level to run?
Recommended Gear for Packrafting
In addition to your overnight backpacking gear, we recommend the following equipment:
Drysuit

PFD, helmet, and river knife to cut rope and escape entanglements

Ten essentials and communication device carried in a small dry bag on your person

Repair kit for your packraft

Paddle, and depending on the length or difficulty of the trip, a spare

Throw bag

Gloves and appropriate footwear


Gear Rentals
Packrafts can be rented in Fairbanks, Anchorage or Seward. Inquire with the local Chamber of Commerce to see if any companies in the Denali area have begun renting rafts, drysuits or other gear.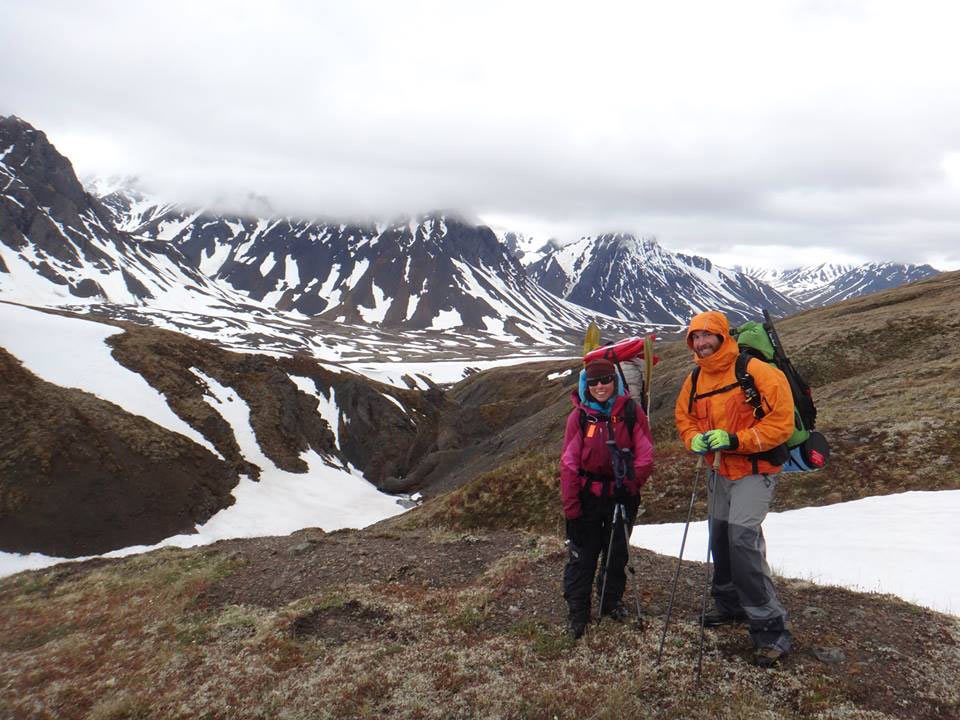 Routes
Denali provides a wide range of rivers to run in the park, from wide, braided streams to deep, boulder-strewn rivers. A common itinerary involves riding a bus into the park, disembarking and hiking south from the Denali Park Road, and then floating a river back to the road. Alternatively, your trip might involve floating north from the Denali Park Road, and hiking back via the same or a different route. There are also a number of creeks and rivers that are accessible without the bus system, that require more logistics but offer outstanding opportunities for solitude.

Rivers on the north side of the Alaska Range that cross the Park Road have good access and are generally large braided rivers. Be warned that many of these rivers turn into challenging Class IV and V whitewater as they continue north of the Park Road through the Outer Range. Rivers that drain the south side of the Alaska Range generally have more difficult access to reach the put-ins and more challenging whitewater.

Conditions on Denali's rivers vary widely, and they are not always floatable; check with rangers at the Backcountry Information Center when you arrive for an updated idea on conditions.

Before you go, check out the map of closures in the park, which sometimes span rivers. You cannot float through a critical wildlife closure.

Remember to be flexible with your itinerary, as any overnight trip is subject to the availability of the unit quota system. Day trips do not need a backpacking permit, but are still advised to speak to backcountry rangers about safety and conditions before starting a float. A significant majority of packrafting accidents in Denali have occurred during day trips.

Have fun and boat safe!
Packrafting is a growing sport that provides a new and exciting way to explore Denali's backcountry. But understanding the risks involved with packrafting, and developing the skills and knowledge to mitigate these risks, is essential before embarking on any trip in the backcountry.
Last updated: May 18, 2023