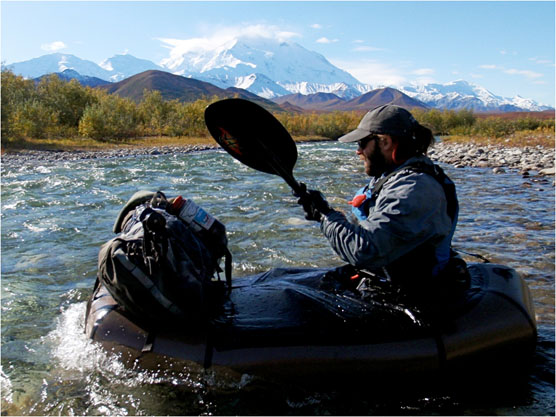 Travel by packraft can be both fun and rewarding. Denali's backcountry offers many possibilities for combining a day or overnight hike with packrafting. While there are many opportunities for beginners, the hazards and risks of any whitewater travel are great. You are responsible for understanding these risks and acquiring the skill and experience to be self-reliant.
Gear Rentals, Safety
Packrafts can be rented in Fairbanks, Anchorage or Seward, Alaska. Inquire with the local
Chamber of Commerce
to see if any companies in the Denali area have begun renting rafts, drysuits or other gear.
Packrafting is inherently more dangerous than a backpacking adventure. Keep the following in mind:
Practice the skills needed for packrafting on easier rivers with an experienced partner.
You should never packraft alone.
Always wear a personal floatation device (PFD), even if the river seems shallow. There are surprisingly deep sections in some otherwise shallow rivers.
Keep the usual wildlife safety practices in mind. Be aware that bears and moose are often seen alongside (or even in!) rivers.
The water here is almost always exceptionally cold (usually around 38 degreees Fahrenheit). A wet suit or a dry suit is a vital piece of packrafting equipment for any float.

Routes
In general, most rivers in Denali flow from south to north. A common itinerary involves
riding a bus into the park
, disembarking and hiking south from the Denali Park Road, and then floating a river back to the road. Alternatively, your trip might involve floating north from the Denali Park Road, and hiking back via the same or a different route.
Looking at a park map, you'll see quite a few rivers that flow more or less directly north. These include Riley Creek, Savage River, Sanctuary River, Teklanika River, East Fork River, and Toklat River.
Conditions on all of these rivers varies, so they are not always floatable; check with rangers at the Backcountry Information Center when you arrive for an updated idea on conditions.
Also glance at our map of closures in the park, which sometimes span rivers. You cannot float through a critical wildlife closure.
Remember to be flexible with your itinerary, as any overnight trip is subject to the availability of the
unit quota system
. People floating purely as a day-trip do not need a backpacking permit, but are still advised to speak to backcountry rangers about safety and conditions before starting a float.