Leave No Trace
The fundamental goal of following Leave No Trace principles is to have your group leave an area the same or better than you found it. Public spaces, from National Parks to a city square, are set aside for all to enjoy and we must each do our part to protect them for the next person, animal and generation that comes along.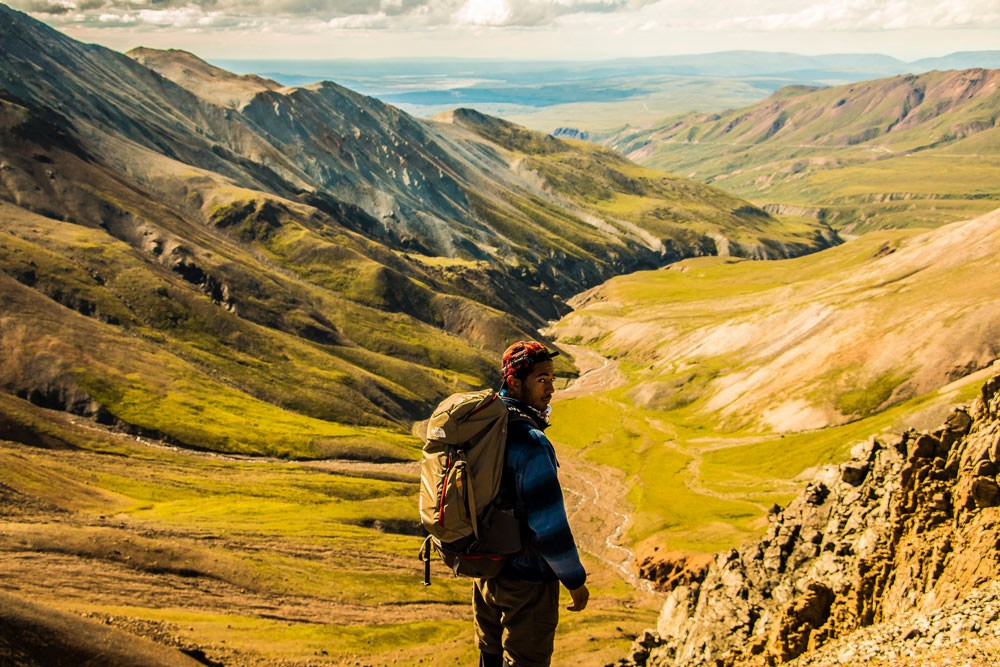 Denali was set aside over 100 years ago to protect wildlife, preserve history and provide for public enjoyment. Today you will find most of it is managed as federally protected Wilderness, a place preserved, "in contrast with those areas where man and his works dominate the landscape." As you travel through this unique landscape, be inspired and free, but remember the actions of few can impact the experience of many. Respect the plants and animals that call Denali home, and take responsibility for their continued protection by following the seven principles of Leave No Trace below.
1. Plan Ahead and Prepare
Denali's hazards include remote terrain, large wildlife, and unpredictable weather, making it essential to be properly prepared for both day trips and multi-day excursions. In addition to safety, being prepared can prevent you from impacting an area unintentionally.
Do your research beforehand on what to expect in Denali
Ensure someone knows the plan for your trip and your return date. There is no cell phone service in most of the park.
Bring what you need to keep yourself safe if there is a change in the weather or an emergency. Check out the safety advice lower on this page and recommended gear lists for day hikers and gear lists for overnight users.
Know park rules and regulations for your activity. Federal lands allow for multiple activities and experiences, but not all are allowed in all areas. Respect the rights of other users.
For additional information regarding planning ahead, watch "Chapter 2: Preparing for the Backcountry."

2. Travel and Camp on Durable Surfaces
Denali has very few trails and no developed campsites off the park road, which makes low-impact travel different here than for most National Parks. Once you leave a formal trail, Denali strives to disperse people throughout the park to avoid everyone walking and camping in the same place.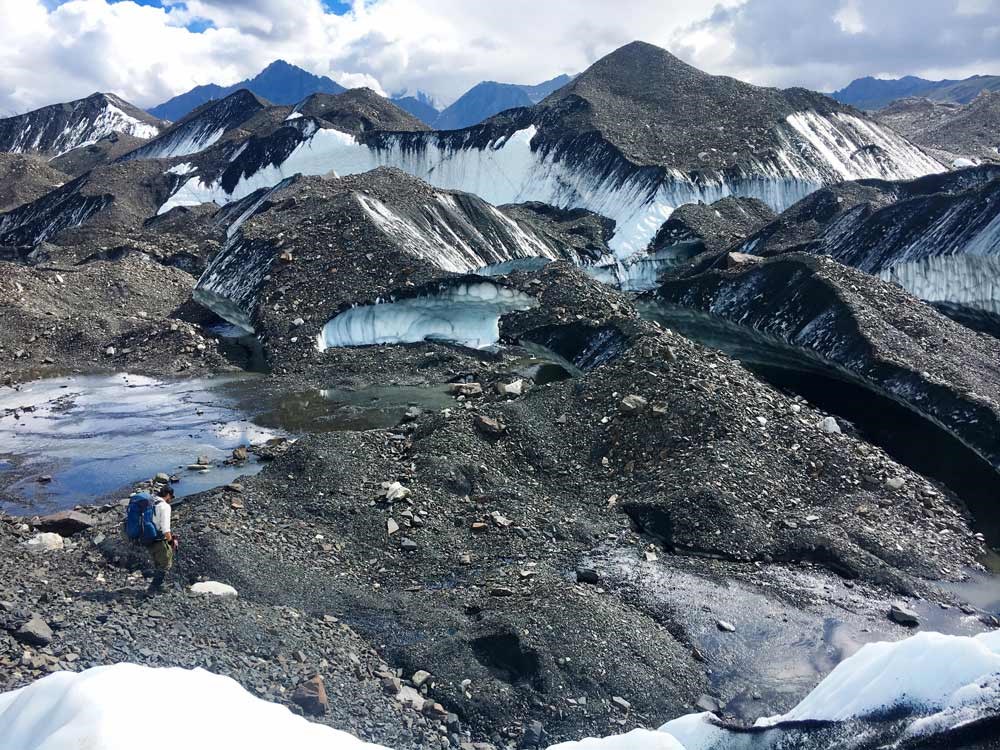 If you are on a formal trail, stay on the trail to concentrate your impact.
If you leave a formal trail, attempt to travel, rest, and camp on the most durable surfaces available. Durable surfaces are areas free of vegetation such as rock, sand, gravel, or snow. Gravel bars and dry washes are great, durable trail corridors.
When on vegetation, spread out to disperse your impact. Walk side by side rather than single file. If terrain or wildlife necessitates you bunch up, spread out again as soon as you can.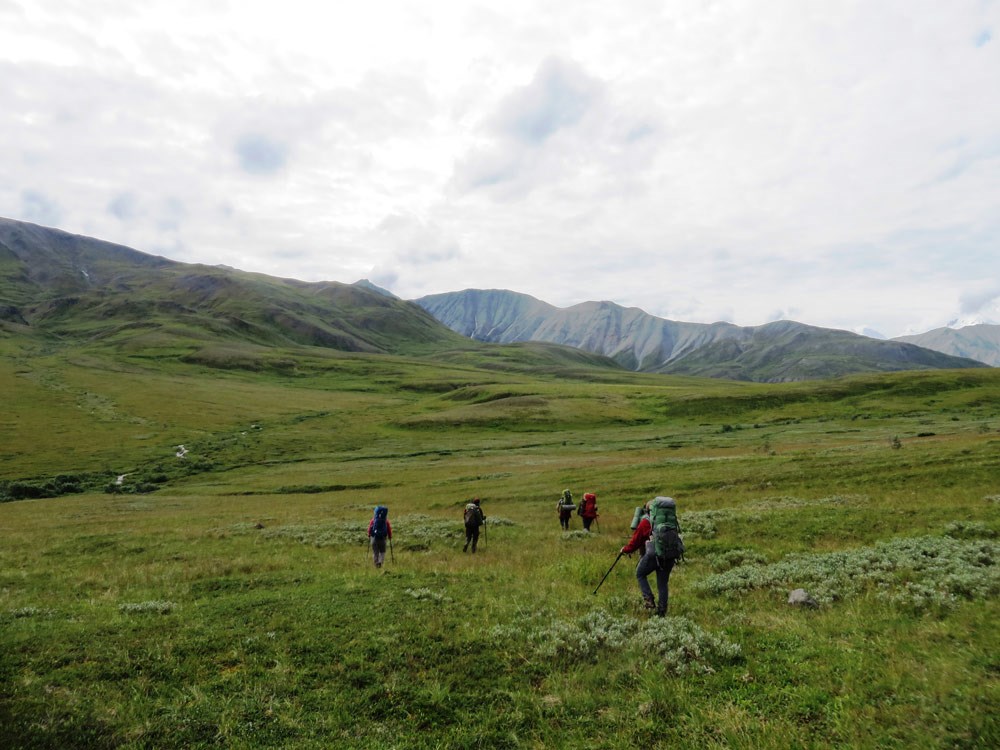 If you are camping outside of a campground, do not stay more than two nights in the same spot to minimize your impact to that location. Camp on a durable surface and move your tent at least 1/2 mile to disperse your impacts. Avoid areas that show pre-existing disturbance from camping so they can recover.
For more information on hiking and camping, watch "Chapter 3: Hiking in the Backcountry" and "Chapter 4: Camping in the Backcountry."
3. Dispose of Waste Properly
Improper disposal of trash and human waste can have negative impacts on both the experience and the health of visitors and wildlife.
Pack out everything you take into the backcountry. This includes all food waste, garbage, and even biodegradable material such as banana peels and egg shells.
Solid human waste should be buried 6 inches deep and at least 200 feet from water, trails and camp. Ideally it is buried in deep organic soil. Pack out your toilet paper and sanitary products.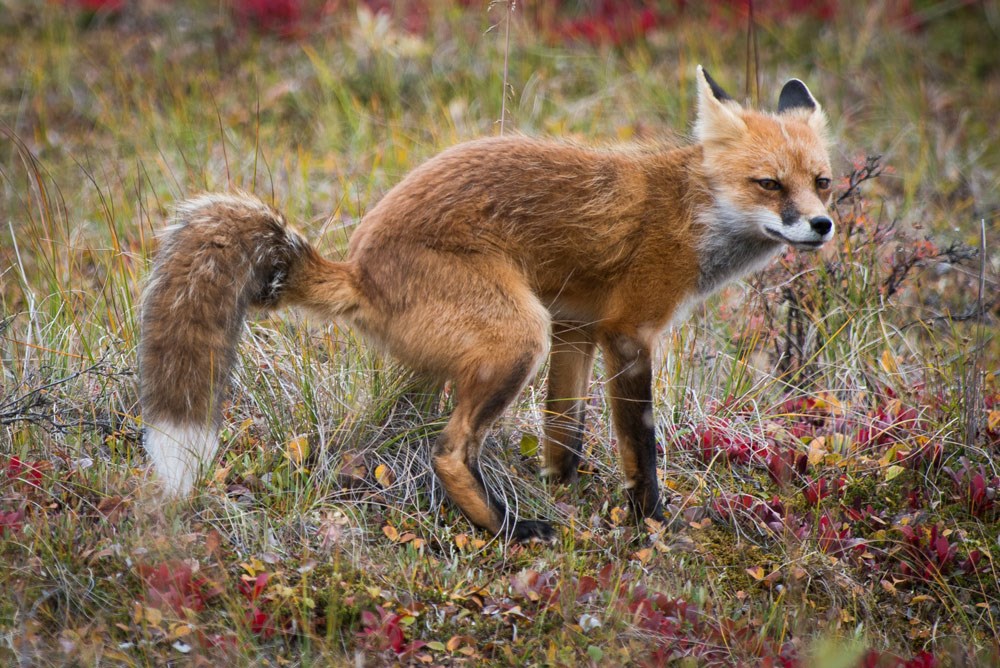 Urinate away from drinking water sources and off formal trails.
In certain areas of the park, Clean Mountain Cans (CMCs) are required for carrying out human waste. Learn more about Clean Mountain Cans.
4. Leave What You Find
As a visitor, leave the items you find in the park undisturbed. Denali's long and interesting history can have you stumbling across anything from dinosaur bones, to 10,000 year old artifacts, to historic mining equipment. Let the park's natural and historic objects remain undisturbed for future enjoyment and study.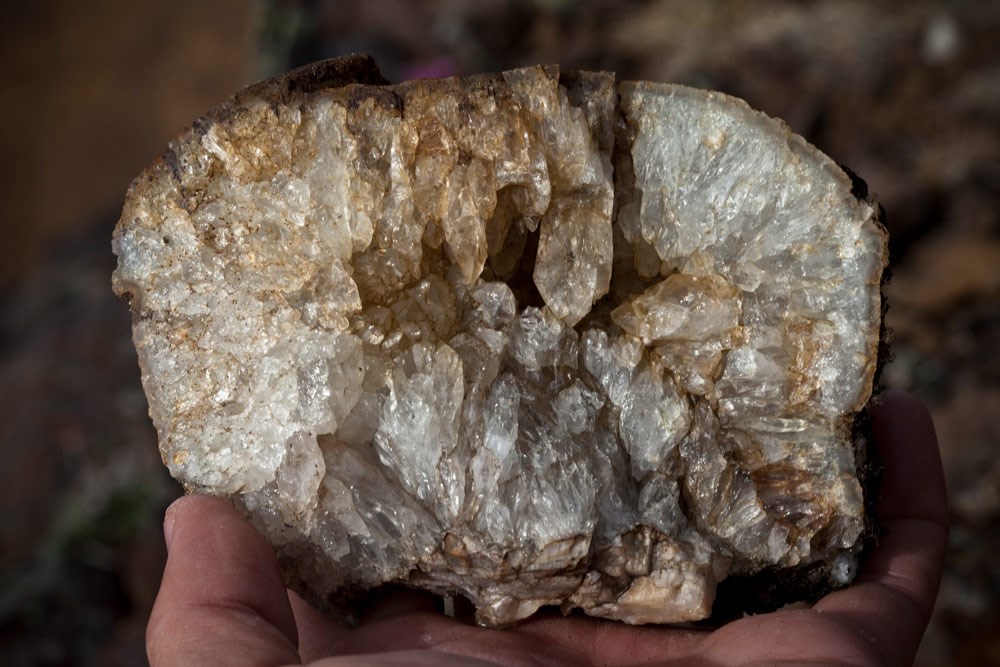 Leave the backcountry as you found it; do not take home rocks, artifacts, antlers, animal remains or flowers as souvenirs. Feel free to eat edible plants and berries for personal consumption.
Good campsites and rest spots are found, not made. Do not damage vegetation or rearrange rocks and logs while taking breaks. If items are moved, place them back before leaving.
Avoid making or worsening informal trails. Do not cut vegetation or leave navigational aids such as rock cairns or arrows.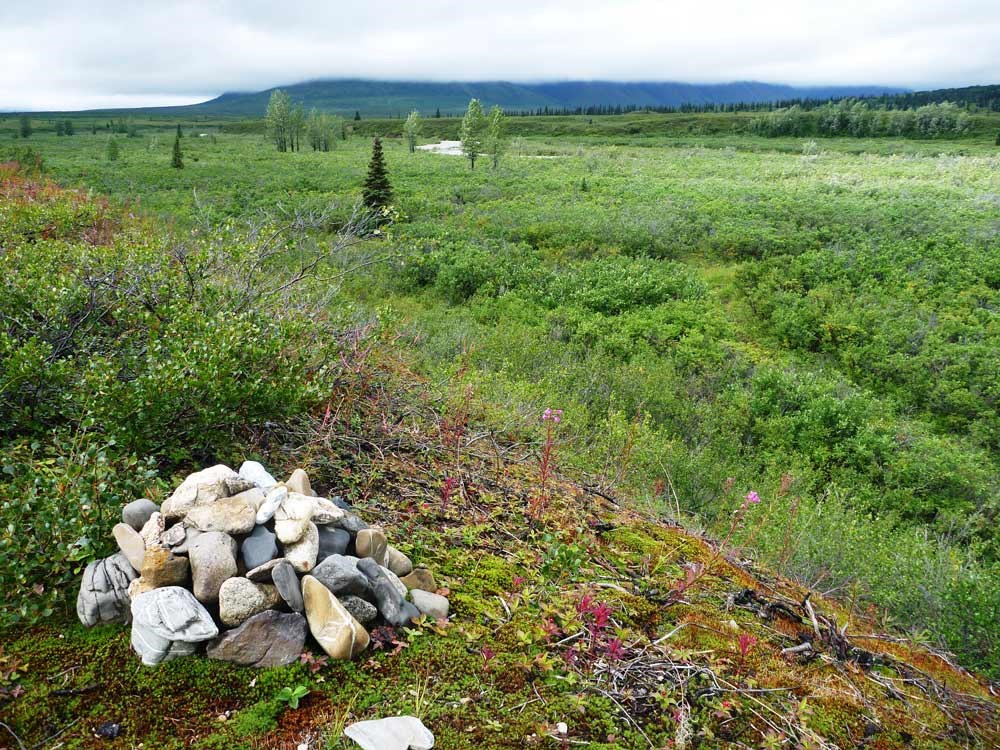 5. Minimize Campfire Impacts
Denali has specific areas and seasons where fires are permitted. In summer, fires are prohibited in the Wilderness and in some established campgrounds. Know the rules for your campground before you start a fire. Even when fires are permitted, avoid campfires when possible since they can create fire scars, increase wildfire risk, and tend to be repositories for trash that won't fully burn. Wood can also be a limited resource in parts of Denali. If you do choose to have a fire, adhere to the following principles:
Keep fires small and always in control. Use sticks from the ground that can be broken by hand.
Burn all wood and coals to ash, put out campfires completely, and then scatter cool ashes.
Any rocks used for fire pits must be dispersed after the fire is extinguished.
All trash must be removed from the fire site after use.
6. Respect Wildlife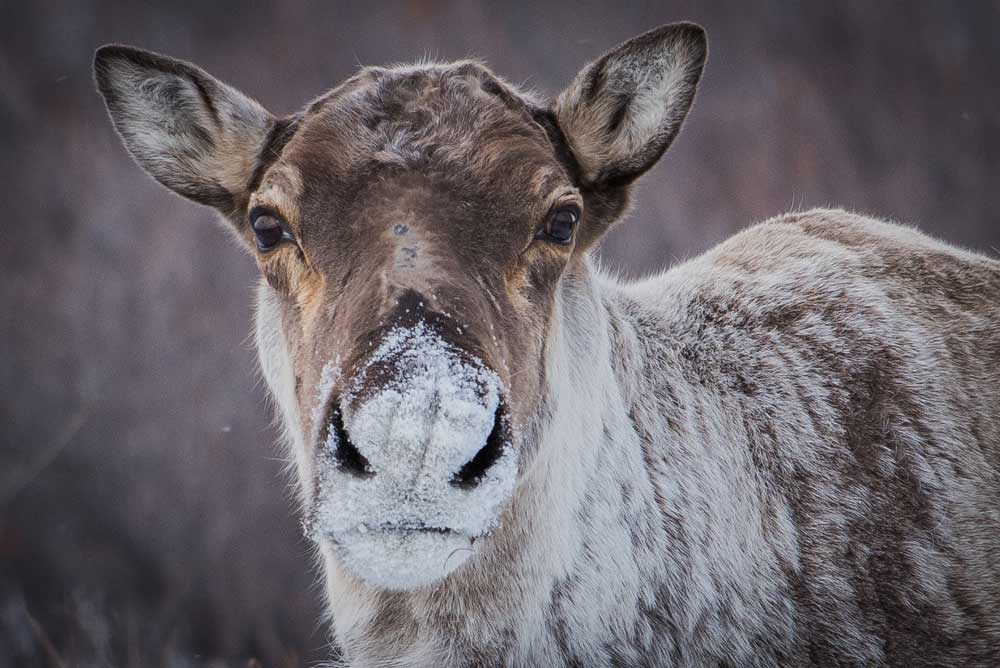 Denali is home to many diverse wildlife species. While wildlife viewing tends to focus on large charismatic mammals, remember these species rely upon even the smallest of animals to survive in this harsh habitat. Respect all wildlife by adhering to the following principle while you are a visitor in their home.
Never feed or approach wildlife. The viewing distance for all wildlife except bears is 25 yards. For bears, the viewing distance is 300 yards.
If an animal is changing its behavior, you are too close. Back away.
Bear Resistant Food Containers (BRFCs) are required for most overnight backcountry trips in Denali.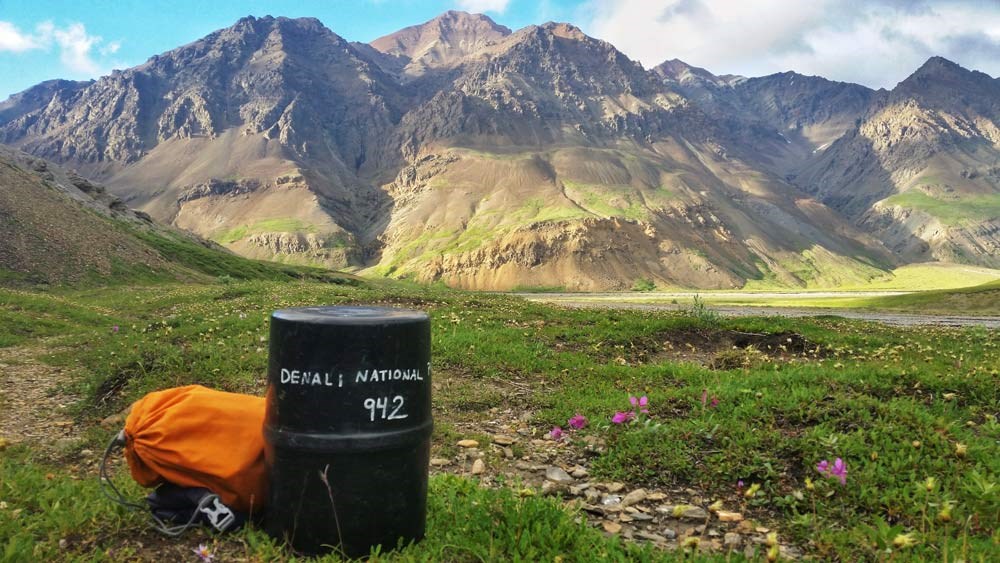 Travel through any wildlife closure is prohibited. Current closures can be found at https://www.nps.gov/dena/planyourvisit/closures.htm
For additional information on wildlife safety, watch "Chapter 5: Animal Safety and Behavior."


7. Be Considerate of Other Visitors
People venture into Denali for reasons as varied as there are visitors. Be courteous towards all others you meet so everyone can have a quality experience.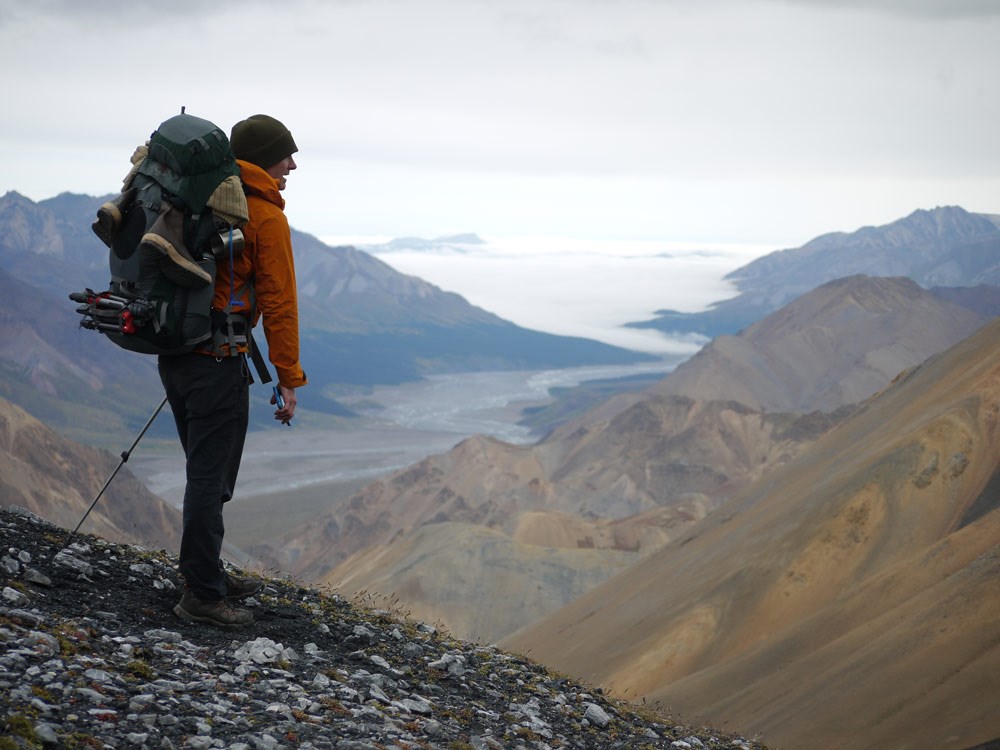 Keep your group size small.
Give space to other groups to allow for opportunities of solitude and peace.
Keep the trail clear when you are taking a break so that other users can pass through.
Let nature's sounds prevail. Avoid loud voices and noises except when alerting wildlife to your presence in areas with reduced visibility.
When camping, set up your tent out of sight of the park road, other users, and established trails and developed areas.
We encourage you to learn more about the seven principles of Leave No Trace.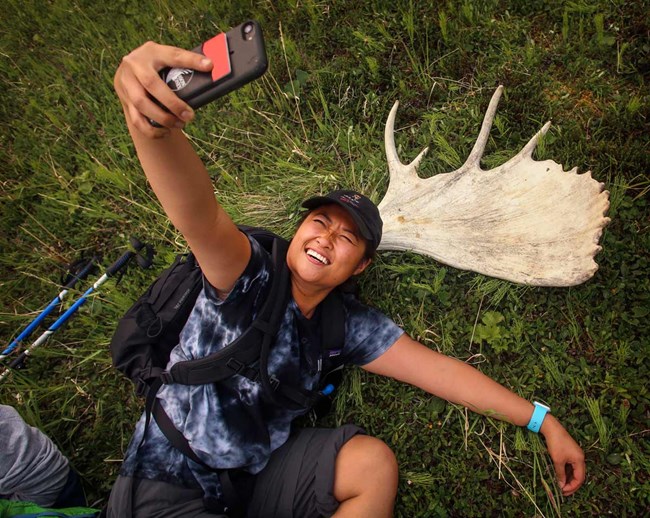 Use Social Media Responsibly
Social media has the power to significantly impact Denali, for better or worse. It can be used to inspire outdoor enthusiasts to follow Leave No Trace principles and appreciate the park, or it can reinforce negative behavior and draw crowds to places that were once tranquil.

Consider the following points:
Be thoughtful about location tags, and please do not post GPS tracks
.
Denali is mostly without trails, which supports wilderness values like self-reliance, solitude, and discovery. However, when specific locations or GPS tracks are shared broadly, the footsteps of followers may lead to trail formation, overused campsites, and multitudes of people congregating at points of interest. Please keep your tags general if you choose to include them.
Encourage the positive, avoid posting the negative
.
Your platform may motivate others to pursue similar activities, so lead by example. Are you at least 300 yards from the bear in your photo? Consider whether the actions depicted in your posts are responsible, legal, and demonstrate good stewardship.
Are you being compensated for your content?
Denali might make for a stunning backdrop, but if you are posting for financial gain or product placement, there is a process to ensure that you are doing it legally. Commercial film producers, photographers, brand ambassadors, influencers, and other marketers should take a look at
Denali's film and photo permit page
to learn more.
---
Winter Considerations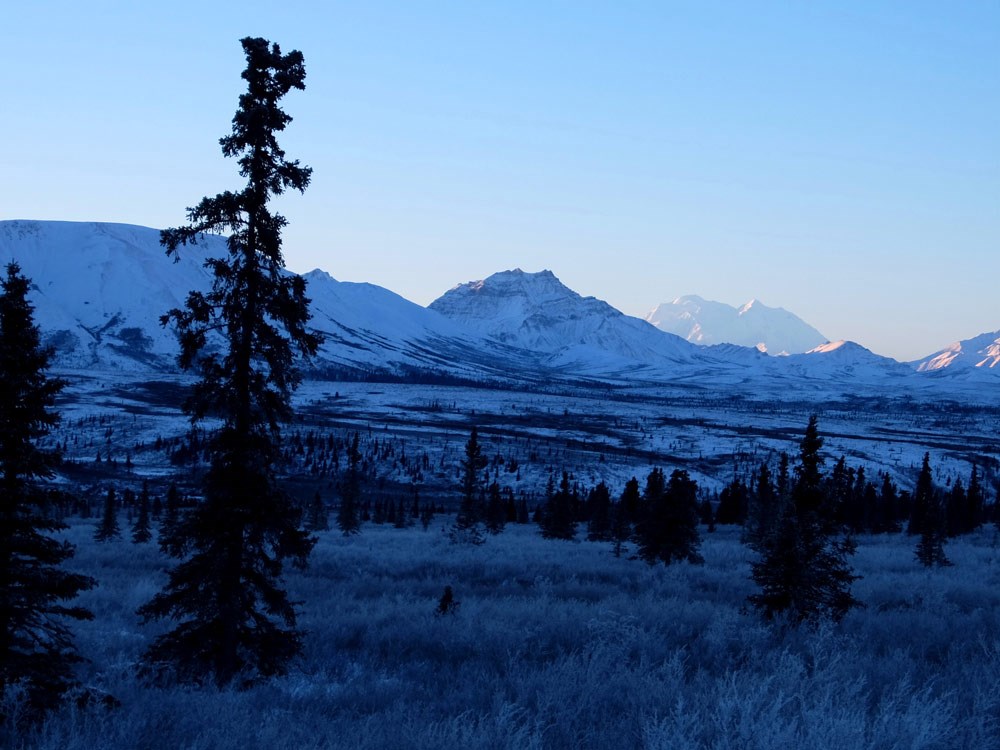 Leave No Trace principles hold true even in Denali's longest season, winter. Continue to follow the seven principles to minimize the impact you have while you are here and after you leave. In addition to the Denali-specific considerations below, you can find more Leave No Trace winter backcountry tips at Leave No Trace winter backcountry tips.
1. Plan Ahead and Prepare
Spend more time planning ahead. Many local services may be unavailable, there are fewer NPS facilities open, and the weather can be extremely cold (-40 C and F). Be sure to have carefully researched and detailed emergency plans, and share them with someone you trust.
2. Travel and Camp on Durable Surfaces
Snow and ice are excellent durable surfaces to travel and camp on; routes made on these surfaces should have few lasting impacts in the spring. Avoid areas of tundra or vegetation that have blown clear of snow and are more susceptible to damage when cold and brittle.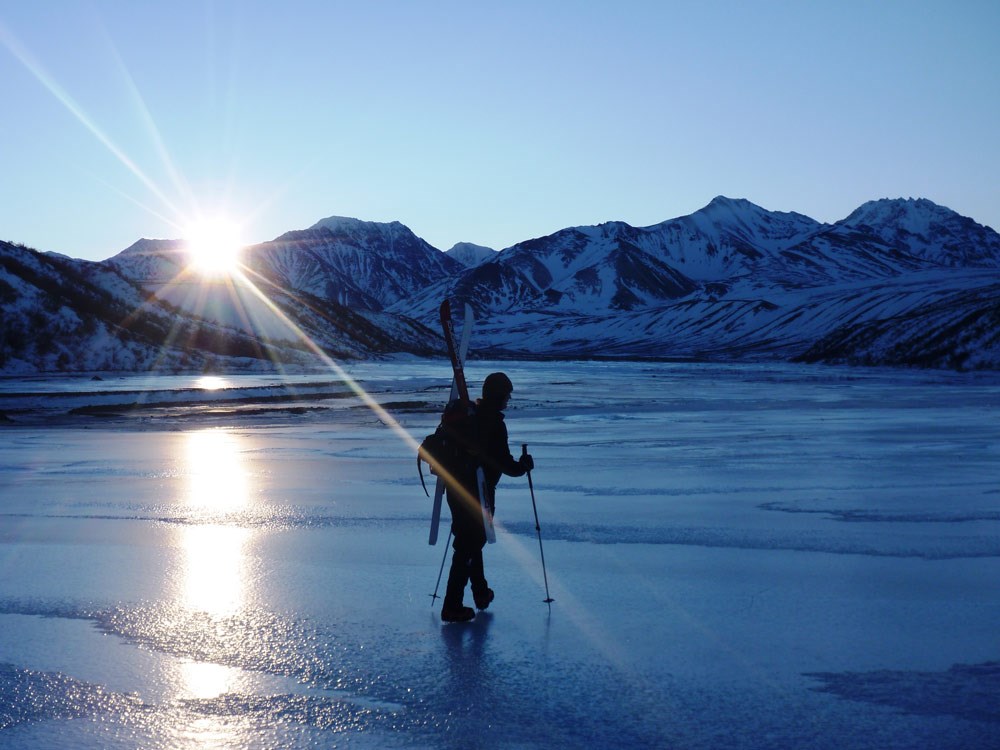 3. Dispose of Waste Properly
Frozen human waste in winter can become a health hazard and eyesore when it melts out in summer. Use provided outhouses when available along the park road. If there is no outhouse available, think about where it will melt out in the spring. Take the time to find a place that is at least 50 feet away from trails and 200 feet away from water sources and areas of high use in the summer (campgrounds, designated trails, park road, and other facilities). Do your best to dig through the snow to ground level and then cover with snow.
Disperse dog waste away from trails, roads, parking areas, campsites, and park facilities.
Pack out all trash and food, including extra dog food.
4. Leave What You Find
Do not mark trails with flagging, wands, cairns, or other demarcations.
Staking dogs out in areas of trees or brush will protect them from the wind. When staking dogs out, use rope or webbing to tie off the drop lines instead of cable or chain to reduce damage to trees and avoid girdling them.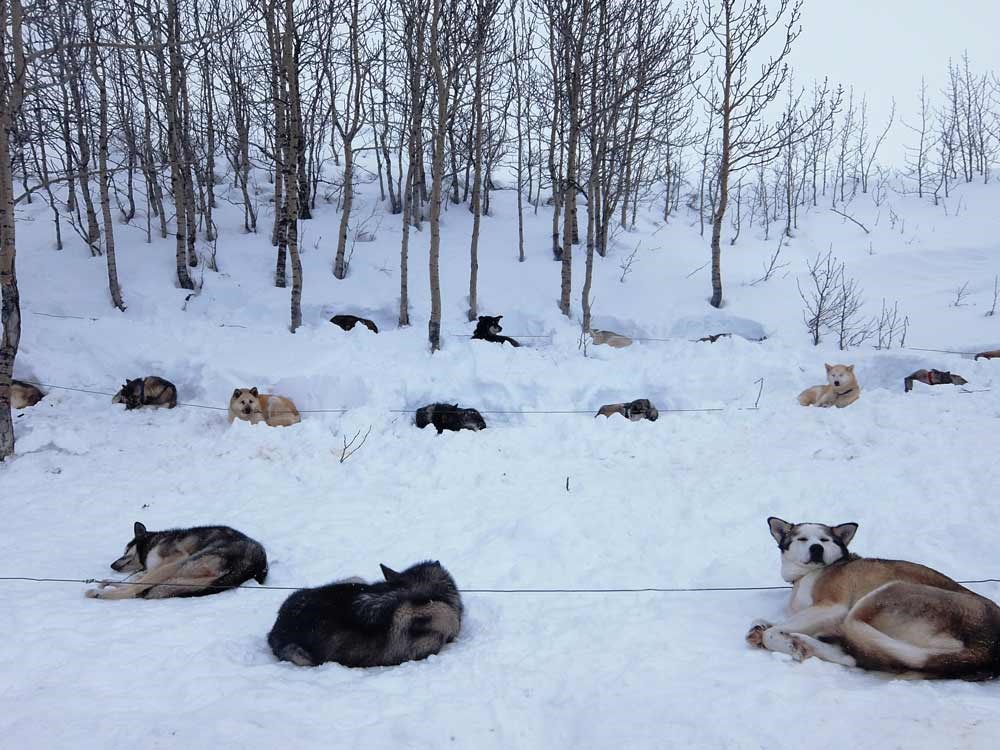 Do not bring straw to bed down your dogs on the trail. Even "weed-free" straw has a risk of introducing invasive plants to Denali's ecosystem.
5. Minimize Campfire Impacts
Plan ahead and bring a stove to use with your tent. Otherwise, only start fires if needed and disperse the ashes and wood you don't use. If you do start a fire, do so away from the park road, facilities, parking areas, and water sources. Use dead and down wood. Pack out any trash that is not fully burned.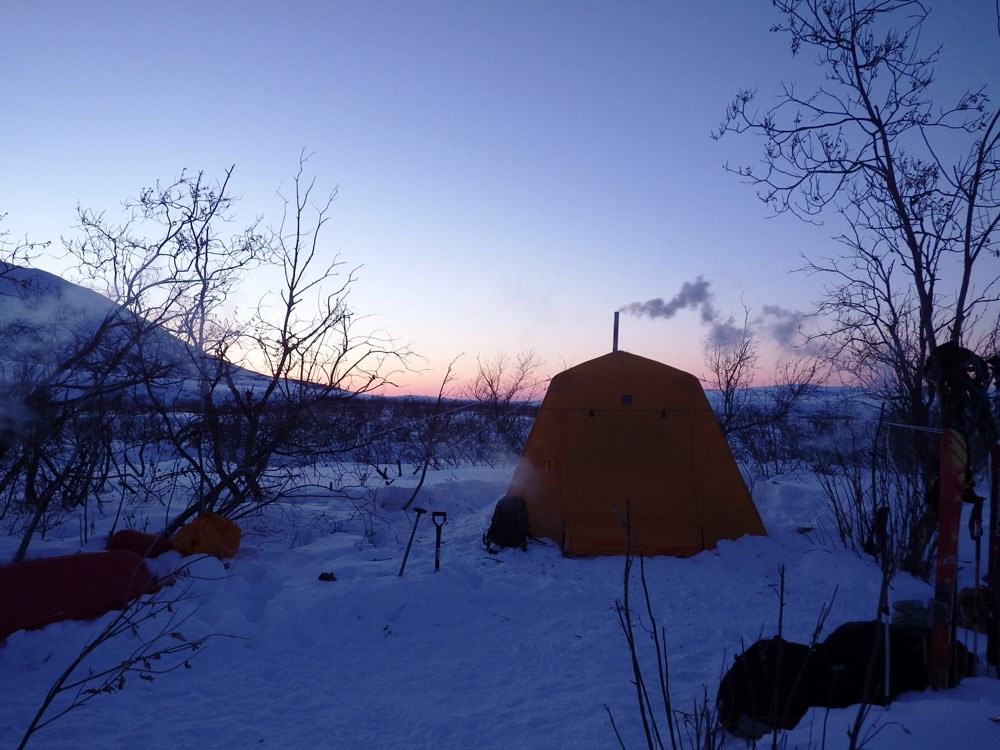 6. Respect Wildlife
Even though most bears are hibernating, take care to protect your food and garbage from all wildlife and do not leave it unattended. Ravens, gray jays, and voles are particularly good at getting into bags and making a mess.
7. Be Considerate of Other Visitors
Respect other trail users; skiers, skijorers, and snowshoers should yield to dog teams as it is usually more difficult to stop a dog team. Get completely off the trail to allow the team to pass. Skijorers should pull their dog(s) out of the trail and keep a firm grip on them to keep them out of the way of full dog teams.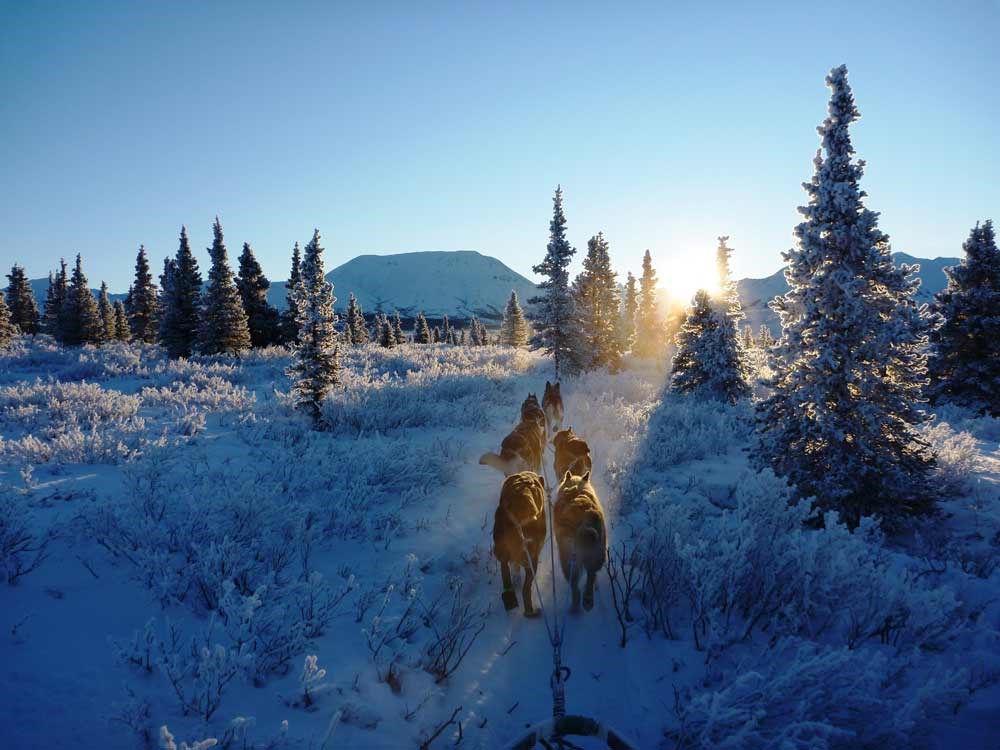 Campsites should be located off the main ski/dogsled trail and the park road. Camping in the middle of the thoroughfare can be dangerous to both campers and travelers. Respect other users by camping out of sight and sound of their camps.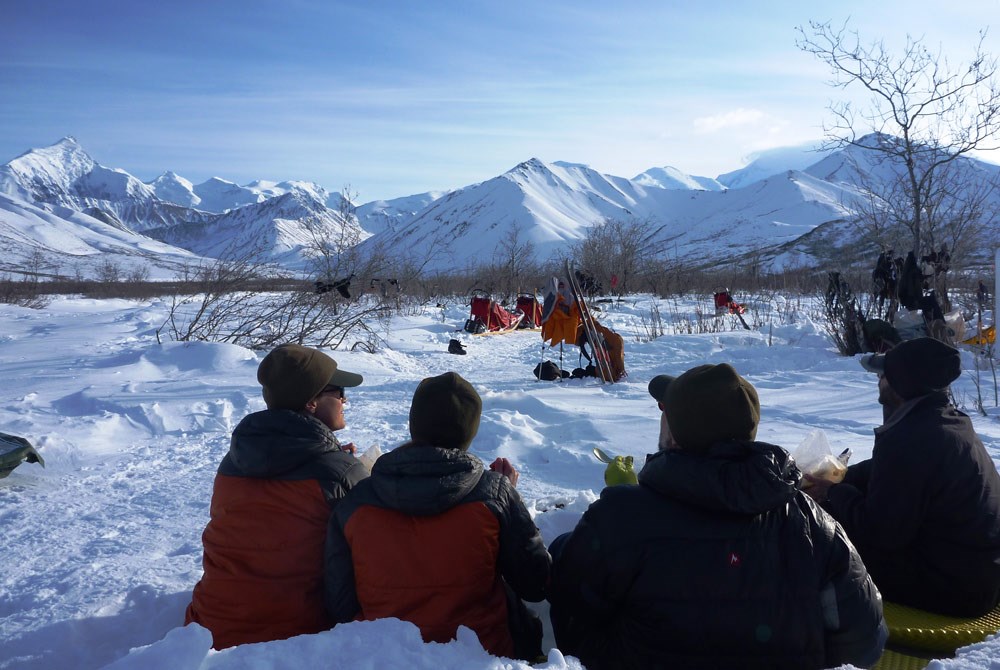 Last updated: June 29, 2021