Current Conditions
The below information is for reference only. We will continue to evaluate and adapt to changing COVID-19 guidance and adjust operations as needed.
Important Safety Notice
The National Park Service follows CDC guidance to reduce the spread of COVID-19. Check locally and in the park apps for updates and changes in park operations. Thank you for helping to keep yourself and others safe and healthy.
If you are not yet fully vaccinated, wearing a mask is required in all common areas in buildings owned, rented, or leased by the National Park Service, including, but not limited to, park visitor centers, administrative offices, lodges, gift shops, and restaurants; and outdoors where physical distancing cannot reasonably be maintained. You should practice physical distancing by maintaining at least 6 feet (2 m) of distance between you and others.
Masks are not required for those under the age of two or when actively eating or drinking.
If you are fully vaccinated, wearing a mask and physically distancing are not required indoors or outdoors unless otherwise posted.
Wash your hands with soap and water for at least 20 seconds or use hand sanitizer. Cover your mouth and nose when you cough or sneeze. If you feel sick, do not visit the park.
Roads and Construction
For current road status, check the map above or call (307) 344-2117 for recorded information. The park roads page lists current status, seasonal road opening/closing dates, as well as construction projects. The webcams provide a live look at traffic approaching the north and west entrances.
Road Closures
The Grand Loop Road between Tower-Roosevelt and Canyon Village will be closed for all of 2021.
Road Construction
Expect delays and/or traffic pattern changes in these locations.
North Entrance
Entrance/Exit to Old Faithful area
Eating and Sleeping
Most park lodging and camping is reserved and full. If you don't already have a reservation, you are extremely unlikely to find overnight accommodations in the park or nearby. No camping or overnight vehicle parking is allowed in pullouts, parking areas, picnic grounds, or any place other than a designated campground.
Please check out the Operating Hours page for what services are available in the park.
Wildlife
Never approach animals or block traffic to view them. The animals in Yellowstone are wild and unpredictable, no matter how calm they appear to be. Always stay at least 100 yards (91 m) away from bears and wolves, and at least 25 yards (23 m) away from all other animals, including bison and elk. Read more about safety in bear country.
Fire
Wildland fire danger is VERY HIGH. See the current fire activity page for more information.
Weather
The weather in Yellowstone can change quickly, especially during the fall. Check the weather page for more information and the webcams to observe current weather conditions.
Snow
The Natural Resource Conservation Service offers an interactive map that displays current data on snow depth, snow water equivalent, and more from SNOTEL stations in and around Yellowstone. Avalanche forecasts and other winter safety information are available from the Gallatin National Forest Avalanche Center and the Bridger Teton Avalanche Center.
Swim and Soak
Boiling River: Closed until further notice
Firehole Swim Area: Closed until further notice
Park waters are swift and cold: use caution around all rivers and streams. Read more about swimming and soaking in Yellowstone.
Hiking Trails and Backcountry Campsites
Check the backcountry situation report or call the Backcountry Office at 307-344-2160 for trail and campsite conditions. Stream levels have risen in some areas with the recent rain and snow. Use caution when crossing streams.
Fishing
The fishing season runs from the Saturday of Memorial Day weekend (usually the last weekend in May) and extends through the first Sunday in November.
Effective Saturday, July 24, 2021, fishing on Yellowstone National Park's rivers and streams will be prohibited from 2 p.m. to sunrise the following day.
Due to high-water temperatures and unprecedented low stream flows, this closure will remain in effect until further notice to protect the park's native and wild trout fisheries. Anglers can fish on rivers and streams from sunrise to 2 p.m. Yellowstone Lake and other lakes will remain open to fishing from sunrise to sunset.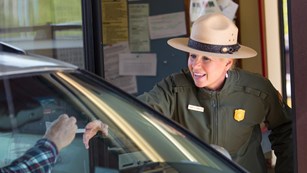 Basic Information
Get all the essential information here, from directions to entrance fees to hours of operation.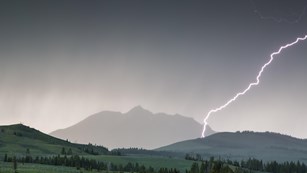 Backcountry Situation Report
Current conditions for trails and campsites.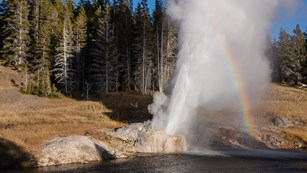 Current Geyser Activity
Get the latest geyser eruption predictions.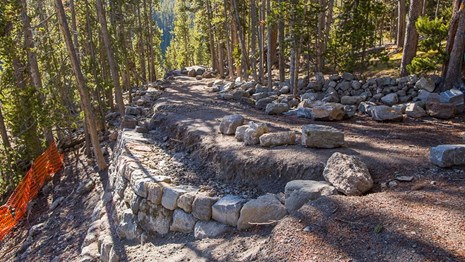 Canyon Area Construction Projects
Learn about current and future closures that are part of the Canyon Overlooks and Trails Restoration Project.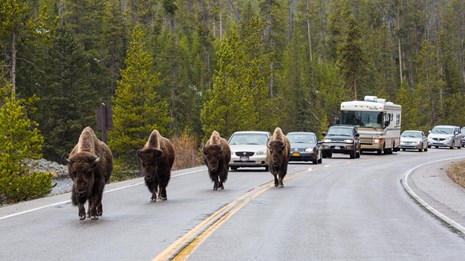 1610 AM
You'll find great advice on our 24/7 traveler's information station.