Fees & Passes
The entrance fees you pay when visiting Yellowstone make a difference! Under the Federal Lands Recreation Enhancement Act, national parks keep 80% of all fees collected and use that money to fund critical projects that improve services and protect resources. In Yellowstone, entrance fee revenue provides $8.8 million a year for accessibility improvements, campgrounds, infrastructure, roads, native fish restoration, aquatic invasive species mitigation, and more.
Free Entrance Days
Check out the list of
fee-free days
coming up this year.

Entrance Fees
Whether you're planning a single visit or coming back multiple times a year, enjoy the convenience of purchasing a Yellowstone National Park site-specific digital pass on Recreation.gov before you arrive. You have immediate access to your digital pass and can easily download it on your phone or tablet. Your pass will also be emailed as a PDF and can be printed out for display when you arrive.
Learn more about your pass options, find the right Yellowstone National Park pass for you, and buy your pass online.
Visitors entering Yellowstone's South Entrance will be traveling through Grand Teton National Park first; separate entrance fees are charged.
The following passes are sold at all entrance stations.
Seven-day Passes
Good for entry into Yellowstone National Park for seven days from the date of purchase.
Private, non-commercial vehicle: $35
Motorcycle or snowmobile: $30
Individual (by foot, bicycle, ski, etc.): $20/person
Annual Pass
Annual pass providing free entrance into Yellowstone National Park for one year (valid through the month of purchase). On a snowmobile, this pass admits the signer(s). When traveling by snowcoach or shuttle, this pass admits a signer and up to three additional persons (16 and older) for a total of four people.
Yellowstone National Park Annual Pass: $70.00
Regulations and Exceptions
All passes are non-transferable.
All snowmobiles must be on a guided tour or permit.
School groups and other bona fide national and international academic institutions may be eligible for an Academic Fee Waiver.
Anyone age 15 or younger is exempt from paying entrance fees.
Passes may be used for entry as defined on the back of the pass.
Anyone traveling through the park for business or commercial purposes needs a commercial travel permit.
Non-Commercial Buses/Vans
Non-commercial groups (e.g. church groups, scouts) traveling in vehicles with a capacity of 16 people or more pay $20/person.
Commercial Tours
Commercial bus tours pay fees based on the seating capacity of the vehicle. The following fees cover entry to Yellowstone:
Commercial Sedan (1-6 seats): $25, plus $20/person
Commercial Van (7-15 seats, regardless of occupancy): $125
Commercial Mini Bus (16-25 seats, regardless of occupancy): $200
Commercial Motor Coach (26 or more seats, regardless of occupancy): $300
Commercial entry good for seven days as long as it's the same passenger group.
Additional information about standardized Road-based Commercial Tour (RBCT) CUAs and fees can be found on the national Commercial Use Authorizations web page.
If you are a Road-based Commercial Tour operator and would like to receive communication from the park regarding operational changes then please email us your business name, contact name, address, phone number, and email address.
Federal Lands Passes
Federal lands passes are accepted and sold at Yellowstone entrance stations.
Note about Winter Use in Yellowstone
On a snowmobile, annual/lifetime passes admit the signer(s). When traveling by snowcoach or shuttle, passes admit a signer and up to three additional persons (16 and older) for a total of four people.
New passes added this year include: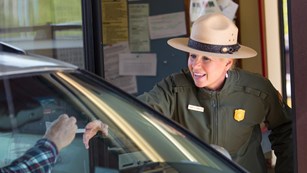 Basic Information
Get all the essential information here, from directions to entrance fees to hours of operation.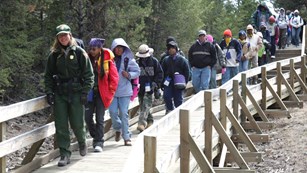 Academic Fee Waivers
Learn how your academic institute can apply for a fee waiver.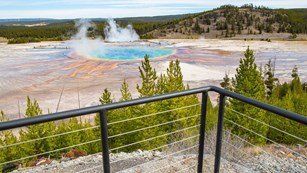 Your Fee Dollars at Work
Discover how your fee dollars are reinvested into the park.
Last updated: January 12, 2021