Fees & Passes
The entrance fees you pay when visiting Yellowstone make a difference! Under the Federal Lands Recreation Enhancement Act, national parks keep 80% of all fees collected and use that money to fund critical projects that improve services and protect resources. In Yellowstone, entrance fee revenue provides $8.8 million a year for accessibility improvements, campgrounds, infrastructure, roads, native fish restoration, aquatic invasive species mitigation, and more.
Free Entrance Days
Check out the list of
fee-free days
coming up this year.

Entrance Fees
Whether you're planning a single visit or coming back multiple times a year, enjoy the convenience of purchasing a Yellowstone National Park site-specific digital pass on Recreation.gov before you arrive. You have immediate access to your digital pass and can easily download it on your phone or tablet. Your pass will also be emailed as a PDF and can be printed out for display when you arrive.
Learn more about your pass options, find the right Yellowstone National Park pass for you, and buy your pass online.
Visitors entering Yellowstone's South Entrance will be traveling through Grand Teton National Park first; separate entrance fees are charged.
The following passes are sold at all entrance stations.
Seven-day Passes
Good for entry into Yellowstone National Park for seven days from the date of purchase.
Private, non-commercial vehicle: $35
Motorcycle or snowmobile: $30
Individual (by foot, bicycle, ski, etc.): $20/person
Annual Pass
Annual pass providing free entrance into Yellowstone National Park for one year (valid through the month of purchase). On a snowmobile, this pass admits the signer(s). When traveling by snowcoach or shuttle, this pass admits a signer and up to three additional persons (16 and older) for a total of four people.
Yellowstone National Park Annual Pass: $70.00
Regulations and Exceptions
All passes are non-transferable.
All snowmobiles must be on a guided tour or permit.
School groups and other bona fide national and international academic institutions may be eligible for an Academic Fee Waiver.
Anyone age 15 or younger is exempt from paying entrance fees.
Passes may be used for entry as defined on the back of the pass.
Anyone traveling through the park for business or commercial purposes needs a commercial travel permit.
Non-Commercial Buses/Vans
Non-commercial groups (e.g. church groups, scouts) traveling in vehicles with a capacity of 16 people or more pay $20/person.
Commercial Tours
Yellowstone National Park and Grand Teton National Park announce the 2021 commercial vehicle occupancy standards. In collaboration with the motorcoach industry and the U.S. Public Health Service, the following two commercial vehicle occupancy parameters have been established and are effective immediately:
Operators committing to have all customers/passengers either vaccinated or tested immediately before the trip (72 hours) will be permitted to operate in the park at 100% capacity.
Operators that cannot commit to having all customers/passengers either vaccinated or tested immediately before the trip (72 hours) will be limited to 50% of vehicle capacity, or 10 persons (including driver, guide), whichever is greater.
Grand Teton CUA holders and Concessioners: CUA holders shall continue to operate in accordance with the guidance that was formally provided on March 29, 2021 (including supplemental guidance). Concessioners shall continue to operate in accordance with their accepted COVID-19 Risk Management Plan Addendums.

Yellowstone CUA holders and Concessioners: The park is sending additional information to you separately.

Continued COVID-19 mitigations such as mask wearing, and other C.D.C. recommendations should also be in place.

The parameters are the result of a collaboration between the motorcoach industry and Yellowstone National Park to increase access and capacity. To ensure visitor safety, the industry recommended they will confirm all passengers are vaccinated/tested or will reduce capacity.

Operators will sign the certification document confirming which of these models they chose to operate under, or if choosing to operate a hybrid model - some trips under the model #1, others under model #2, a signature on the document certifies they understand and agree to comply with the parameters described for each. This document will not need to be presented at entrance stations but should be carried in the tour vehicle and may be requested at any time.

Operators are independently responsible for understanding and complying with the most current applicable laws, regulations, orders, ordinances and other requirements and for conducting their operations in a manner that is safe and protects the health of employees, customers and the public.

Please see the links below about COVID-19 guidance for multi-day road-based tours and transportation system operations. The guidance is based on current information.
If conditions change, Yellowstone and Grand Teton national parks reserve the right to change these parameters immediately. Please understand the parks will make every effort to communicate the need for the change in a timely manner; however, depending on conditions, immediate action may be necessary.
Commercial bus tours pay fees based on the seating capacity of the vehicle. The following fees cover entry to Yellowstone:
Commercial Sedan (1-6 seats): $25, plus $20/person
Commercial Van (7-15 seats, regardless of occupancy): $125
Commercial Mini Bus (16-25 seats, regardless of occupancy): $200
Commercial Motor Coach (26 or more seats, regardless of occupancy): $300
Commercial entry good for seven days as long as it's the same passenger group.
If you are a Road-Based Commercial Tour operator and would like to receive communication from the park regarding operational changes, please email us your business name, contact name, address, phone number, and email address.
Federal Lands Passes
Federal lands passes are accepted and sold at Yellowstone entrance stations.
Note about Winter Use in Yellowstone
On a snowmobile, annual/lifetime passes admit the signer(s). When traveling by snowcoach or shuttle, passes admit a signer and up to three additional persons (16 and older) for a total of four people.
New passes added this year include: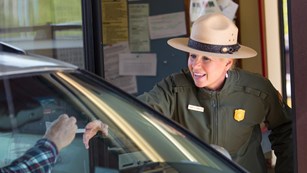 Basic Information
Get all the essential information here, from directions to entrance fees to hours of operation.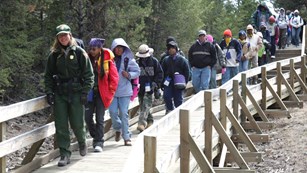 Academic Fee Waivers
Learn how your academic institute can apply for a fee waiver.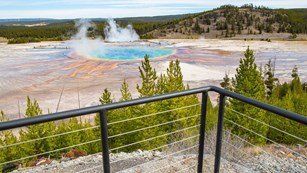 Your Fee Dollars at Work
Discover how your fee dollars are reinvested into the park.
Last updated: April 27, 2021