Park Roads
The map below shows the current status of park roads and road construction. Select a road segment or icon for more information. Conditions in Yellowstone can change quickly, especially during spring and fall, so check back often. Short-term road closures and delays may not be shown.
2021-2022 Winter Opening Dates
Conditions permitting, roads will open to oversnow travel by snowmobile and snowcoach at 8 am on the following dates:
December 15: West Entrance to Old Faithful, Mammoth to Old Faithful, Canyon to Norris, Canyon to Lake, Old Faithful to West Thumb, South Entrance to Lake, Lake to Lake Butte Overlook, East Entrance to Lake Butte Overlook (Sylvan Pass)
Additional Road Information
Yellowstone has five entrance stations and it takes hours to drive between them. Be sure to check the road statuses to the entrance you intend to use.
For up-to-date information consult the map above, call (307) 344-2117 for recorded information, or sign up to receive Yellowstone road alerts on your mobile phone by texting "82190" to 888-777 (an automatic text reply will confirm receipt and provide instructions). Anticipate possible road closures due to inclement weather and dangerous driving conditions.
Open roads are not gated at night: people may enter/exit the park 24 hours a day, seven days a week.
Check our webcams to see current traffic conditions at the North and West entrances. Construction has started on a new entrance station at the North Entrance. Expect delays and traffic pattern changes.
Check road conditions in Idaho, Montana, Wyoming, and Grand Teton National Park before traveling.
An autonomous vehicle will be in operation around Canyon Village during part of the summer season.
Most park roads are closed to regular vehicles from early November to late-April when the park switches to oversnow travel (snowmobiles and snowcoaches).
The only road open year-round to automobiles is from the North Entrance at Gardiner, Montana, through the park to Cooke City, Montana (via Tower Junction).
2022 Spring Opening Dates
April 15: West Entrance to Madison Junction, Mammoth Hot Springs to Old Faithful, Norris to Canyon Village.
May 6: East Entrance to Lake Village (Sylvan Pass), Canyon Village to Lake Village.
May 11: Cooke City to Chief Joseph Scenic Byway
May 13: South Entrance to West Thumb, Lake Village to West Thumb, West Thumb to Old Faithful (Craig Pass).
May 27: Tower Fall to Canyon Junction (Dunraven Pass), Beartooth Highway
2022 Fall Closing Dates
Roads close to regular vehicles on the following dates:
November 7: All roads close at 8:00 am except the road between the North Entrance and the Northeast Entrance.
October 11: The Beartooth Highway (US-212) closes between the Long Lake barricade, near the Top of the World store, and the Montana/Wyoming state line.
Travel east of Cooke City, Montana, to Chief Joseph Scenic Byway is possible until early November. Check at WY DOT.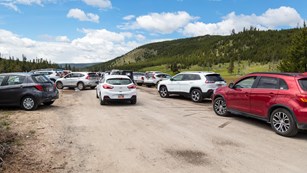 Parking
See the typical status of major parking areas across the park.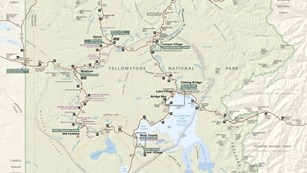 Maps
Find your way with an official park map.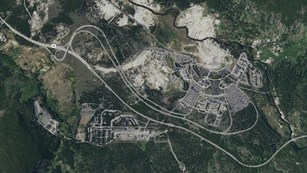 GPS Coordinates
Make sure your navigation system is sending you to the correct location.
Last updated: November 15, 2021