Camp in the Backcountry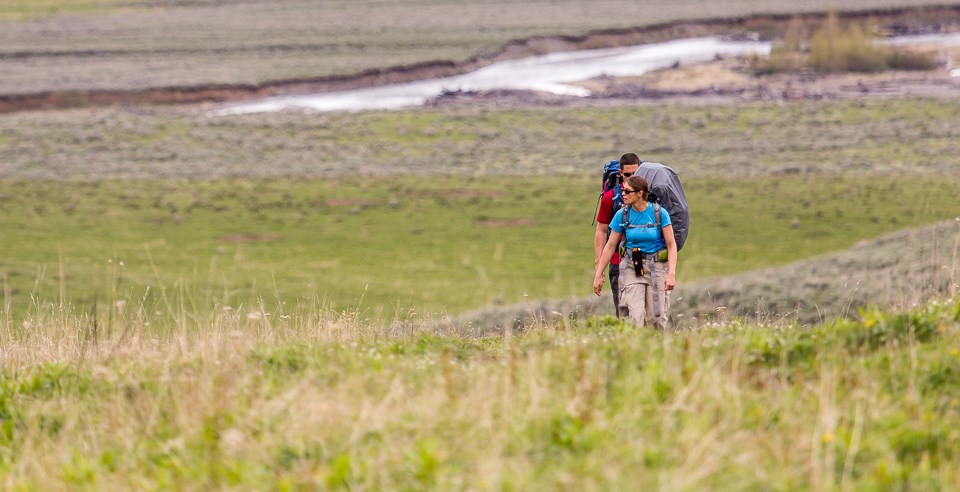 Beyond the developed areas, Yellowstone offers a diverse, mountainous landscape that invites exploration by foot, pack stock, and boat. Hundreds of miles of trails facilitate travel throughout the park. Permits are required for all overnight stays.
When planning a backcountry trip, remember that many of Yellowstone's trails are more than 7,000 feet above sea level. Most areas retain snow until late May or early June, and some (especially mountain passes) are snow-covered until late July. Also, many routes require fording rivers that can be 25 feet wide, 3 to 5 feet deep, extremely cold, and swiftly running during our late spring runoff.
Campsites
Yellowstone maintains 293 designated backcountry campsites. Each designated campsite has a maximum limit for the number of people and stock allowed per night. The maximum stay per campsite varies from 1 to 3 nights per trip. Group size limits range from 4 to 12 people. With the exception of four campsites, we allow only one group at each campsite. If your group size exceeds the campsite limit, you'll need to obtain a second permit and cook and sleep as separate groups. A food storage pole or box is provided at every campsite so that food and attractants may be secured from bears. You will need to provide your own rope (35 feet in length or greater) at sites with food poles. A list and map of campsites can be found in the Backcountry Trip Planner and the online Backcountry Trails and Campsites map.
Backcountry Permits
Permits are required for all overnight stays in the backcountry. Backcountry Permit Offices will be closed for in person permits in 2021. Backcountry permits are issued via phone and email only.
Starting October 10th, Permits are only available Monday through Friday from 8:00 am to 4:00 pm. Permitting staff is not available on the weekends or holidays. Please plan accordingly.
Permits are available no earlier than 3-days prior to the start of a trip.
Please read through all the information below prior to contacting our office.
To obtain a backcountry permit via phone:
To obtain a backcountry permit via email:
Rangers will make every effort to contact you in a timely manner, however due to a high volume of permit requests and limited staffing calls may not be returned immediately.
Submitting an application does not guarantee your requested campsites will be available.
Important information:
Advanced Backcountry Reservations
Is your trip start date more than 7-days away? If yes, then consider making an Advanced Backcountry Reservation for the backcountry permit. Advanced reservations offer a way to guarantee specific campsites well in advance of your trip however only a portion of the park's backcountry campsites may be reserved in advance.
Advanced reservation applications are accepted by mail or fax only. A flat, non-refundable fee of $25 is charged for each reservation.

Fees
The following nightly permit fees are charged for trips between Memorial Day and September 10:
Backpackers/Boaters: $3/person/night (with a max of $15/night)
Stock Parties (horses/mules/llamas): $5/person/night (no max/night)
Permit fees are collected when your permit is issued. Nightly fees are not charged for trips beginning outside of these dates. Nightly fees only apply for group members age 9 and older.

Advanced Reservation Fee: $25 per trip, non-refundable. An additional nightly permit fee (above) will be collected when the reservation is converted to a backcountry permit.

Annual Backcountry Pass: $25. For individuals taking several or extended overnight trips in Yellowstone's backcountry, we offer an Annual Backcountry Pass. Valid for one season (Memorial Day to September 10), the Annual Backcountry Pass exempts the pass holder from the per-person, per-night fee. The Annual Backcountry Pass only covers the per-person fee of the pass holder. The pass does not cover the advanced reservation fee or park entrance fees. The Annual Backcountry Pass is available when obtaining a backcountry permit.
Guided Trips
Several commercial businesses are permitted to offer guided overnight backpacking, boating, llama packing, and horseback trips into Yellowstone's backcountry. These businesses obtain the necessary permits for trips they provide.
Contact Us
Central Backcountry Office staff can assist with trip planning and other questions at:
e-mail us
307-344-2160 (general backcountry & trip planning questions)
307-344-2860 (backcountry permits 3-days prior to start of trip)
Additional Resources
Last updated: November 12, 2021