Camp in the Backcountry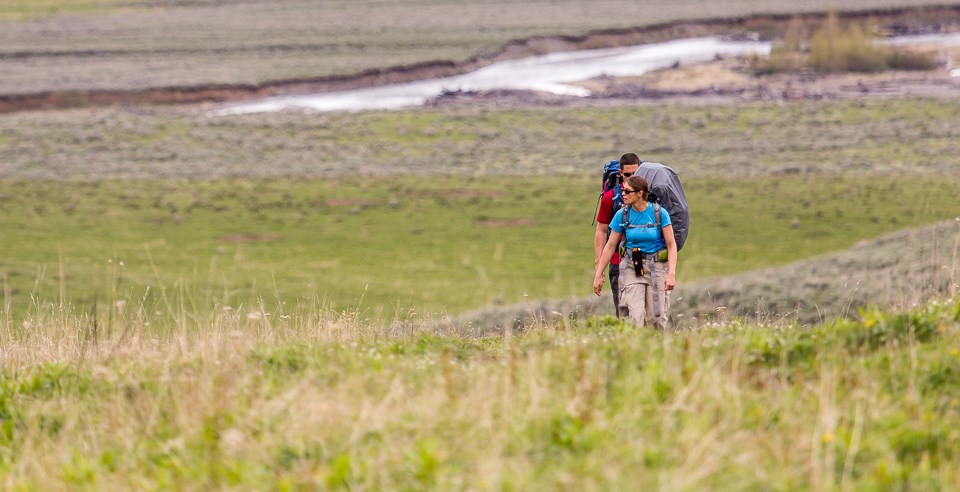 Beyond the developed areas, Yellowstone offers a diverse, mountainous landscape that invites exploration by foot, pack stock, and boat. Hundreds of miles of trails and over 300 designated backcountry campsites facilitate travel throughout the park. Permits are required for all overnight stays.
When planning a backcountry trip, remember that many of Yellowstone's trails are more than 7,000 feet above sea level. Most areas retain snow until late May or early June, and some (especially mountain passes) are snow-covered until late July. Also, many routes require fording rivers that can be 25 feet wide, 3 to 6 feet deep, extremely cold, and swiftly running during our late spring runoff.
Backcountry Permits
A Backcountry Permit is required for all overnight trips in the Backcountry. The permit is valid only for the dates, locations and party size specified on the Backcountry Permit. Please reference our Winter Backcountry Camping page for information on camping during the months of November through April.

From May through October, permits are available in person at our backcountry offices no earlier than 2-days prior to the start of your trip. Backcountry Offices are located in nine locations throughout the park. From June through August, permits are available seven days a week from 8 am to 4:30 pm. During spring, fall, and winter, ranger stations and visitor centers do not have set hours. Contact the Central Backcountry Office (see below) for details on where to obtain a permit during these seasons.

To obtain the best information on trail conditions, pick up your permit at the office closest to where your trip begins. Backcountry permits for boating trips must be obtained at the Bridge Bay, Grant Village, or South Entrance backcountry offices.

Is your trip start date more than 2-days away? If yes, then consider making an Advanced Backcountry Reservation. Advanced reservations do not take the place of obtaining the backcountry permit, but offer a way to guarantee specific campsites well in advance of your trip. Only a portion of the park's backcountry campsites may be reserved in advance.

Advanced Backcountry Reservations:
A portion of the park's 300+ backcountry campsites may be reserved in advance. Reservation are accepted from January 1 to October 31 of each calendar year. Reservations received by March 31 will be processed in a lottery (randomly ordered list of all applications received by 8 a.m. on April 1). Reservations received after 8:00 a.m. on April 1 or on later dates throughout the summer will be processed in the order they're received after the lottery requests have been reserved.
Reservation applications are accepted by mail or fax only. A flat, nonrefundable fee of $25 is charged for each reservation. Complete the Backcountry Reservation Application and submit by fax or mail (e-mail is not encrypted enough for credit card information). A confirmation notice, not a permit will be emailed to you. This confirmation notice must be converted to the actual permit not more than 48 hours in advance of the first date on your itinerary.

We strongly encourage you to develop a second itinerary that may explore some less popular areas, in the event your first choice is not available. If you are camping with stock(horses or llamas) or requesting sites in one of our more popular areas such as Slough Creek, Bechler, Heart or Shoshone lake, your chances of getting your first choices are best if you submit your request by 8:00 a.m. on April 1. Please submit only one request per party per trip. Duplicate applications slow down the reservation process and may result in duplicate charges, overlapping itineraries, and unused campsites.

Mail Advanced Backcountry Reservations to:

Central Backcountry Office
P.O. Box 168
Yellowstone National Park, WY 82190
307-344-2166 (fax)

Fees
The following nightly permit fees are charged for trips between Memorial Day and September 10:
Backpackers/Boaters: $3/person/night (with a max of $15/night)
Stock Parties (horses/mules/llamas): $5/person/night (no max/night)
Permit fees are collected when your permit is issued. Nightly fees are not charged for trips beginning outside of these dates. Nightly fees only apply for group members age 9 and older.

Advanced Reservation Fee: $25 per trip, non-refundable. An additional nightly permit fee (above) will be collected when the reservation is converted to a backcountry permit.

Annual Backcountry Pass
For individuals taking several or extended overnight trips in Yellowstone's backcountry, we offer an Annual Backcountry Pass for $25. Valid for one season (Memorial Day to September 10), the Annual Backcountry Pass exempts the pass holder from the per-person per-night fee. The Annual Backcountry Pass only covers the per person fee of the pass holder. The pass does not cover the advanced reservation fee, or park entrance fees.
Campsites
Each designated campsite has a maximum limit for the number of people and stock allowed per night. The maximum stay per campsite varies from 1 to 3 nights per trip. Group size limits range from 4 to 12 people. With the exception of four campsites, we allow only one group at each campsite. If your group size exceeds the campsite limit, you'll need to obtain a second permit and cook and sleep as separate groups. A food storage pole is provided at every campsite so that food and attractants may be secured from bears. You will need to provide your own rope (35 feet in length or greater). Some campsites have fire pits. A list and map of campsites can be found in the Backcountry Trip Planner .
Guided Trips
Several commercial businesses are permitted to offer guided overnight backpacking trips into Yellowstone's backcountry. These businesses obtain the necessary permits for trips they provide.
Contact Us
Central Backcountry Office staff can assist with trip planning and other questions at:
Central Backcountry Office
P.O. Box 168
Yellowstone National Park, WY 82190
307-344-2160 (phone)
307-344-2166 (fax)
e-mail us
Additional Resources
Last updated: February 8, 2021