Accessibility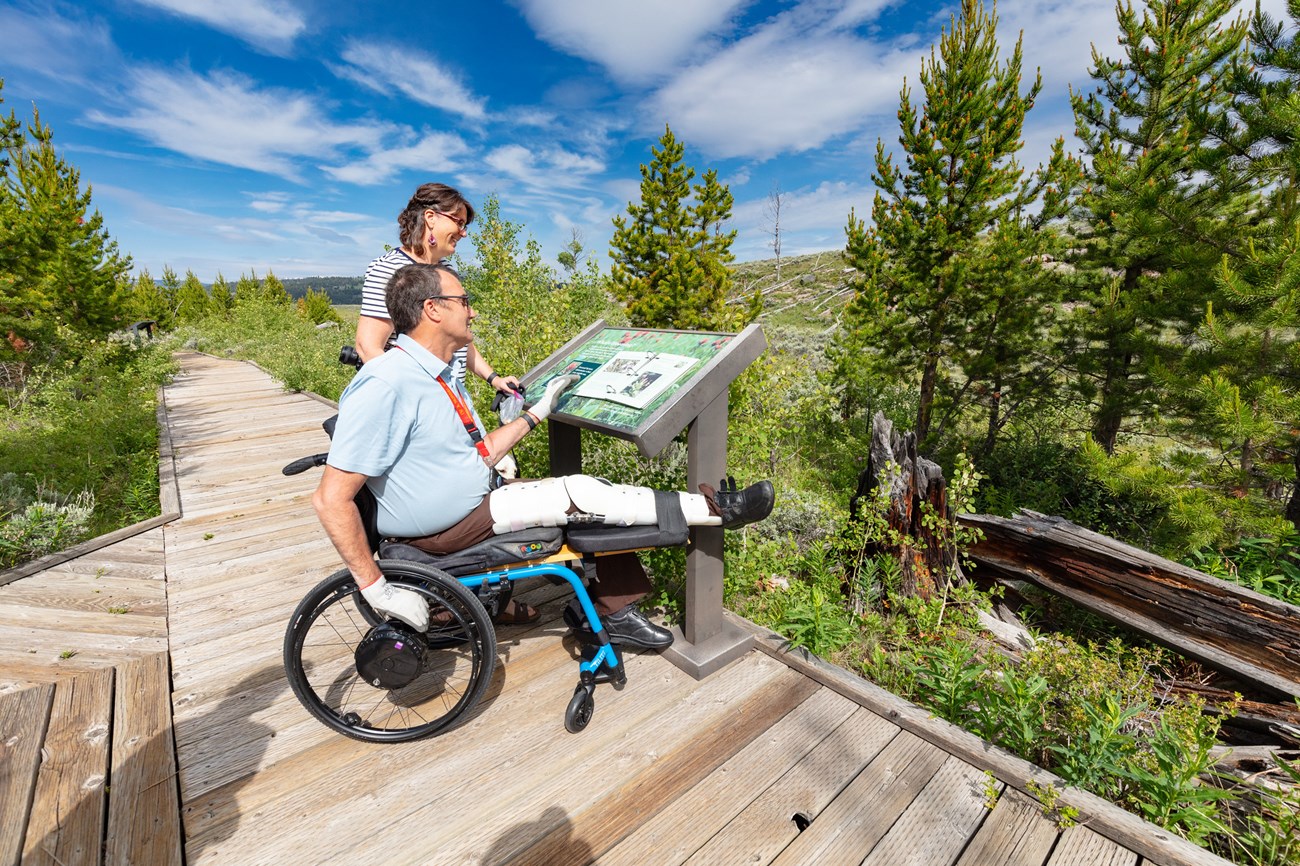 The National Park Service and its concessioners strive to make Yellowstone National Park universally accessible. Many facilities are more than a century old and accessibility is not always ideal. Through an on-going self-assessment and transition plan, Yellowstone National Park is identifying and eliminating barriers to accessibility in its facilities, programs, and services. Extra obstacles will be encountered because of the remote, wilderness nature of this special place. Facilities described as accessible do not necessarily comply fully with federal standards and some accessible facilities are not marked with the international symbol.
The official NPS app includes up-to-date accessibility information for facilities and some trails. Many outdoor park exhibits and all of the entrances to visitor centers are audio described. The app includes alternative text for images, combined with your device's built-in accessibility features. Download it for free before you arrive.
Access Pass
The America the Beautiful - The National Parks and Federal Recreational Lands Pass Series includes the Access Pass: a free, lifetime admission and discount pass for U.S. citizens or permanent residents with permanent disabilities. Access Passes are available online and at Yellowstone's entrance stations and visitor centers.
Audio/Visual Assistance
Sign Language Interpreters
Available for ranger programs with three weeks notice. Call 307-344-2251 or email us. This length of time and specificity is needed because we contract for this service with people who may live hours away from the park.
Captioning
The films shown at Canyon, Old Faithful, and Grant visitor centers are captioned.
The Albright Visitor Center at Mammoth Hot Springs has open captioning on silent videos associated with displays and tactile exhibits.
Assistive Listening
Films shown at the Canyon and Old Faithful visitor centers include assistive listening devices.
The Albright Visitor Center has induction loop technology at the information desk.
Audio Description
Download audio description for the Official Yellowstone Map & Guide.
Tour of the Albright Visitor Center at Mammoth Hot Springs.
In the NPS Yellowstone app, find the Fort Yellowstone National Historic Landmark District and Forces of the Northern Range self-guiding trails for audio-described wayside exhibits.
Films at the Canyon and Old Faithful visitor centers.
The UniDescription App audio describes many National Park Service official map and guide publications, including Yellowstone's (available for free on the App Store and Google Play).
Large Print & Braille
Large print and braille versions of the official Yellowstone Map & Guide are available at visitor centers, contacting the park, or download a copy in a Braille Ready Format (BRF).
Service Animals
Qualified service animals assisting people with disabilities are allowed and must be leashed. A service animal is defined as a dog that performs some of the functions and tasks that the individual with a disability cannot perform such as carrying a pack for persons with mobility impairments, assisting persons with balance, or alerting medically-dependent persons of specific conditions such as oncoming seizures. Companion dogs that are used only to provide comfort or emotional support ("therapy animals"), or other pets are not allowed in buildings, the backcountry, on nature trails, or on boardwalks. Read more about service animals in Yellowstone.
Wheelchairs and Mobility
We offer general information about wheelchairs and mobility in Yellowstone, as well as location-specific information.
Last updated: March 3, 2022