Heritage and Research Center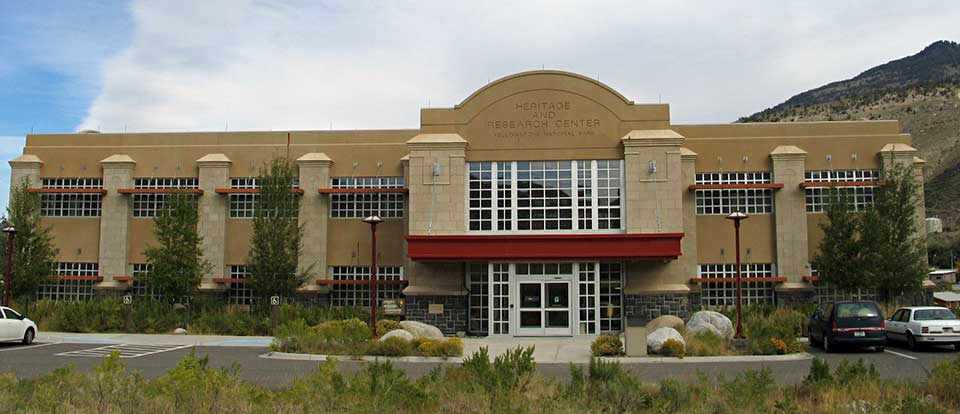 The Heritage and Research Center, located at 20 Old Yellowstone Trail in historic Gardiner, Montana, is a state-of-the-art collections storage facility that houses Yellowstone National Park's museum collection, archives, research library, historian, herbarium, and archeology lab. It features small rotating exhibits in the lobby.
This 32,000-square-foot, facility is located on seven acres adjacent to the Gardiner School. It now houses almost 3,000 linear feet of historic records, 90,000 photographic prints and negatives, 20,000 books and manuscripts, 300,000 cultural and natural science specimens, over 35,000 archeological artifacts and approximately 10,000 plant specimens. The Heritage and Research Center provides a 500% increase (from 1,642 to 8,017 square feet) in library and archives space including storage, processing areas, reading rooms, and offices; and a 700% increase (from 1,206 to 8,906 square feet) in museum spaces including storage, processing areas, and offices. It was not only designed to improve space for the collections, including room for 25 years of growth, but also to improve access and ease working conditions for employees, visitors, and researchers; increase security; better accommodate tours; and showcase rotating exhibits.
Excerpts from Yellowstone Science Vol.12, Number 4 Part I & Part II
Free public tours of the Heritage and Research Center are Tuesdays and Thursdays at 8 AM, from May 31 to September 8, 2016. Tours last about one hour. Space is limited to 10 participants, so please call (307) 344-2264 to reserve a slot.
Hours
The facility is open Monday–Friday, 8am-5pm, and closed weekends and federal holidays and special closures.

Library
Monday

,

Tuesday

,

Thursday

,

Friday

:

9am-4pm

Wednesday:

9am-12pm
Archives and Museum Collections
By appointment only.
Please be advised that the Yellowstone National Park Herbarium and archeology labs do not maintain an open door policy for researchers due to field work.
Conducting Collections Research
Researchers range from local high school students working on term papers to tourists re-tracing an ancestor's visit, and from park staff developing education programs or researching climate change to filmmakers preparing a miniseries for PBS.
Researchers are encouraged to complete their preliminary research at other archives, libraries, and/or museum collections with a broad topical focus before approaching the holdings of Yellowstone National Park. Yellowstone National Park has limited reference staff and resources that must be made available to researchers whose work focuses on materials available only at Yellowstone. Access to materials is dependent upon their physical condition and the level of processing to date by the park staff. All research must be done on-site in the museum research room or the library reading room.
Contact Us
For information about the Heritage and Research Center building, please call 307-344-2662
For general park information, please call 307-344-7381
Overview of Yellowstone's Collections
Yellowstone's collections document the cultural and natural history of the world's first national park and the conditions of its resources. The historic collections document the park from pre-history through the present. The collections include objects and written records that document the history and science of the park, changes in perception and meaning over time, and the interaction between people and nature. Specimens range from geologic and natural history to Native American and European American cultural materials.
It is National Park Service policy to collect, protect, preserve, provide access to, and use objects, specimens, and archival and manuscript collections to aid understanding and advance knowledge. Collections play important roles in resource management, research, and education programs, and function as baseline databases for park natural and cultural resources.
With several million items, Yellowstone has one of the largest collections in the National Park Service. Yellowstone National Park's collections grow continuously with the addition of archival records (generated mostly by National Park Service staff), archeological and natural science objects, important donations, and occasional purchases.
For years, the collections were housed in various locations within and outside of the park, where they were frequently threatened by flood, fire, environmental degradation, theft, and inattention. With the opening of the Heritage and Research Center in 2005, the collections of "Wonderland" are finally housed together, with the exception of the historic vehicles, and their storage brought up to the standards demanded by the National Park Service, the American Alliance of Museums, and the National Archives and Records Administration. Most of these items are kept in the Heritage and Research Center.