An Extreme Life
See the Highest, Deepest, and Widest
The following is a list of superlative geologic sites for those seeking to witness the highest, deepest, longest, and lowest of natural phenomena in our National Parks. These sites have inspired and enthralled generations of visitors.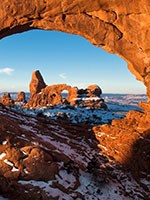 Arches National Park, Utah
Contains the greatest density of arches in the world. With over 2,000 cataloged arches, every stage of arch formation and deterioration is displayed. The world famous Delicate Arch, the remnant of a former fin, is one of the most striking, eye-catching, and well photographed arches, while the airy, Landscape Arch is one the widest in the world with a base of over 300 feet. Arches are fundamentally different from natural bridges in that bridges are formed by flowing water.

[Geodiversity Atlas] [Park Home]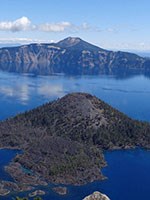 Crater Lake National Park, Oregon
Just under 2,000 feet, Crater Lake is the
deepest
lake in the United States and the second deepest in the Western Hemisphere. Mount Mazama, at one time rising over 12,000 feet in the Cascade Range, erupted around 8,000 years ago. The cataclysmic emptying of the magma chamber caused the mountain to collapse, forming a deep caldera that has subsequently filled with rain and snow melt creating Crater Lake. No streams flow in or out of the crater.
[
Geodiversity Atlas
] [
Park Home
]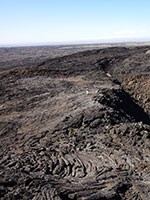 Craters Of the Moon National Monument and Preserve, Idaho
Contains some of the best and most recent basaltic lava features in the conterminous U.S. spreading out over 600 square miles in the Snake River Plain. The lava fields, only 15,000-2,000 years old, occur along the Great Rift, displaying some of the best examples of open rift cracks in the world. There are extensive examples of pahoehoe, aa, block lava, tree molds, lava tubes, cinder cones, and many other volcanic features. Craters of the Moon represents the second, basaltic stage of the violent rhyolitic eruptions that helped to create Yellowstone National Park.

[Geodiversity Atlas] [Park Home]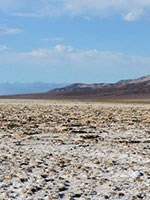 Death Valley National Park, California and Nevada
One of the hottest places on the surface of the Earth with summer temperatures averaging well over 100 degrees Fahrenheit. It encompasses the lowest surface elevation in the Western Hemisphere at 282 feet below the sea level, and it is the driest place in North America with an average rainfall of only 1.96 inches a year.

[Geodiversity Atlas] [Park Home]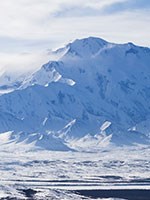 Denali National Park, Alaska
Mount Denali is the highest mountain peak in North America with an elevation of 20,310 feet above sea level. Measured by topographic prominence, Mount Denali is the third most prominent peak in the world after Mount Everest and Aconcagua. Numerous faults, including the Denali fault, demonstrate a long history of active plate tectonics in the area.

[Geodiversity Atlas] [Park Home]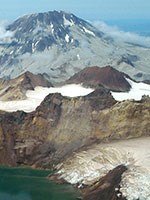 Katmai National Park and Preserve, Alaska
Largest volcanic eruption in the twentieth century. Mount Katmai, one of the volcanoes in Katmai National Park and Preserve, has proved upon investigation to have unusual size and character, and to be of importance in the study of volcanism. Its eruption in June 1912 was one of excessive violence, ranking in the first order of volcanic explosive eruptions and emitting several cubic miles of material during its first three days of activity.

[Geodiversity Atlas] [Park Home]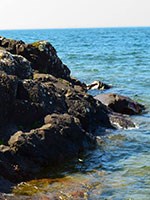 Keweenaw National Historical Park, Michigan
The oldest and largest lava flow known on Earth is located on the Keweenaw Peninsula of Michigan. Volcanic activity at Keeweenaw produced the only place on Earth where large scale economically recoverable 97 percent pure native copper is found.

[Geodiversity Atlas] [Park Home]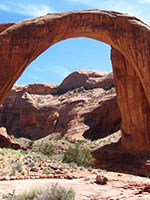 Rainbow Bridge National Monument, Utah
The world's largest natural bridge is over 290 feet tall and 275 feet wide. At the site of Rainbow Bridge, water flowing through the Bridge Canyon drainage flowed in a tight curve around a thin fin of soft Navajo Sandstone that jutted into the canyon. Eventually this fin was breached and Bridge Creek changed course to flow through Rainbow Bridge. Under full conditions, Lake Powell obscures some of the height of Rainbow Bridge.

[Geodiversity Atlas] [Park Home]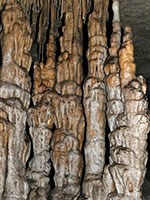 Mammoth Cave National Park, Kentucky
The longest known cave system in the world, with more than 400 miles of interconected passages explored. Mammoth Cave National Park preserves the worlds largest network of natural caves and underground passages, characteristic of karst landscapes. The park has high diversity of both terrestrial and aquatic cave-adapted creatures, including three endangered species—the Kentucky cave shrimp (Palaemonias ganteri), Indiana bat (Myotis sodalist) and Gray bat (Myotis grisescens).

[Geodiversity Atlas] [Park Home]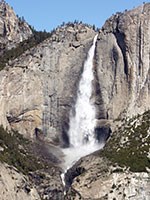 Yosemite National Park, California
Yosemite Falls is the tallest waterfall in the United States and the 5th tallest in the world at 2,425 feet. Every second 2,500 gallons of water pour over the lip of the hanging valley, which was created by glaciers during the most recent glacial period.

[Geodiversity Atlas] [Park Home]
Last updated: June 14, 2018