Geodiversity refers to the full variety of natural geologic (rocks, minerals, sediments, fossils, landforms, and physical processes) and soil resources and processes that occur in the park. A product of the Geologic Resources Inventory, the NPS Geodiversity Atlas delivers information in support of education, Geoconservation, and integrated management of living (biotic) and non-living (abiotic) components of the ecosystem.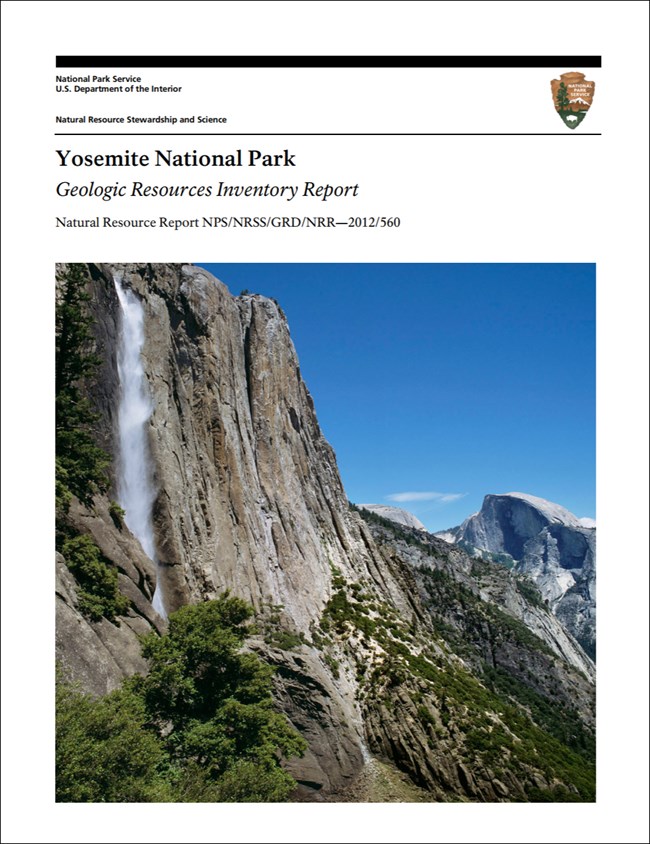 Geologic Features and Processes
The geology of the Yosemite area is characterized by granitic rocks and remnants of older rock. About 10 million years ago, the Sierra Nevada was uplifted and then tilted to form its relatively gentle western slopes and the more dramatic eastern slopes. The uplift increased the steepness of stream and river beds, resulting in formation of deep, narrow canyons. About 1 million years ago, snow and ice accumulated, forming glaciers at the high elevations that moved down the river valleys. Ice thickness in Yosemite Valley may have reached 4,000 feet during the early glacial episode. The downslope movement of the ice masses cut and sculpted the U-shaped valley that attracts so many visitors to its scenic vistas today.

Yosemite National Park contains a unique assemblage of massive granite domes and glacial features. Several of the largest exposed granite monoliths on earth are in Yosemite Valley.

Yosemite National Park covers an area of 747,956 acres along the central western slopes of the Sierra Nevada mountain range in east-central California. Designated a United Nations Educational, Scientific and Cultural Organization (UNESCO) World Heritage Site in 1984, Yosemite is internationally recognized for its spectacular granite cliffs, waterfalls, clear streams, giant sequoia groves, and biological diversity. More than 94% of the park is designated wilderness and 135 miles of the Tuolumne and Merced Rivers have been designated as part of the national wild and scenic rivers system.
Glacial Landforms
Yosemite is a glaciated landscape, and the scenery that resulted from the interaction of the glaciers and the underlying granitic rocks was the basis for its preservation as a national park. Iconic landmarks such as Yosemite Valley, Hetch Hetchy, Yosemite Falls, Vernal and Nevada Falls, Bridalveil Falls, Half Dome, El Capitan, the Clark Range, and the Cathedral Range are known throughout the world by the photographs and paintings of countless artists, both amateur and professional. Landforms resulting from glaciation include U-shaped valleys, jagged peaks, rounded domes, waterfalls, lakes, moraines, and granite spires. Glacially polished granite is further evidence of glaciation, and is common in Yosemite National Park.
Active Processes
The Sierra Nevada continues to rise. Today, the estimated rate of uplift at Mount Dana is about 4 cm (1.5 in) per 100 years, which exceeds the rate of beveling by erosion, resulting in a net increase in elevation (Huber 1989). Rockfalls continue to modify canyon walls while rivers incise valley floors. Sediment slowly fills alpine lakes, and cirque glaciers, although melting at a rapid rate, continue to add material to terminal moraines while scouring and polishing bedrock. From its granitic domes and waterfalls to its sediment-filled valleys, Yosemite National Park exhibits the past processes of plate tectonics and glaciation along with ongoing weathering and erosion that continue to shape one of America's most impressive landscapes.
Geology Field Notes
Students and teachers of college-level (or AP) introductory geology or earth science teaching courses will find that each park's Geologic Resource Inventory report includes the Geologic History, Geologic Setting, and Geologic Features & Processes for the park which provides a useful summary of their overall geologic story. See Maps and Reports, below.
Regional Geology
Yosemite is a part of the Cascade-Sierra Mountains Province and shares its geologic history and some characteristic geologic formations with a region that extends well beyond park boundaries.
Maps and Reports
The
Geologic Resources Inventory
produces digital geologic maps and reports for more than 270
natural resource parks
. The products listed below are currently available for this park, check back often for updates as many maps, reports, and posters are still in progress.
Scoping summaries are records of scoping meetings where NPS staff and local geologists determined the park's geologic mapping plan and what content should be included in the report.
Digital geologic maps include files for viewing in GIS software, a guide to using the data, and a document with ancillary map information. Newer products also include data viewable in Google Earth and online map services.
Reports use the maps to discuss the park's setting and significance, notable geologic features and processes, geologic resource management issues, and geologic history.
Posters are a static view of the GIS data in PDF format. Newer posters include aerial imagery or shaded relief and other park information. They are also included with the reports.
Projects list basic information about the program and all products available for a park.
Related Articles
Yosemite National Park
National Park Service Geodiversity Atlas
The servicewide Geodiversity Atlas provides information on geoheritage and geodiversity resources and values within the National Park System. This information supports science-based geoconservation and interpretation in the NPS, as well as STEM education in schools, museums, and field camps. The NPS Geologic Resources Division and many parks work with National and International geoconservation communities to ensure that NPS abiotic resources are managed using the highest standards and best practices available.

For more information on the NPS Geodiversity Atlas, contact us.