Celebrate Cave Week!
Cave Week 2022 will take place during the first week of June:
June 5th – June 11th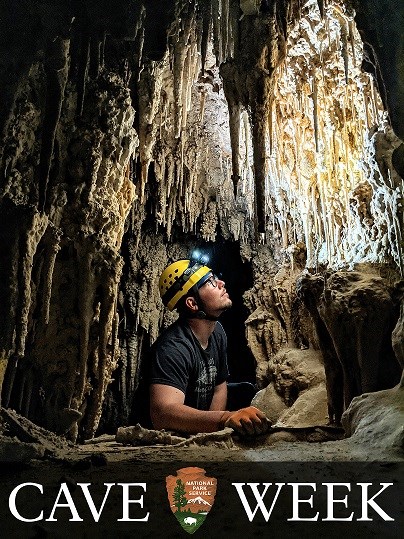 Welcome to Cave Week 2022!
Cave Week is a great chance to enjoy, celebrate and learn about our National Park caves. National Park caves provide tons of family fun and adventures for hundreds of thousands of Americans each year.

More than 20 U.S. parks, several Parks Canada sites and NASA are participating in Cave Week via social media posts, cave tours, exhibits, school events, web pages and much more. To be involved in cave week join your nearby park's social media feed or follow their links below.

This year marks the 5th anniversary of Cave Week. The focus of the week is on caves and karst, their importance, geology, history, biology, current research, exploration, restoration, and promoting other sites across the US, Canada, and the world.

The theme for Cave Week 2022 is, "Caves and Art." Parks will be sharing stories about art and artists inspired by caves and karst resources. Additional stories about why people enter caves—for exploration, medical research, the search for new lifeforms, the search for beauty, to study human history, to find one's self, and more—will also be shared.

Share Your #CaveWeek
Join the vibrant virtual community of stewards, educators, and cavers in celebrating #CaveWeek, and share opportunities to interact.
Find Your Park
Parks Canada Sites
U.S. NPS Sites
Solution Caves
Learn More... NPS—Caves and Karst—Solution Caves >
Sea or Littoral Caves
Lava Tubes
Learn More... NPS—Caves and Karst—Lava Caves/Tubes >
Ice Caves
Learn More... NPS—Caves and Karst—Ice Caves >
Karst Landscapes
Learn More... NPS—Caves and Karst—Karst Landscapes >
Photo Galleries
Please enjoy these photo galleries with images of a variety of cave and karst features and activities from throughout the National Park System.

Junior Cave Scientist Program
The Junior Cave Scientist Activity Book is featured at many National Parks and National Forests. It is also available online for use in classrooms, at home, or on your next road trip to visit one of America's spectacular caves.


Send comments or corrections to email us.
Last updated: June 2, 2022