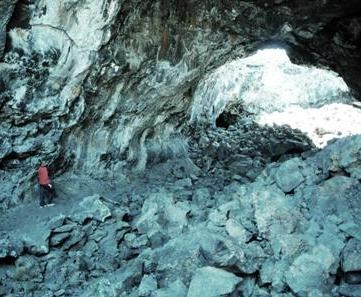 The number of documented caves within the Monument currently exceeds 500 and more are discovered each year. There are 3 main types of caves found here (listed from most numerous to least): lava tubes, fissure caves, and differential weathering caves.
Lava Tube Caves
The vast majority of caves found within the Monument are lava tubes. They formed when the cooling exterior of an active lava flow insulated the molten river within allowing it to continue to flow. In this way lava sometimes flowed for many miles underground until the source was cut off or diverted leaving behind an empty space or "cave." Indian tunnel (shown in photo) is an excellent example of a lava tube cave. This cave and 3 other lava tube caves are easily accessed from the Caves Trail. To explore any of the five developed caves, obtain a free cave permit.
The Virtual Lava Tube
This web site provides illustrations of the wide variety of geologic features found in lava tubes.