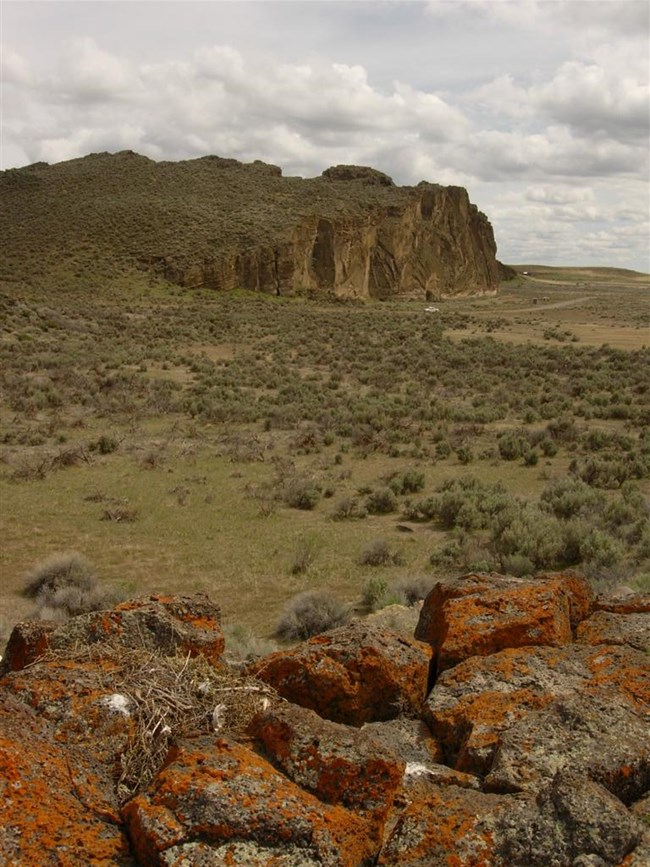 Petroglyphs and Pictographs
One reason Lava Beds is such a special place to contemplate cultural history is that it contains two types of rock art, or rock imagery— carved petroglyphs and painted pictographs. All of the monument's rock imagery is located in the traditional territory of the Modoc people and their ancestors or predecessors.
It is hard to determine the age of rock art. This is especially true of petroglyphs, since material was removed in their creation, not added. It is possible that some of these images at Lava Beds were made more that 6,000 years ago. Estimating the age of an individual petroglyph based on weathering is complicated by the number of times it may have been inundated in water as Tule Lake rose and fell around the island that later became known as Petroglyph Point. Interestingly, some of the geometric patterns found in the rock imagery here appear on household items up to 5,000 years old from nearby Nightfire Island. Could some of the same people have carved those same patterns into the rocks at Petroglyph Point? With over 5,000 individual carvings, this site is one of the most extensive representations of American Indian rock art in California—it is possible that dozens or even hundreds of generations of artists paddled out in canoes, sharp sticks or stones in hand, to leave their mark here in the soft volcanic tuff.
Most of the pictographs at Lava Beds are found around cave entrances. They are painted in black, produced from a charcoal base mixed with animal fat, and white, made with a clay base. Occasionally red was used, likely made from substances obtained through trade with Paiute Indians to the east. Since scientific dating techniques are possible with the carbon-based materials in some pigments, some pictographs at Lava Beds have been dated to as many as to 1,500 years ago. However, since Lava Beds remains a sacred landscape for people of Modoc-Klamath descent, it is possible that other images are relatively recent. As with petroglyphs, guessing the age of an individual image by its condition can be deceiving. Images exposed to direct sun, wind, and rain fade much faster than those in more sheltered areas. Excellent examples of pictographs can be seen at Symbol Bridge and Big Painted Cave on boulders along the trail and walls around the entrances. Perhaps you can imagine generations of artists making their way out to caves such as these with paint supplies and an idea in mind. If you look closely, most lines on such pictographs seem to be about the width of a human finger—literally applied by hand.