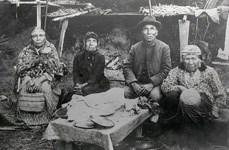 Long before the establishment of Oregon Caves National Monument in 1909, various people occupied, settled and developed the lands of southwestern Oregon. History records events and changes over time. Today is tomorrow's history.
Pre 1820s: The native Takelma Native Americans lived for thousands of years along the rich Applegate and Rogue river valleys in what we now know as southwestern Oregon. No current evidence indicates native use of the cave.
1820s: Hudson Bay Company fur trappers explored the Siskiyou Mountains and traveled through the Rogue River valley.