Junior Cave Scientist Program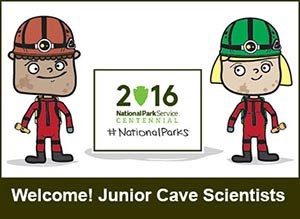 We are looking for young speleologists to become junior rangers. In the Junior Cave Scientist activity book, you will explore the fascinating and fragile underground world of caves, learn about the National Park System, and complete fun educational activities. Participants who complete the booklet will earn a badge, a certificate, and the title of Junior Cave Scientist.
EXPLORE magnificent and beautiful caves. You will find an amazing underground world just beneath your feet!
LEARN about caves and karst systems and the work that cave scientists do.
PROTECT our national parks and the things that make caves and karst areas special.
---
Download the Junior Cave Scientist Activity Booklet:
NOTE: This is a publication of the National Park Service. It contains copyrighted material, and is being made available exclusively in this format for non-commercial educational purposes. The publication can not be reformatted or sold.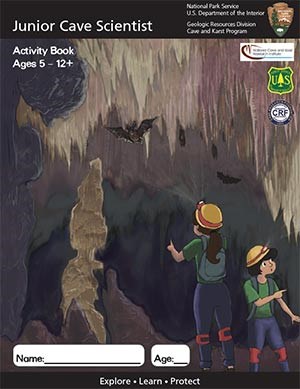 We have limited quantities of printed books beyond what parks need each season. To request materials for classroom use, please contact us. For other non-commercial educational programs that need large quantities, we recomend printing the booklet locally using the PDF file.
If you would like to receive a Junior Cave Scientist badge, you can have a ranger at a participating park review your book and award your badge. If you are not at a participating park, please mail the completed booklet with your return address to:
Limaris Soto

NPS Geologic Resources Division

P.O. Box 25287

Denver, CO 80225


The Junior Cave Scientist Program is a part of the National Park Service Junior Ranger Program. The goal of the Junior Ranger Program is to connect young people to their national parks through a variety of in-park activities that are designed to introduce them to the national park system and cultivate future generations of park stewards. Programs range from simple scavenger hunts for younger children, to multi-day ranger-led activities. Over 200 National Park Service areas currently have Junior Ranger programs. Learn more about
NPS Junior Ranger programs
.
Last updated: January 17, 2020