Geodiversity refers to the full variety of natural geologic (rocks, minerals, sediments, fossils, landforms, and physical processes) and soil resources and processes that occur in the park. A product of the Geologic Resources Inventory, the NPS Geodiversity Atlas delivers information in support of education, Geoconservation, and integrated management of living (biotic) and non-living (abiotic) components of the ecosystem.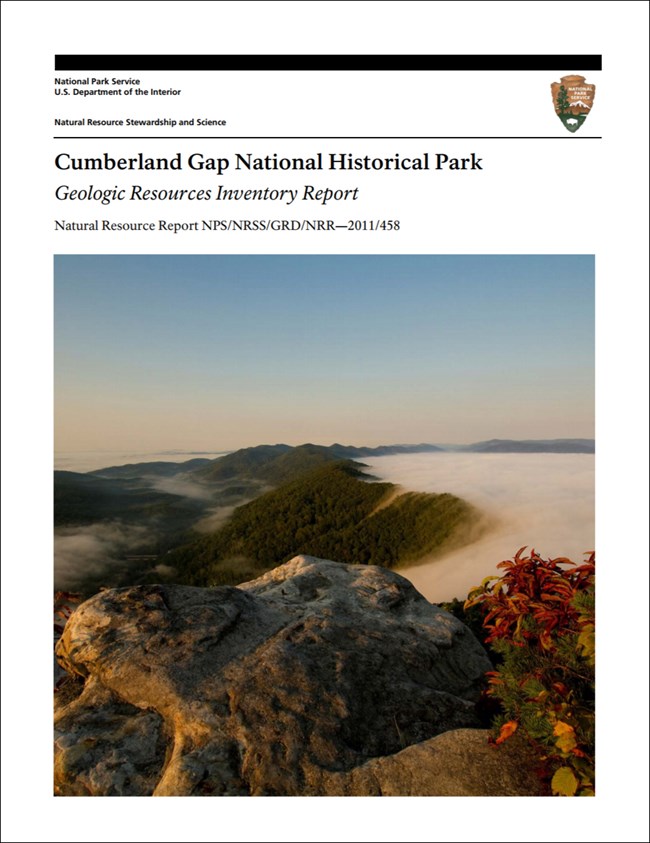 Geologic Features and Processes
Cumberland Gap National Historical Park preserves a geologic and landform feature that was a vital gateway to the west during the early expansion of the United States. The gap is a deep notch across the otherwise continuous ridge of Cumberland Mountain. Additional geologic features, such as the White Rocks, guided early settlers moving westward on the Wilderness Road. The gap was a strategic outpost during the American Civil War, alternately occupied by Union and Confederate troops. And, it continues to be a valuable transportation corridor today.

Cumberland Gap is part of a regional geologic structure called the Pine Mountain thrust sheet created during the last major mountain building event of the Appalachians—the Alleghany Orogeny.

The park's rugged landscape is fashioned from rocks originally deposited in or near shallow seas. During Appalachian mountain-building approximately 300 million years ago, these rocks were folded, faulted, and shoved up and westward along the Pine Mountain thrust fault, forming the Middlesboro syncline to the west and the Powell Valley anticline to the east. Hundreds of millions of years of subsequent erosion beveled the ancient mountains, leaving behind limestones in Powell Valley, resistant ridges of sandstone at Cumberland and Pine Mountains, and stream dissected upland areas near Middlesboro.

Cumberland Gap is the primary geologic feature in the park. Its location is tied to an ancient fault—the Rocky Face Fault—formed prior to the last major Appalachian Mountain-building episode. Fractures and deformation associated with movement along this fault weakened the rocks. Over time, the fractured rock eroded away, forming a gap.

The circular Middlesboro basin, adjacent to the park and easily visible from the Pinnacle Overlook, contains intensely deformed rock—evidence of an ancient meteorite impact.
Paleontological Resources
Paleontological resources in the park include abundant marine fossils found throughout the limestone (from ancient seas hundreds of millions of years old) as well as much younger remains (tens of thousands of years old) found in caves and sink holes.

All NPS fossil resources are protected under the Paleontological Resources Preservation Act of 2009 (Public Law 111-11, Title VI, Subtitle D; 16 U.S.C. §§ 470aaa - 470aaa-11).
Cave and Karst
Cumberland Gap National Historic Park contains a significant karst landscape composed of mostly Mississippian age (360-318 million years old) limestone. With 30 known caves, other karst features include sinking streams, pits, sinkholes, and springs. Gap Cave is the longest known cave in the park at over 18 miles of surveyed passages and still going.

Gap Cave Spring was a significant water source for early settlers moving through Cumberland Gap.

Cumberland Gap was a strategic location during the Civil War. The area and Gap Cave traded hands several times. Important graffiti with interesting names, dates, and drawings are found in Soldier's Cave (part of Gap Cave) from both Union and Confederate forces.

All NPS cave resources are protected under the the Federal Cave Resources Protection Act of 1988 (FCRPA)(16 U.S.C. § 4301 et seq.).
Abandoned Mineral Lands
Coal and iron-ore mining have been important regional industries for more than 100 years and continue today. Smaller-scale quarrying of limestone and sandstone also occurs. Disturbed lands within the park—old (ca. approximately 1900) coal mines and iron mines, potassium nitrate mines, abandoned haul access roads, and a few sand and gravel quarries—were not large-scale mines or quarries, but do attest to the importance of mining to the history of the Cumberland Gap area (Englund 1964; Thornberry-Ehrlich 2008).
NPS AML sites can be important cultural resources and habitat, but many pose risks to park visitors and wildlife, and degrade water quality, park landscapes, and physical and biological resources. Be safe near AML sites—Stay Out and Stay Alive!
Geology Field Notes
Students and teachers of college-level (or AP) introductory geology or earth science teaching courses will find that each park's Geologic Resource Inventory report includes the Geologic History, Geologic Setting, and Geologic Features & Processes for the park which provides a useful summary of their overall geologic story. See Maps and Reports, below.
Regional Geology
Cumberland Gap National Historical Park is a part of the Appalachain Plateaus Physiographic Province and shares its geologic history and some characteristic geologic formations with a region that extends well beyond park boundaries.
The
Geologic Resources Inventory
produces digital geologic maps and reports for more than 270
natural resource parks
. The products listed below are currently available for this park, check back often for updates as many maps, reports, and posters are still in progress.
Scoping summaries are records of scoping meetings where NPS staff and local geologists determined the park's geologic mapping plan and what content should be included in the report.
Digital geologic maps include files for viewing in GIS software, a guide to using the data, and a document with ancillary map information. Newer products also include data viewable in Google Earth and online map services.
Reports use the maps to discuss the park's setting and significance, notable geologic features and processes, geologic resource management issues, and geologic history.
Posters are a static view of the GIS data in PDF format. Newer posters include aerial imagery or shaded relief and other park information. They are also included with the reports.
Projects list basic information about the program and all products available for a park.
A NPS Soil Resources Inventory project has been completed for Cumberland Gap National Historical Park and can be found on the NPS Data Store.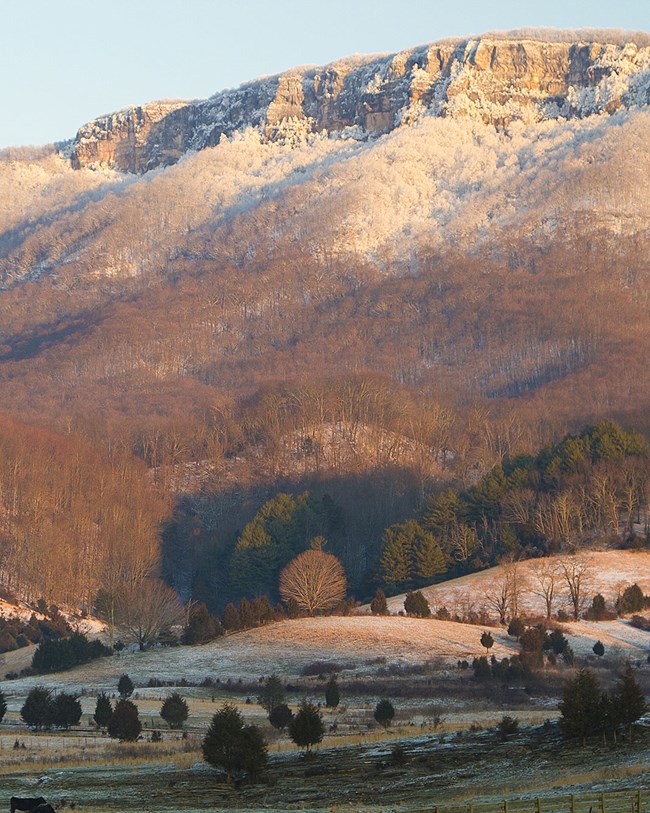 Related Links
Related Articles
Cumberland Gap National Historical Park
National Park Service Geodiversity Atlas
The servicewide Geodiversity Atlas provides information on
geoheritage
and
geodiversity
resources and values within the National Park System. This information supports science-based
geoconservation
and interpretation in the NPS, as well as STEM education in schools, museums, and field camps. The
NPS Geologic Resources Division
and many parks work with National and International geoconservation communities to ensure that NPS abiotic resources are managed using the highest standards and best practices available.
For more information on the NPS Geodiversity Atlas,
contact us
.