Walks and Hikes
Planning Your Walk or Hike
Any trail in old-growth redwooods is "the best trail". A quality experience in a few places may be better than trying to see it all.

No matter your comfort level and experience, there are walking and hiking options for you in the redwoods. For orientation and planning purposes, we consider the Klamath River as the boundary between the north and south areas of the parks. Crescent City and Hiouchi is in the north, Klamath is in the middle, and Orick is in the south. For more trip-planning information and maps you can stop by one of our visitor centers, or check out the backcountry trip planner.

Be aware that most of the trails north of the Klamath River do not have parking large enough for trailers or RVs. Many of the trails south of the Klamath River do have parking for trailers or RVs.

Start making your plans based your answers to these questions...
Do you have less than an hour, or a full day?

What is the fitness level of your group?
Which area of the parks are you visiting?
Do you need easy parking, and paved roads?
What are your accessibility requirements?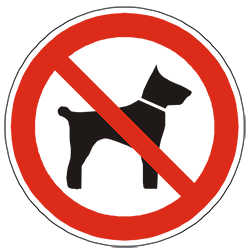 Pet on Trails?
Pets do not mix well with wildlife like bears, Roosevelt elk and mountain lions on our trails. Pets are not allowed on any national and state park trails. This includes Fern Canyon and Tall Trees Trail.
However, there are options for walking with a leashed pet in the parks. There are two dirt roads under old-growth redwoods that are friendly for leashed pets. Service dogs are welcome on any of our trails.
Learn more about pets in the park.
What To Expect?
More than 200 miles of trails weave through a variety of environments; including prairies, old-growth redwood forests, and beaches. Elevations range from sea level to just over 3,000 feet (1,000 m). Consistently mild temperatures make year-round exploration a possibility. The parks' trails are well maintained - though weather conditions may make the trails slippery. Few trails are paved.
Due to the wet winters and the strong winds we have, large trees often fall, and they will block trails. These natural events will cause a trail closure. Find out more about
current conditions.
Walking through a redwood grove on a fog-shrouded morning can be an unforgettable experience. Sounds are reduced to the musical gurgle of water trickling amongst ferns and mossy rocks. Light ebbs with the somber mist and shafts of sun hang like cobwebs. Stillness and peace weave their spells upon the respectful traveler.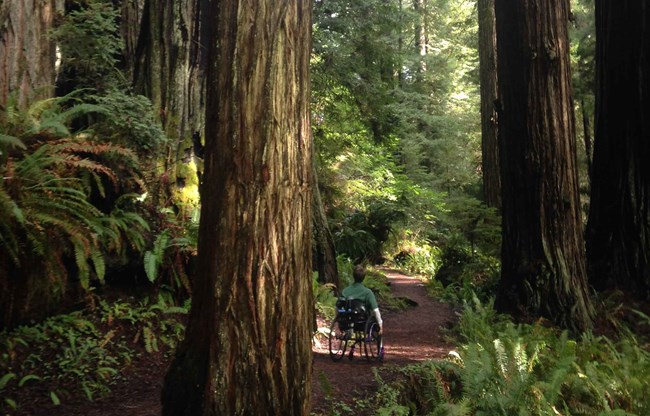 Accessible Trails
ADA accessible trails take you through old-growth redwood forests in many locations.

North: Jedediah Smith Redwoods State Park.
Simpson-Reed Grove.
Leiffer Loop.
South: Prairie Creek Redwoods State Park.
Big-Tree Wayside.
Elk Prairie Trail.
Foothills - Prairie Creek Loop.
Revelation Trail.
Note: The "Lady Bird Johnson Trail" in Redwood National Park is partially paved, but it has some steeper slopes and is not ADA accessible.
Details About Our Trails
Finding the right trail for you depends on which areas you plan go to, how long you want to be walking, and the size of vehicle you are driving.
Seasonal Bridges
In summer, seasonal foot-bridges are constructed across some waterways to allow for easier access to some of the parks' frontcountry, and backcountry highlights. Depending of the water-levels, these footbridges are installed by June and removed by October. These trails are not wheelchair accessible.
Redwood Creek's bridges are in the backcountry of Redwood National Park and allow for easier access to several backcountry campsites.
Fern Canyon's bridges are in the front-country of Prairie Creek State Park. Fern Canyon is a popular summer destination, and it will be very busy. (There are no old-growth redwoods at Fern Canyon.)
Smith River's bridges in Jedediah Smith Redwoods State Park allow for walking access to Stout Grove.
Last updated: May 26, 2020