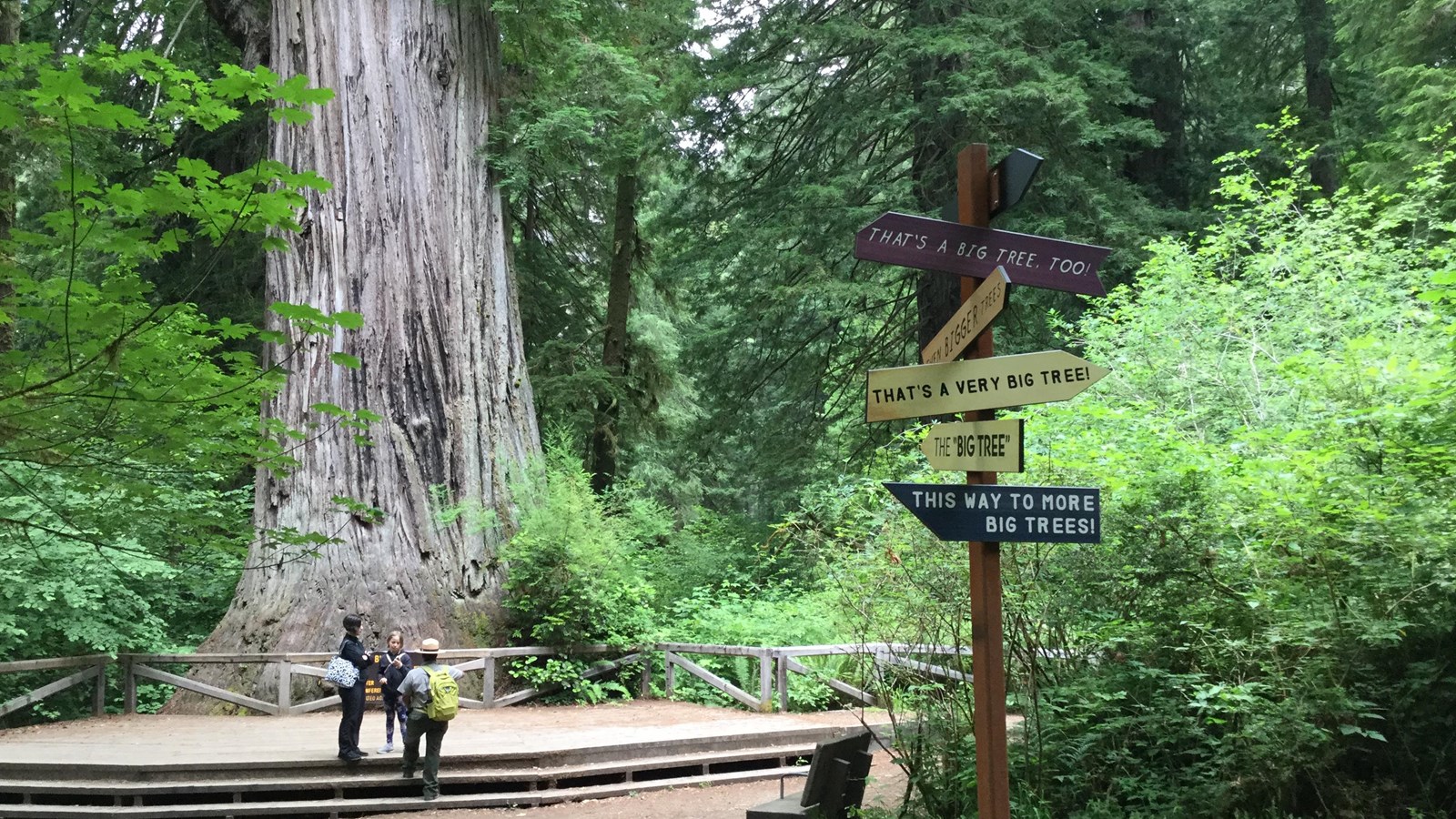 Location:
Southern end of the Newton B. Drury Scenic Parkway
Significance:
A perfect option for those very short on time.
Information Kiosk/Bulletin Board, Parking - Auto, Parking - Bus/RV, Tactile Exhibit, Toilet - Vault/Composting, Trailhead, Trash/Litter Receptacles, Wheelchair Accessible
Quickest Way To See Some Really Big Trees
Located in Prairie Creek State Park and just off the Newton B. Drury Scenic Parkway, this is a two-minute walk to stunning old-growth redwood trees. A viewing platform and interpretive signage is located by the "Big Tree". It is estimated that this tree is more than 1,500 years old. Many other equally impressive trees will be found on all the nearby trails.
The walk to the Big Tree is 75 yards (68 meters) from the parking area. The trail is wheelchair accessible. This location is popular with visitors, tour groups or charter busses that have less than half an hour to experience any redwoods.  
Limited RV and trailer parking is available
. The parking lot is 3/4 of a mile (1.2 km) north of the Prairie Creek Visitor Center. The mile marker for the pullout to the parking lot is MM 127.96. Vault toilets are located at the parking area.
Detailed trail information, interpretive panels and audio boxes are located at the trailhead. Visitors can hear and learn from Yurok elders about redwood trees and the people who have lived here since time immemorial.
Other short walks like the 15-minute "Circle Trail", "Foothills Trail" and "Cathedral Trees Trail" are found next to the Big Tree.
Safety Tips
We recommend you purchase and use a good map and trail guide for your adventures in Redwood National and State Parks. Don't rely on online maps when you are here.

To protect the habitats, leave no trace also means staying on the developed trail. Please don't go off-trail and make any new trails. These forests grow by the inch, and will die by your foot.

To protect the wildlife (and you and other visitors), pets are not allowed on park trails.

Cell coverage is very limited and cannot be relied on in an emergency. Have a plan for checking in and checking out with a friend when you are here.
Last updated: April 21, 2022