Online Permits: Tall Trees Trail
Quick Tips:
Visitors must apply on-line for a Tall Trees Trail day-use permit. The permit is free.
There is no guarantee that you will be granted a permit.
You can apply for a Tall Trees permit up to four weeks in advance.
You will not be able to apply for a Tall Trees permit when your trip is less than 48 hours away.
Pets are not allowed on any of the trails within the national or state park areas. However, there are several options to enjoy a walk with a leashed pet in the park and information on how to become a BARK! Ranger.

Are you wanting a backcountry camping permit? Goto the online backcountry application.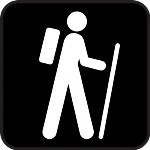 Tall Trees Trail
Before applying for a Tall Trees Trail permit, we want to make sure it meets your needs, physical abilities, and time-frame. The Tall Trees Trail is not the only place in the park to see tall trees, there are many other great hiking options in the redwoods that don't require a permit and take less time out of your day. Going to Tall Trees will take at least 4 hours out of your day, this includes driving and hiking round-trip. The Tall Trees Trail is a 4.5-mile round-trip hike that is classified as moderate to strenuous. This is due to the steep drop going into the grove and climb returning to your vehicle, the trail drops 800 feet in the first 1.5 miles.

Wherever you are hiking or visiting, be sure to learn about Leave No Trace in the redwoods.

Day-use permits for the Tall Trees Trail can be requested up to four weeks in advance but no later than 9:00 am two days prior to your chosen hiking day. For example, if you want to hike on May 4, you need to apply by 9:00 am PST on May 2 to receive your permit. Permit requests are typically downloaded once daily in the morning due to staffing, so please plan accordingly.
Information about Tall Trees Grove
Applying for Tall Trees Trail Permits
See what *might be
available
in the next month. Please be aware that what shows in the permits status page is NOT a live update.
You will recieve an email with information about if your permit was issued - or if it was not. Check your junk / spam folders for an email that ends in "@nps.gov".


Last updated: August 9, 2021