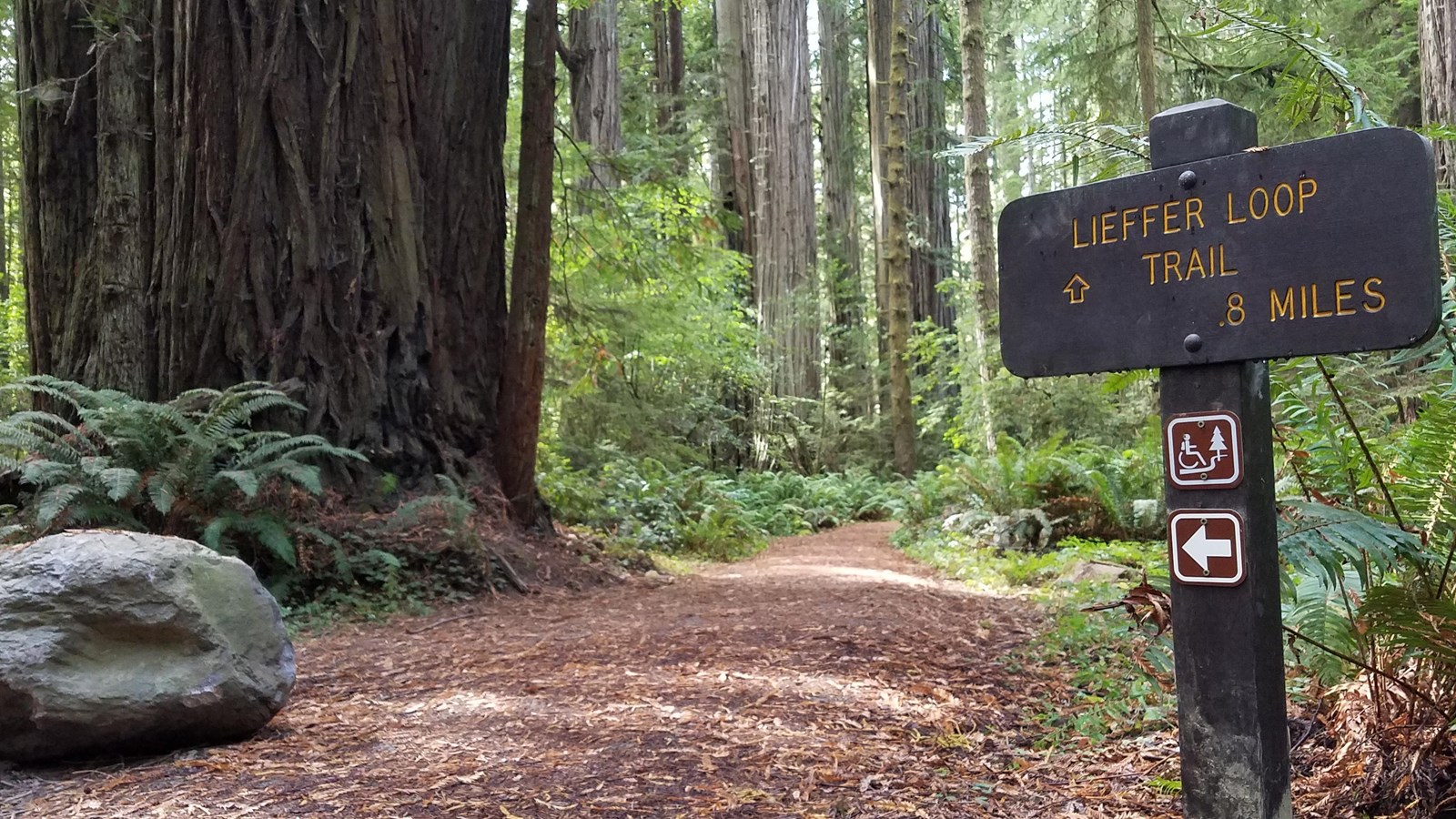 Location:
Walker Road, west of Hiouchi, CA.
Significance:
A beautiful trail in the north, part of the trail is wheelchair accessible.
Benches/Seating, Parking - Auto, Wheelchair Accessible
Redwood National and State Parks
The Lieffer Loop trail offers a walk for those searching for a shorter trail with elevation changes of 150 feet. A section of the Lieffer Trail is wheelchair accessible.  
Found in Jedediah Smith Redwoods State Park, this 1.5-mile trail is far enough away from Highway 199 that the sounds of vehicle traffic are unheard. Hikers will pass living redwoods with scars and large hollows created by fires of the past. Ferns, nurse logs, berry bushes, and a variety of forest features are found here. Benches can be found along the trail that allow hikers to rest and marvel the beauty and resiliency of the forest.
Two trailhead along Walker Road give you access to the Lieffer Loop. You can access both the trailheads by taking the Walker Road turnoff on HWY 199 - this is a sharp turn to the north. One trailhead is about 0.5 miles from the intersection of Highway 199. The other trailhead is located 0.75 miles (1/2 km) farther. The 0.75 mile section between the two trailheads is wheelchair accessible.

Be sure to note which trailhead your vehicle is parked at, so you will end your hike at the correct location.

There is no suitable parking anywhere here for recreational vehicles, camper vans, or vehicles with trailers.

Safety Tips
We recommend you purchase and use a good map and trail guide for your adventures in Redwood National and State Parks. Don't rely on online maps when you are here.
To protect the habitats, leave no trace also means staying on the developed trail. Please don't go off-trail and make any new trails. These forests grow by the inch, and will die by your foot.
To protect the wildlife (and you and other visitors), pets are not allowed on park trails.
Cell coverage is very limited and cannot be relied on in an emergency. Have a plan for checking in and checking out with a friend when you are here.
Last updated: April 21, 2022