Place
Lady Bird Johnson Grove Trail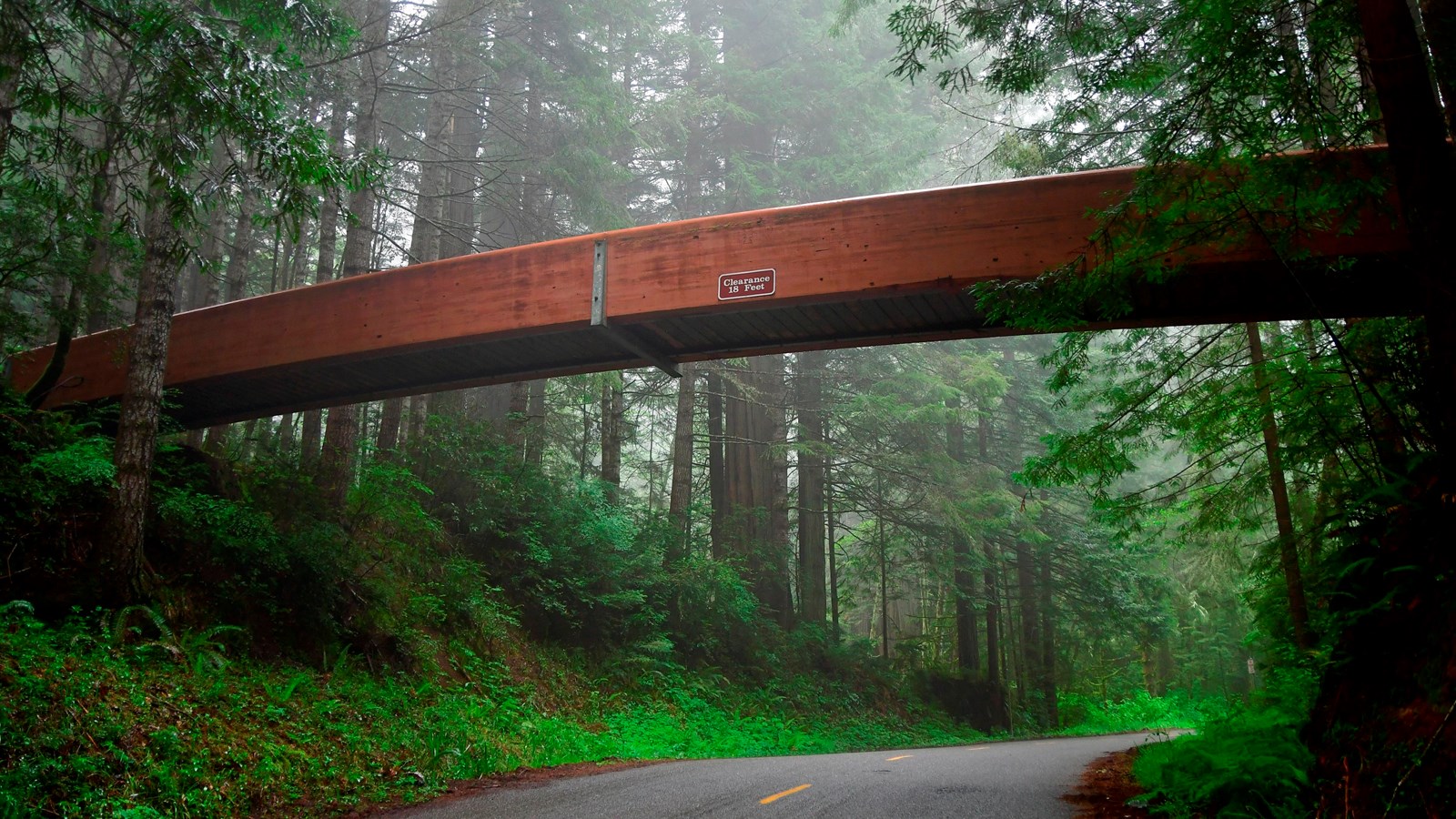 Location:
North-east of Orick. Three miles up the Bald Hills Road.
Significance:
A historic grove of redwoods.
Designation:
National Park
Information - Maps Available, Information Kiosk/Bulletin Board, Parking - Auto, Trailhead, Trash/Litter Receptacles
Redwood National and State Parks: Lady Bird Johnson Grove Trailhead
Located not far from Highway 101, this easy walk through old-growth redwoods has been a popular destination for decades.
This family friendly trail is a 1.5 mile (2.5 km) loop that winds through a mixed forest of redwoods and other tall conifers. However, there is a hikers' bridge with a slope that makes it not officially accessible for those with a wheelchair.
To get to this grove, you will need to drive three miles (5km) of the Bald Hills Road -
this road is not recommended for RVs or trailers
. It is narrow and windy with very few pull outs or turn-around spots. Parking on the Bald Hills Road is not allowed because of the danger of collisions with on-coming traffic. Additionally, the
Lady Bird Johnson Grove parking
 spots are too small for buses, recreational vehicles and trailers.
In summer, daily ranger-led walks begin at the parking lot. Numbered interpretive trail posts are found along the trail. We no longer have the printed version available at the trailhead. The online version of the
Lady Bird Johnson Grove tour
is available to download on the NPS digital app.
There is a lot of interesting human history, passion, and conflict surrounding the establishment of Redwood National Park. On this trail, you will walking in the footsteps of so many who helped protect the last of the redwoods.
In the mid-1960s, clear cut logging of old-growth redwood trees was occurring all over these hills. On October 2nd 1968, Redwood National Park was officially established. At that time, logging of redwoods came right up to the park boundary - which originally was just outside of this grove. The first park visitors saw miles of scarred and logged landscapes that dramatically ended at the edge of the remaining redwood groves.
The following year in 1969 President Nixon dedicated this grove to former First Lady, Lady Bird Johnson, for all of her conservation and environmental work. The dedication plaque for Lady Bird Johnson Grove can be seen about half a mile down the trail. Only 5% of the world's old-growth redwood forest remain - and nearly half of that (40,000 acres) is in Redwood National and State Parks.
This trail is one of the few areas where you can walk in just a few steps through a second growth forest into an old-growth redwood forest. Most of the trees next to the parking lot are second-growth Douglas-fir trees. That means they were planted after the ancient redwoods were logged in the 1960s. Visitors today will see thousands of acres of second-growth forests before they experience the pockets of old growth-redwoods.
Across Redwood National and State Parks, we have an ambitious habitat restoration program called
Redwoods Rising.
It is planned that by the mid-2020s, the three miles of second-growth forests along Bald Hills Road leading up to this parking lot will be treated. Visitors will see first hand-how we
restore second-growth forests
so they can grow into healthy redwood forests of the future.
Once you cross the hikers' bridge you will be immersed in old-growth redwoods that have never been logged. You can see, feel, and even hear the differences between these two kinds of forest.
Safety Tips
We recommend you purchase and use a good map and trail guide for your adventures in Redwood National and State Parks. Don't rely on online maps when you are here.

To protect the habitats, leave no trace also means staying on the developed trail. Please don't go off-trail and make any new trails. These forests grow by the inch, and will die by your foot.

To protect the wildlife (and you and other visitors), pets are not allowed on park trails.

Cell coverage is very limited and cannot be relied on in an emergency. Have a plan for checking in and checking out with a friend when you are here.
Last updated: July 19, 2022