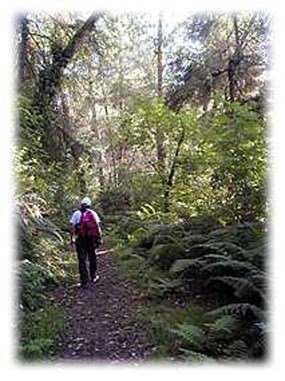 Walking along a coastal bluff, gulls and sea lions cry amidst the sound of crashing breakers. A gray whale spouts occasionally in the vast blue waters below and wind whistles through the alders. Trails lead down to secluded beaches where the driftwood piles and ancient rocks hide crabs and sea stars.
Although the parks are best known for redwoods, 70 miles (142 km) of Coastal Trail offers the adventurous hiker a different experience. Delicate tidepool creatures, sandy beaches, and the jagged Pacific coastline await your exploration.
Day hikes and longer backpack trips may be done on the Coastal Trail. Permits are required at all backcountry camps and are available at the park visitor centers.
The Coastal Trail is nearly continuous in the parks; the one major detour is the Highway 101 bridge over the Klamath River. Several access points and five backcountry camps are within an easy day's walk of each other.