Park Newspaper and Visitor Guide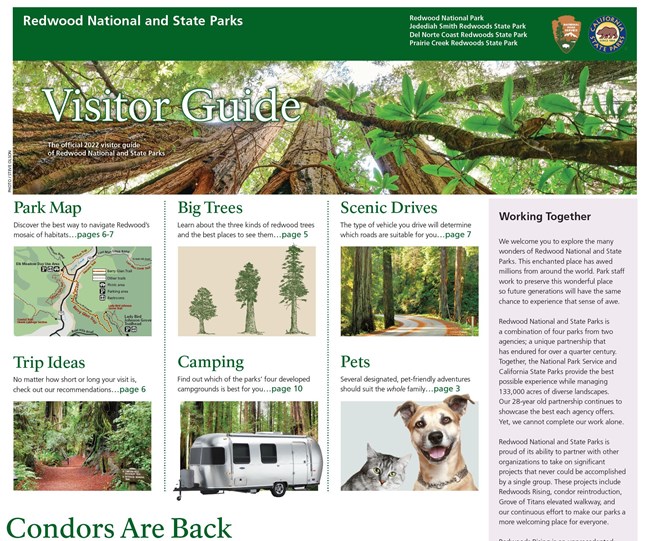 2022 Redwood National and State Parks Visitor Guide
(PDF)
Trip planning, tips for best hikes and scenic drives, accommodations and maps.
Features articles about California condors by Sarah Brimeyer, Redwoods Rising restoration projects by Gregory Litten, and Marine Protected Areas by Angela Edmunds.
Previous Redwood Visitor Guides
You can download some of our recent visitor guides. If the year has not been highlighted, it means a digital file for that product is not available or accessible. Sorry, but we do not have any copies of these old visitor guides to mail out.

2021 (PDF 8 mb)
Updated feature articles about California condors, Redwoods Rising forest restoration, and Marine Protected Areas.

2020 (PDF 6mb)
Feature articles from Angela Edmunds about Marine Protected Areas and Sarah Brimeyer about California Condors.

2019 (PDF 6mb)
Includes short articles from Gregory Litten about the Redwoods Rising restoration program and Melissa Lockwood on the Grove of the Titans.

2018 (PDF 6 mb)
Feature articles by Melissa Lockwood on the park's 50th anniversary, Brad Maggetti on wild and scenic rivers, and by Mike Kahn about Save the Redwoods League.

2017 (PDF 7 mb)
Features articles by rangers Melissa Lockwood on tidepools, Brad Maggetti on forest restoration, and Gregory Litten on the logging legacy.

2016 (PDF 8 mb)
Feature article by ranger Gregory Litten on the meaning of the National Park Service on its 100th anniversary.

2015 (PDF 6 mb)
Features by ranger Chris Hendrix on Hollywood in the Redwoods, and an article by Christine Walters on exciting new developments for visitors who want to learn about the Yurok Tribe.
2014
Features the 150th anniversary of California's state park system. Nate St. Amand's article on the 50th anniversary of the largest US earthquake in 200 years and the tsunami that then hit Crescent City.
2013
Park ranger Steven Krause writes about phenology in the parks; learn bout the birds of Castle Rock National Wildlife Refuge from wildlife biologist Stephanie R. Schneider; and, park ranger Debbie Savage explains why it's a good thing if it's a bit darker during your next visit to the parks.
2011
Featured articles include: a Park Ranger's Pick from Redwood's resident surfer-ranger Adam Friedrich; description and history of the new Berry Glen Trail; and, the latest research into how climate change could affect the world's tallest trees-and you!
2010
This edition focuses on Redwood's 40 fabulous miles of coastline.
2009
Does Size Matter? A visitor guide mostly dedicated to coast redwood stories.
2008
Stories covering the 40th anniversary of Redwood National Park.
2007
Does Size Matter? A visitor guide mostly dedicated to coast redwood stories.
2006
The Mill Creek watershed was added to RNSP's boundary in December 2005. Stories cover resource studies that have occurred over the past four years.
2004-2005
The redwood canopy houses entire ecosystems. Read all about it!
2003
An introduction to the Mill Creek watershed acquisition.
2002
Discover the Bald Hills, where 300 year-old Oregon white oaks live beside bears, hawks, wildflowers, and people.
2001
"B Mill Deck" becomes Elk Meadow Day Use Area-a restoration success story.

Last updated: February 21, 2023