Directions & Transportation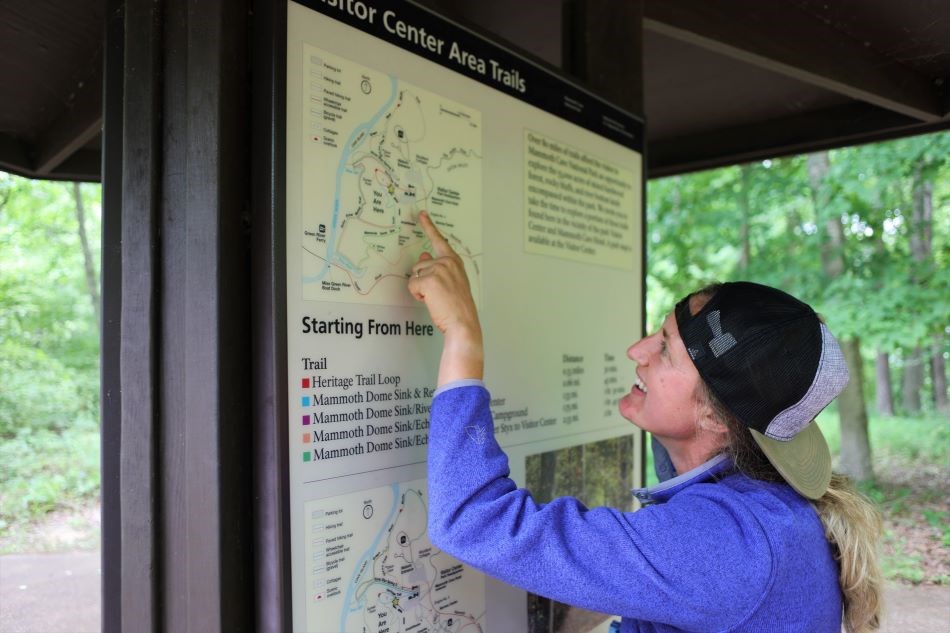 At nearly 53,000 acres the park is a large place to explore. Luckily, finding your way around is easy with a little trip planning.
Mammoth Cave National Park is divided by the Green River that flows from east to west through the center of the park. The cave tours and most visitor services are found on the south side of the river, but the north side of the park offers backcountry camping, hiking, horseback riding, and mountain biking opportunities.
Make sure to look at a map of the park before you start your journey to get familiar with the park's layout.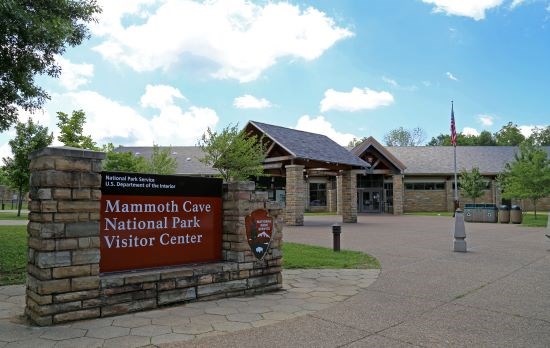 Directions to the Mammoth Cave Visitor Center
The Mammoth Cave Visitor Center and most visitor services are located in the South Side of the park. These services include:
Cave tour tickets

Cave tour departure sites

General goods

Food and dining

Lodging

Camping
Backcountry camping permits

Park Administrative Offices
The Visitor Center offers the best starting point for planning your day at the park.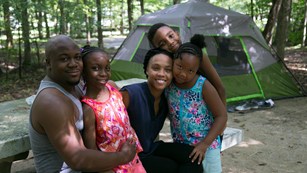 Eating and Sleeping
Eat and sleep comfortably at the Lodge at Mammoth Cave or opt outdoors at one of our campgrounds. There are plenty of choices to suit you!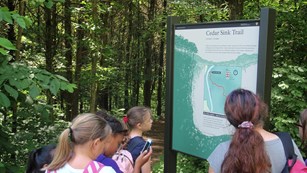 Things to Do
There are countless ways to enjoy your trip to Mammoth Cave National Park. Learn about activities you can do during your stay.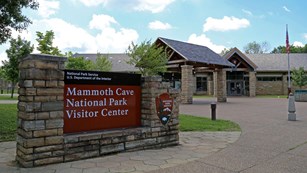 Visitor Center
Tour tickets, museum exhibits, trip planning information, restrooms, gifts -- the Visitor Center serves many of your needs and more!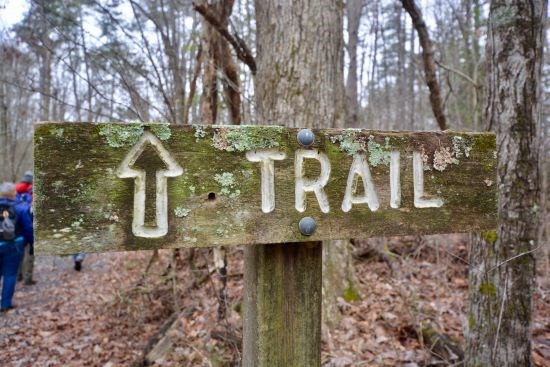 Directions to North Side Trails and Camping
The north side of the park is home to over 65 miles of scenic Backcountry Trails that are perfect for hiking, biking and horseback riding.
Directions to Maple Springs Group Camping and Trailhead
Maple Springs Group Campground is located just past the Green River Ferry on Green River Ferry Road (SR 1352), and is a convenient central location for trail users interested in camping, hiking, biking, or horseback riding. Follow these directions to get to Maple Springs:
- Exit the visitor center parking lot by taking Mammoth Cave Parkway
- After a quarter of a mile, turn right on Green River Ferry Road
- At the end of the road, take the Green River Ferry to the North Side of the Park
- Maple Springs Group Campground will be on your left
- Exit the visitor center parking lot by taking Mammoth Cave Parkway South
- After 3 miles, turn right on KY-70E/Mammoth Cave Road towards Brownsville, KY
- After 10 miles, turn right onto S Main Street in Brownsville
- Take a slight left onto KY-259N/S Main St in Brownsville
- Continue on KY-259N for 7 miles
- Turn right onto KY-728, over Nolin River Dam, for 9 miles
- Continue straight onto State Hwy 1827
- Turn Right onto State Hwy 1352
- Continue onto Green River Ferry Road
- Destination will be on the right
Directions to Other North Side Trailheads
Visitors can access other trailheads on the north side of the park such as Lincoln, First Creek, Temple Hill, and White Oak. Access to these trailheads can be reached from Ollie Ridge Road, Houchin Ferry North Road, and Dennison Ferry Road.
Check out our park Maps to help determine your route to these destinations.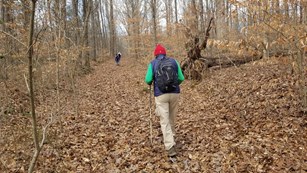 Backcountry Trails
Explore over 60 miles of trails on the north side of the park.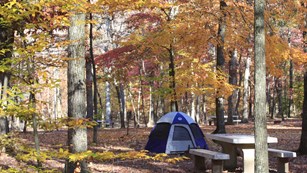 Maple Springs Campground
Group campsites, horseback group campsites, and RV campsites just a 10 minute drive from the visitor center.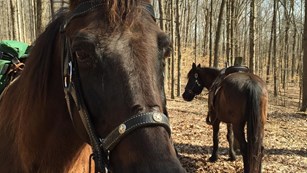 Horseback Riding
Those who love to see the world from horseback are in luck! Explore 60 miles of backcountry trails suitable for many skills and ages.
Getting to the Park
By Car
Most visitors arrive at Mammoth Cave National Park by car. The park is located very close to Interstate-65, a major north–south Interstate Highway that connects the Gulf of Mexico to the Great Lakes.
By Bike
Bicycling is a popular and green alternative to driving. Several park roads are included within the U.S. Bicycle Route System, and the 9-mile Mammoth Cave Railroad Hike and Bike Trail offers a scenic thoroughfare between Mammoth Cave National Park and Park City, Kentucky.
By Air
The closest major airports are in Louisville, Ky (89 miles from Park Headquarters) and Nashville, TN (99 miles). Car rentals are available at both airports.
By Public Transportation
There is no public transportation in the vicinity of the park. Private taxi services may be available in some areas.
By RV, Trailers, or Buses
There are no restrictions on the size of RVs, trailers, or buses allowed on the main park roads, but trailers and RVs may have difficulty crossing the Green River Ferry or traveling on park secondary roads. Please drive carefully and watch for wildlife, bicyclists, and pedestrians.
NOTE: Commercial vehicles are prohibited on park roads.
Alternative Fuel Vehicle
If you are traveling to the park in an alternative fuel vehicle, your actions will help reduce greenhouse gas emissions and reduce petroleum use. Plan your trip with the Alternative Fueling Station Locator from the Department of Energy.
By Ferry
There are no bridges connecting the north and south sides of the park, but visitors can take the Green River Ferry as an alternative to highways outside the park. Ferry operations are subject to closures due to fluctuating water levels. Check the Mammoth Cave Roads and Ferry (@MCNPRoadsFerry) on Twitter or call ahead to make sure the ferry is operating when you visit, (270) 758-2166.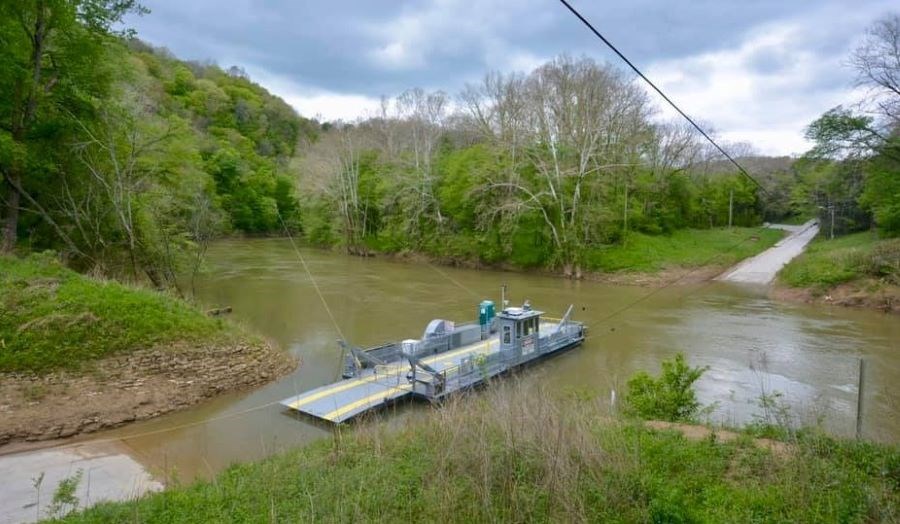 Green River Ferry
To travel between the North and South Sides of the park, visitors may use the Green River Ferry, or utilize highways outside park boundaries.
Green River Ferry operates year-round with the exception of Christmas Day (December 25), 6:00am-9:55pm central time.
Ferry Advisories
Ferry operations are subject to water levels on the Green River and may be affected by high or low water.
In the event of ferry closure, the nearest crossing is via Hwy 70 through Brownsville.
Vehicles and trailers boarding the ferry must not exceed 12 tons and have a length no more than 16 feet. If you have a large vehicle or trailer, please call ahead to check if your vehicle can board.
Follow Mammoth Cave Roads and Ferry (@MCNPRoadsFerry) on Twitter for current information on ferry operations or call the Ferry Hotline at (270) 758-2166.


Last updated: July 1, 2021