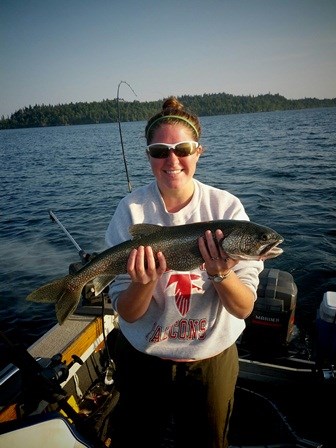 Fishing at Isle Royale
Isle Royale National Park is an angler's paradise. Whether you are fishing Lake Superior or the inland lakes, by boat or on foot, there is exciting sport fishing abound. Through the management of fish and aquatic environments, the park works to preserve and restore native fisheries and their habitats, and provide recreational fishing opportunities for the enjoyment of park visitors.
License Requirements
A Michigan fishing license is required for fishing in Lake Superior, including narrow bays and harbors, and when transporting fish to and from the mainland. If you are under 17 years of age you may fish without a license. Licenses are not required to fish on the inland waters of Isle Royale; possession limits are generally the same as those set by the State of Michigan. Anglers should refer to the Michigan fishing regulations for possession limits and detailed license requirements for Lake Superior. Only 24-hour licenses are available on the island and only when concession services are open.

Purchase a Michigan fishing license online or download a copy of the Michigan Fishing Guide.

For information and tips on boating at Isle Royale, visit our boating page.