Paddling Safety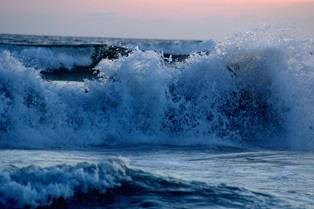 Canoeists and kayakers need to be aware of safety hazards and considerations for Lake Superior and the inland lakes and streams prior to their trip. Lake Superior is well-known for its cold temperatures, fog, and sudden squalls that can generate waves that could easily swamp a canoe or kayak. This, along with scarce outer shore landing sites, adds to the potential danger. Review federal regulations for recreational boats prior to your trip.
Weather Emergencies
Canoeists and kayakers should be familiar with weather patterns and consult the marine forecast at a visitor center before embarking. Be prepared to adjust your schedule to the weather. A portable marine radio is recommended, but be advised of the range, which is typically only a few miles. The U.S. Coast Guard monitors Marine 16. When staffed, the ranger stations at Windigo and Rock Harbor also monitor Marine 16. Ask a ranger upon arrival in the park for the most up-to-date safety contact information. Consider carrying a Personal Locator Beacon (PLB) for extended trips. In the event of trouble, one can often contact a power boat at the nearest campground dock, and have the boater broadcast a message through their marine radio for help.
Hypothermia
Dress to protect yourself from cold water and weather extremes. Wear layered clothing under a windproof outer garment. Be aware of the dangers of hypothermia and how to treat it. Cold water reduces swimming ability. Be a competent swimmer. Know how to handle yourself fully clothed in cold water.
Gear
Every canoeist and kayaker must have a U.S. Coast Guard approved personal flotation device (PFD). Wear it! It is extremely difficult to put on in the water, and your life may depend on it. Be sure it can be tied or zipped, and is the proper size, so it will not slip off in the water. Be sure your canoe or kayak is in good repair. A suggested list of paddling specific gear includes, but is not limited to:
PFD

First Aid Kit

Extra Paddle

Bailer Sponge or Bucket,

Waterproof Matches

Dry Storage Containers.

50 feet of Lashing Line

Extra Food in Case of Bad Weather
Other Safety Considerations
GPS charts tend to be reliable for navigation, but a waterproof lake chart is highly recommended as well. Be aware that sea kayaks on open Lake Superior waters require visual distress signals.
Last updated: August 20, 2020