Spring in Grand Teton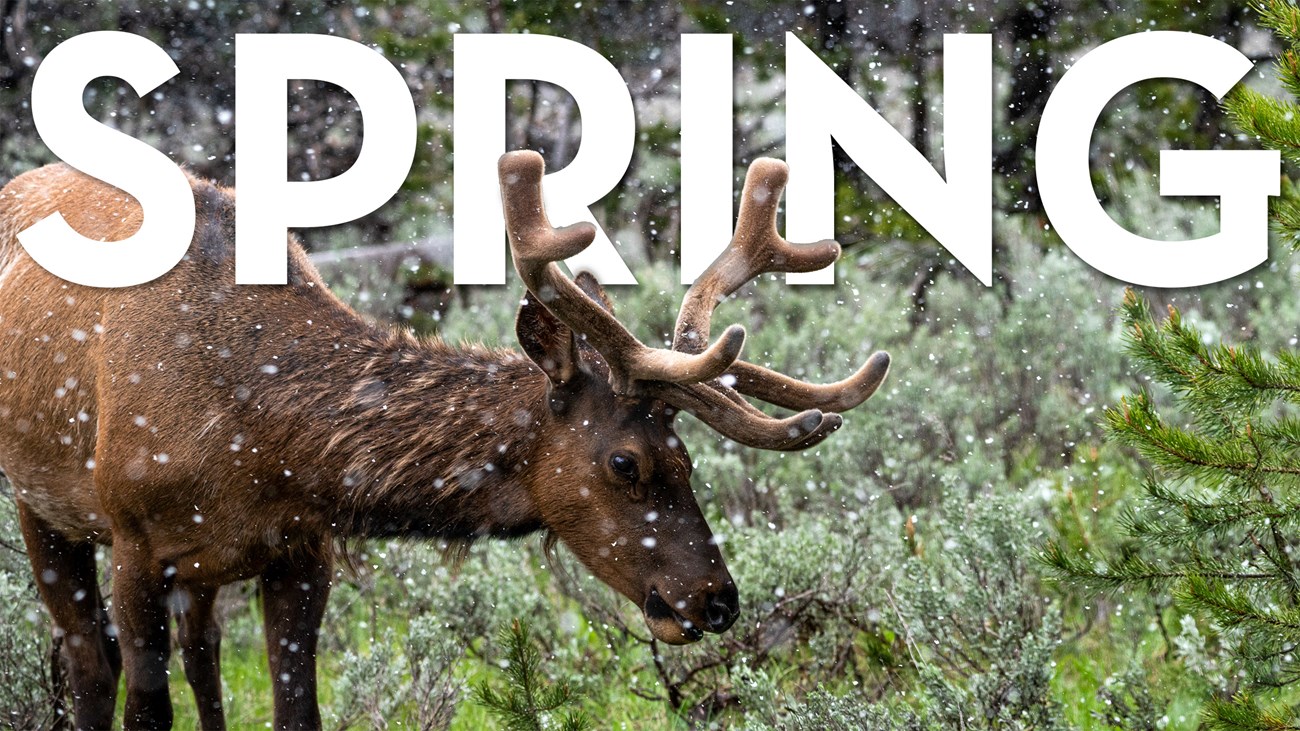 The world awakens from the grip of the long Wyoming winter. As winter's snowpack melts - the land is signaled by birth and renewal. You will be amazed with what you will discover as spring's secrets of life return to the Teton Range and the Jackson Hole Valley.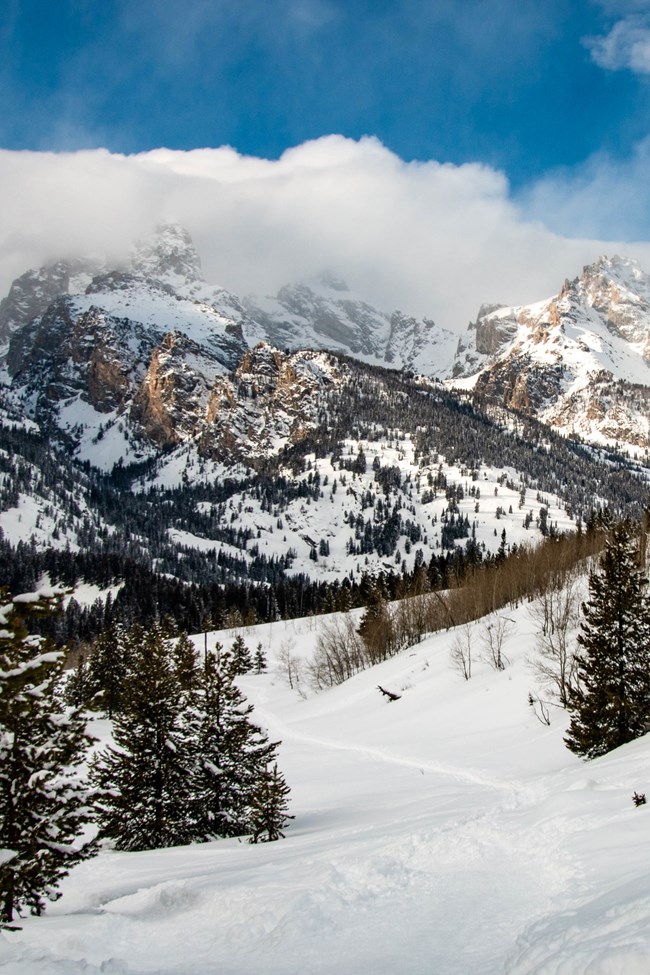 What's Open?
Visitor Centers and Information
None of the visitor centers in the park are open. Restrooms or portable toilets are available at the Taggart Lake Trailhead, Signal Mountain Lodge, Colter Bay Visitor Center, and Headwaters Lodge at Flagg Ranch. Gas, pay at the pump, is available at Signal Mountain, Jackson Lake Lodge, and Headwaters Lodge at Flagg Ranch. All other concession facilities including lodging, campgrounds, restaurants, and stores are closed until mid-May. For opening dates for facilities and services in the park, check the Operating Hours & Seasons page.
For lodging facilities in the Jackson Hole area, visit the Jackson Hole Chamber of Commerce at http://www.jacksonholechamber.com/.
National Elk Refuge and Greater Yellowstone Visitor Center
Located at the National Elk Refuge in Jackson. Open Tuesday-Saturday, 9am-5pm. Information, exhibits, bookstore, and restrooms.
Park Roads
Teton Park Road Closed to vehicle travel between Taggart Lake Trailhead and Signal Mountain Lodge until May 1.
Highway 26/89/191 Open to vehicle travel.
Moose-Wilson Road Construction 2023 April 10-May 26, closed to vehicle and pedestrian travel between Granite Canyon Entrance Station and Laurance S. Rockefeller Preserve due to construction.
Other secondary roads openings vary. Call 307-739-3682 or visit the Park Roads page.

If you are planning a visit during the spring season, make sure to check current weather forecasts and road conditions to ensure a safe and enjoyable trip.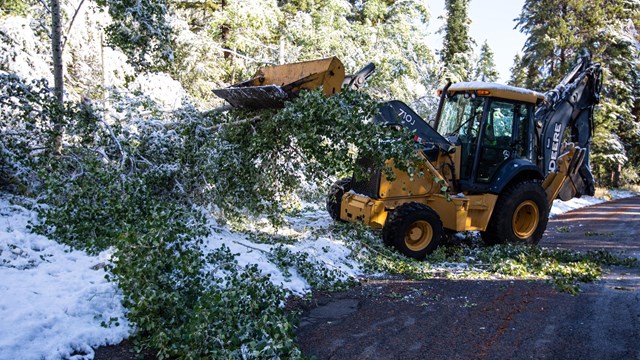 Current Conditions and Park Alerts
Know what to expect in the park today.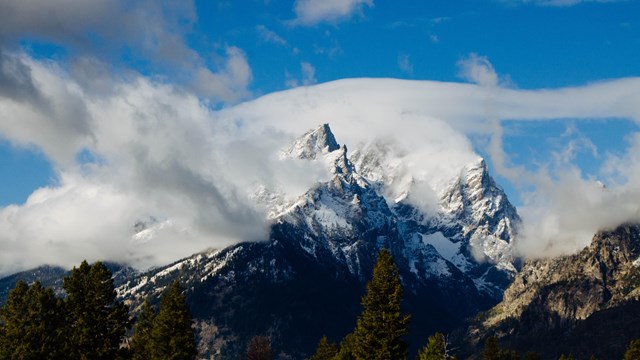 Weather
Learn what weather to expect when you visit Grand Teton.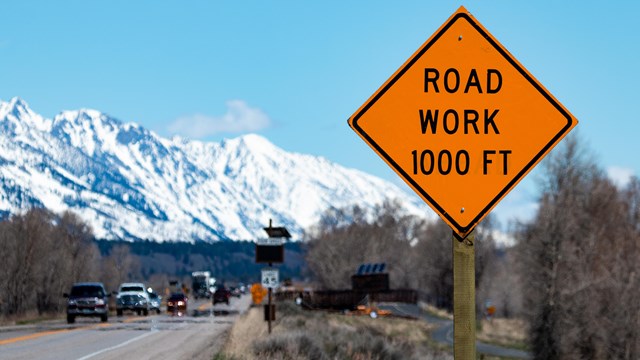 Park Roads and Construction
Check the status and seasonal closing dates of park roads.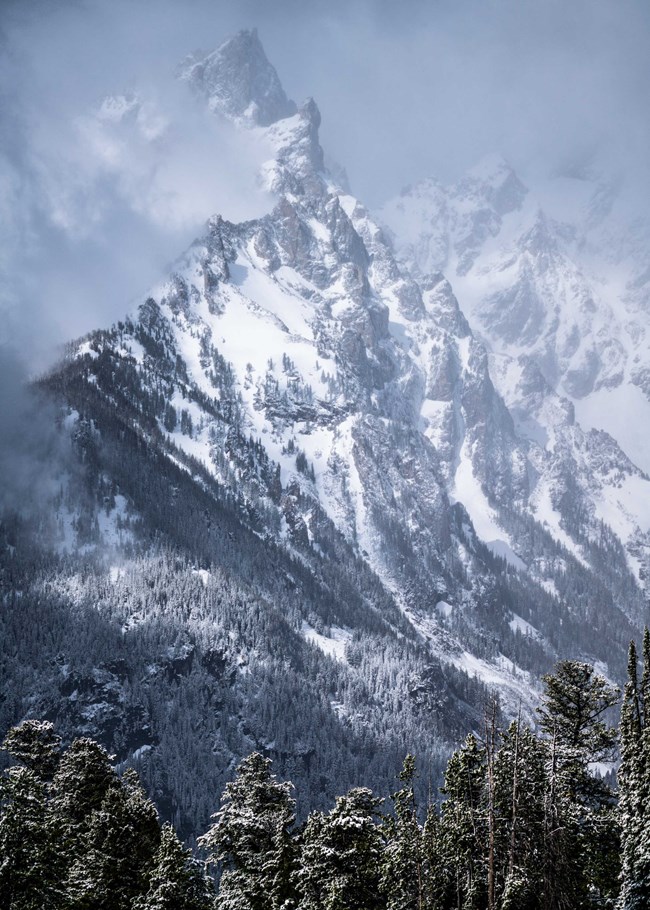 Spring Activities
Discover your path by exploring the park in the spring.
Are you prepared for Spring Conditions?
Deep Snow
Traveling off of hard packed snow without snowshoes or skis results in post-holing. You may get caught in hazards hidden under the snow.

Icy Roads and Trails
Roads and trails are covered in icy snow and mud. Use traction devices on your shoes.

Unpredictable Weather
Spring weather can change within hours from sunny to stormy. Be prepared with warm, waterproof layers.
Spring Safety
In early season, even valley trails may be snow-covered, making route finding difficult and potentially hazardous due to post-holing conditions.
Trails can be muddy and wet. Stay on maintained trails or durable surfaces, such as rock and snow.
The high country is the last to melt out. Large snowfields are a dangerous obstacle and navigation may require an ice axe.
Some valley hikes are doable, but backcountry excursions may still be inaccessible. Canyon trails are mostly snow covered and not possible to follow. Steep, icy slopes and potential avalanche conditions exist.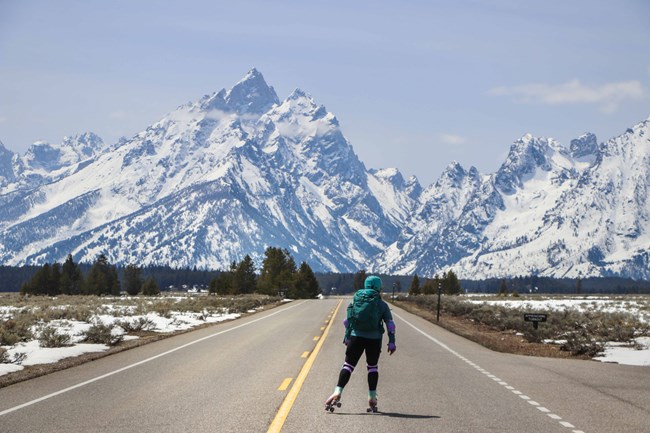 Go for a Ride on the Teton Park Road
Explore the park at your own speed while experiencing the grandeur of the Tetons. The Teton Park Road between Taggart Lake Trailhead and Signal Mountain Lodge is open to pedestrian travel only, from early April—April 30.

Enjoy activities such as walking, jogging, cycling, roller skating, and skateboarding. Use the Teton Park Road to access Jenny Lake and String Lake. Use caution as snow and ice may persist on some sections of the road, creating slick conditions. Visitors should also be alert for park vehicles and heavy equipment that periodically travel the road as spring opening operations continue.

The 14-mile section of the road opens to motor vehicle traffic on May 1, weather permitting.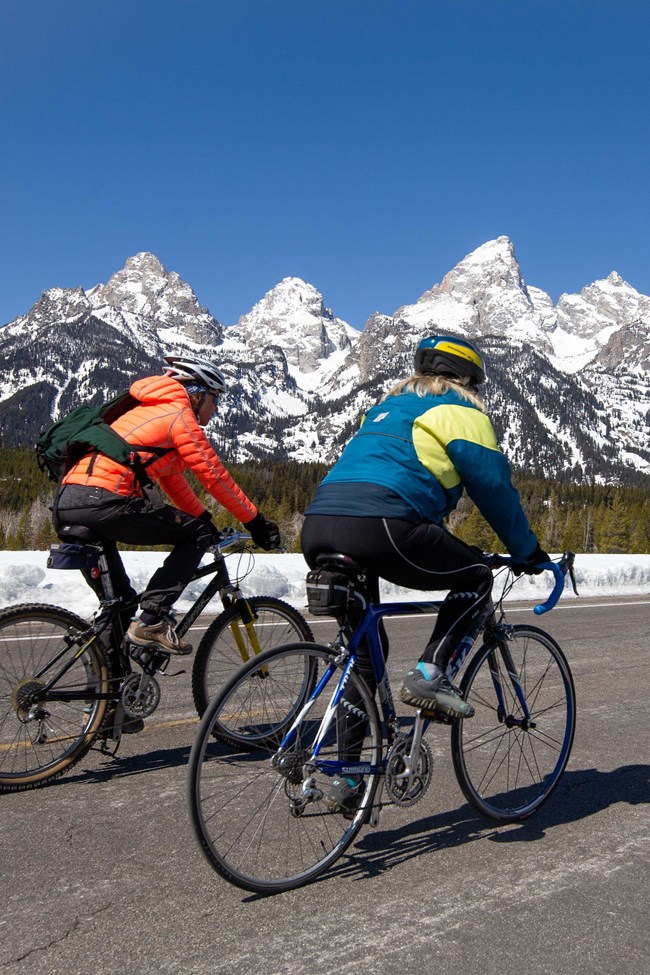 Taggart Lake to Jenny Lake
8.4 miles round-trip
Travel through the sagebrush to the scenic Jenny Lake.
Jenny Lake Scenic Loop
15.8 miles round-trip
Starting at Taggart Lake, ride north to the Scenic Drive. Follow the one-way to connect back to the Teton Park Road.
Taggart Lake to Signal Mountain
14 miles one way, 28 miles round-trip
Bike, skate, or walk to Signal Mountain through sagebrush and forested hills.
Visitors enjoying the Teton Park Road, should consider:
Entrance fees are required to enter Grand Teton National Park. Fees & passes can be paid at the Moose and Moran entrance stations, or through Recreation.gov.
Be watchful and cautious of wildlife, as it is common for animals to use park roads.
Carry bear spray, have it readily accessible and know how to use it.
Drivers should slow down and use caution in parking areas.
Be thoughtful of how music may affect others. Operating an audio device, such as a stereo, Bluetooth speaker, radio, or musical instrument in a manner which is unreasonable and impacts park users is prohibited by law.
Food and water are not available at the trailhead or along the road.
Restrooms are available at Taggart Lake Trailhead, Cottonwood Picnic Area, and Signal Mountain Lodge. Portable restrooms are also located along Teton Park Road.
Leave No Trace and dispose of trash in receptacles located at both ends of the road.
Dogs are permitted on the Teton Park Road on a leash no longer than six feet. Pet owners are required to clean up after their dogs. Waste disposal bag stations are located at both ends of the road. Bags should be deposited in trash receptacles and not left along the road.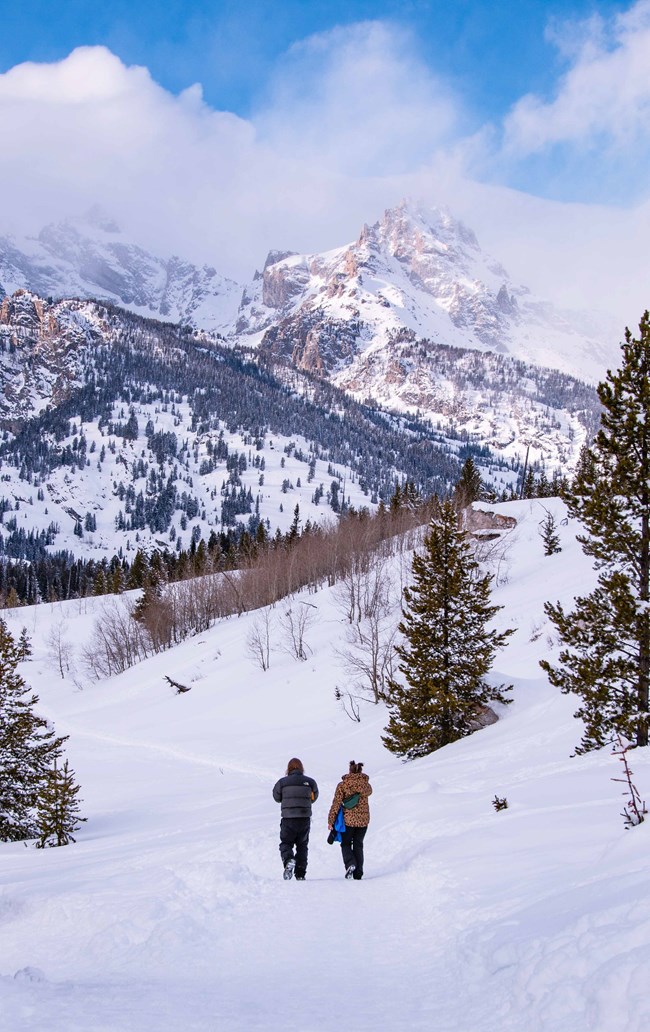 Hike a Valley Trail
As winter relinquishes its grip, valley trails are the first to emerge from the snow. Areas outside of Taggart Lake Trail are largely inacessible in April.

Conditions vary annually, with snow usually melting from valley trails by mid-June. Patches of snow, boggy trails, and downed trees makes for challenging navigation. Some valley hikes are doable, but backsountry excursions may still be inaccessible. Canyon trails are mostly snow-covered and not possible to follow. Steep, icy slopes and potential avalanche conditions exist.

Be aware of bears! Carry bear spray and know how to use it. Learn more at Safety in Bear Country.
Taggart Lake Trailhead Hikes:
Taggart Lake Trail
3.0 mile round-trip, 2 hours, 350 ft total climbing, Less Challenging.
The trail traverses sagebrush flats and forests to Taggart Lake with some of the best views of the Teton Range. Start at the Taggart Lake Trailhead.
Taggart Lake-Beaver Creek Loop
3.9 miles round-trip, 2-2.5 hours, 500 ft total climbing, Challenging.
Extend the hike to Taggart Lake by adding on the Beaver Creek Loop Trail.
Taggart Lake-Bradley Lake
5.9 miles round-trip, 3 hours, 800 ft total climbing, Challenging.
Hike to two alpine lakes on the Taggart and Bradley loop trail. Leaving from the Taggart Lake Trailhead. At the Bradley Lake trail split, follow the trail right to Bradley Lake. From Bradley Lake, follow signs to Taggart Lake and complete the loop back to the parking lot.

For more information about these hikes, visit Hikes at Taggart Lake.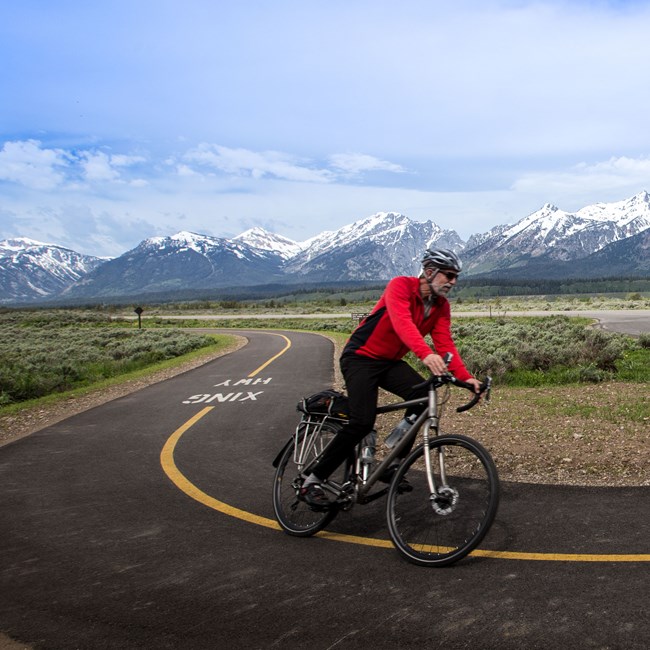 Bike, Skate, & Walk the Grand Teton Pathway
Another way to explore spring's awakening is to journey on the park's pathway where you can bike, hike, and skate along the valley floor. The park pathway is open whenever predominately free of snow and ice.

The 17-mile, separated pathway stretches from the south boundary of the park to Moose, Jenny Lake, and Antelope Flats Road. As you head south, it connects to the Jackson Community Pathways.
The pathway is closed from dusk to dawn for your safety and wildlife's safety.
Pets are not allowed on the pathway. Service animals are and must assist with a disability and must be trained to perform tasks to aid with the disability.
Bicycles and E-bikes are permitted on the pathway and public roadways. Persons with physical disabilities may use battery-operated transportation on the pathway.
Riding bicycles or other wheeled vehicles in the backcountry is prohibited.
Learn more about the Grand Teton Pathway and Biking in the Park.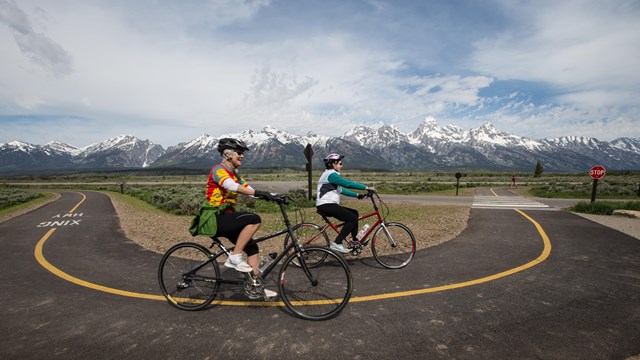 Bike, Hike, Skate
Journey on the Grand Teton Pathway.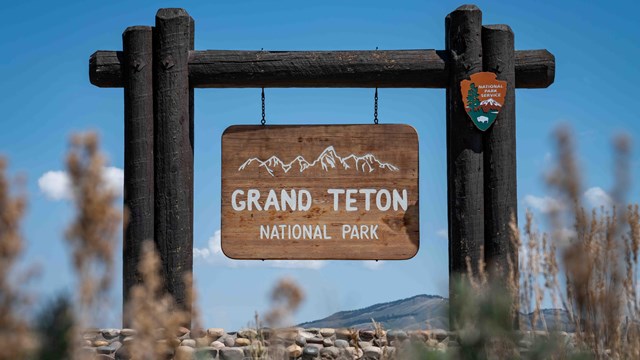 Operating Hours and Seasons
Learn the hours and seasons for facilities in the park.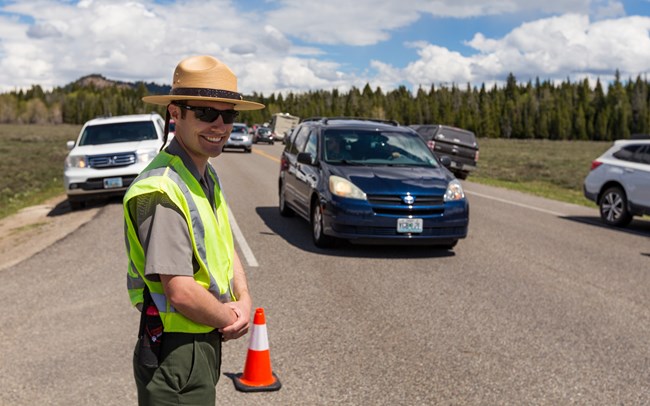 Go For A Drive
Take in the sights of Grand Teton by taking a scenic drive through the park.
Where to go
Drive Highway 26/89/191 for views of the Tetons, the Snake River, and to access Colter Bay.
Head South and use the roundabout to drive towards the town of Kelly to see the Gros Ventre River and to spot wildlife.
Explore the northern part of the park by turning left at Moran Junction.
The Teton Park Road is closed to vehicle traffic between Taggart Lake Trailhead and Signal Mountain Lodge until May 1.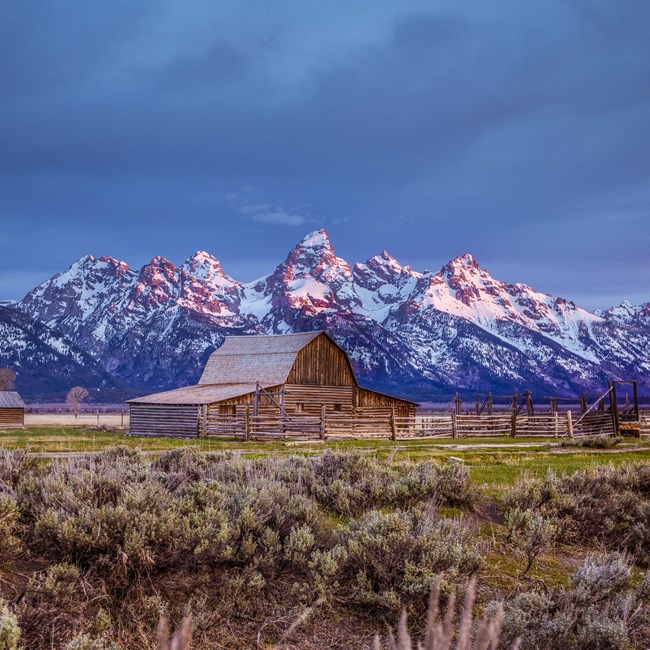 Stroll Through History
Visit these historic locations. Road access is dependent on weather and snow melt.
Mormon Row
Drive out to the intersection of Antelope Flats and Mormon Row to see the iconic Moulton Barn. This barn, along with others along Mormon Row, were built by homesteaders and feature the Teton Range as a backdrop. A bison herd is often in the area. The barns on Mormon Row are some of the most photographed places in the National Park Service.
Menor's Ferry
Visit the Menor's Ferry Historic District to learn about the life of homesteaders in early Jackson Hole and the creation of Grand Teton National Park. Go on an audio tour of Menor's Ferry using the NPS Grand Teton App. General Store, Chapel of Transfiguration, and other buildings are not open.
The Murie Ranch
Olaus and Margaret Murie were two prominent national leaders of conservation. They were instrumental in the creation of the Wilderness Act and several wilderness areas.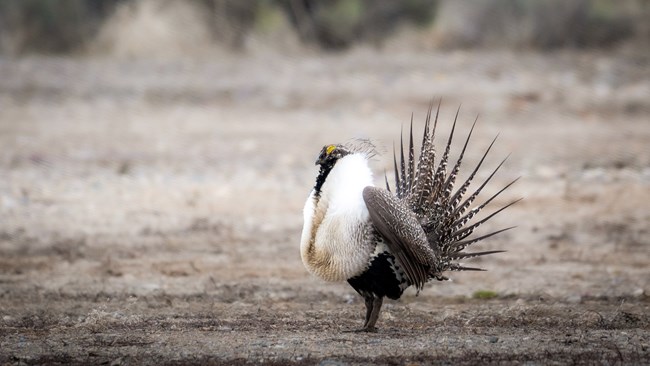 Watch Sage Grouse Strut
Join a ranger led program.

Witness greater sage grouse congregate and perform animated mating displays. Join a park ranger on an early-morning tour to observe strutting sage grouse as they perform their annual mating dance. Ranger-led grouse strut programs will be offered the weekends of April 22-23 and April 29-30. Advanced reservations are required.

For more information and reservations, call 307-739-3399.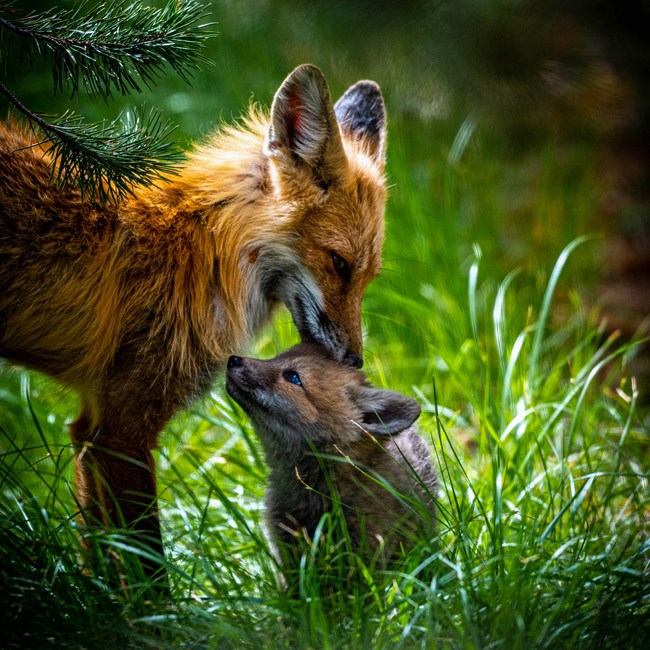 Look for Wildlife
Spring is a great time to see wildlife among wildflowers, sagebrush flats, and meandering creeks. Migrating elk, deer, and pronghorn are common along park roadways.

Give wildlife a brake and follow the posted speed limits.

Wildlife, especially females with young, are unpredicatble and dangerous. Be alert for wildlife and keep a safe distance.
Stay safe while watching Grand Teton's wildlife. They are wild and dangerous.
Roadside viewing is popular, but please keep the road clear. Use pullouts or pull completely off the roadway to the right of the white line.
It is illegal to feed any wildlife, including birds, ground squirrels, bears, or foxes. Wildlife start to depend on people, resulting in poor nutrition and aggressive behavior. If fed, any animal may become unhealthy, bite you, expose you to rabies, or need to be killed.
Always maintain a distance of at least 100 yards from bears and wolves, and 25 yards from other wildlife. Use binoculars or a spotting scope for a good view. Never position yourself between a female and offspring, mothers are very protective. Let wildlife thrive undisturbed. If your actions cause an animal to flee, you are too close.

Be Bear Aware
Grizzly and black bears are waking up in Grand Teton National Park and the John D. Rockefeller, Jr. Memorial Parkway. You may encounter a bear anywhere at anytime. Some of the most popular areas and trails pass through excellent bear habitat. Your safety cannot be guaranteed. Federal regulations require you to stay at least 100 yards (91m) away from bears and wolves, including when you are in your vehicle. Learn more about bears, safe bear viewing and how to properly use bear spray at Safety in Bear Country.
Areas Closed to Protect Wildlife
Multiple temporary and wildlife closures are necessary for protection of wildlife, including bears, moose, elk, bighorn sheep, and waterfowl during critical nesting periods. For the latest closures and maps check the Wildlife Closure page.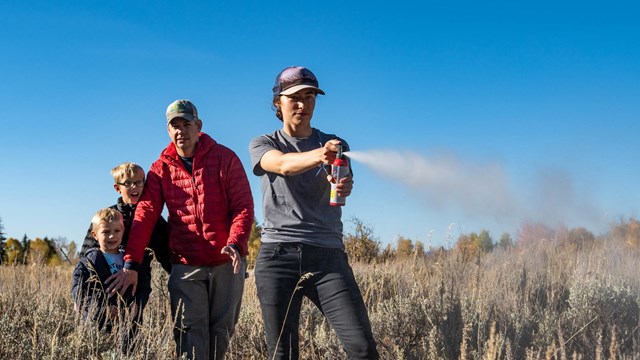 Wildlife Safety
Learn how to stay safe around wildlife.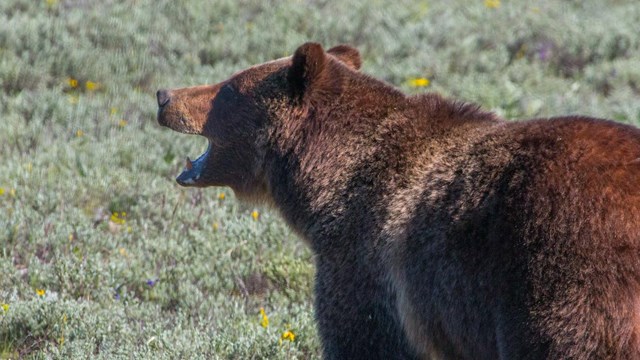 Temporary & Wildlife Closures
Know where you can go. Follow all temporary and wildlife closures.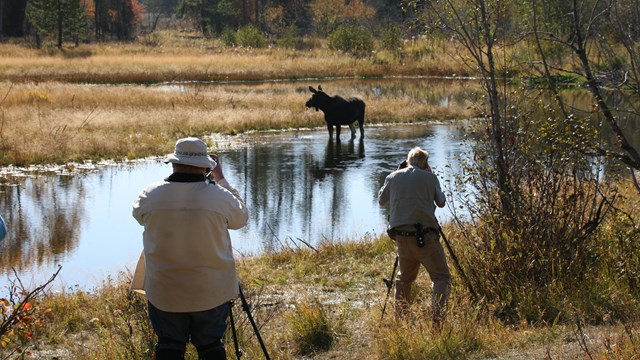 Wildlife Viewing
Learn more about the wildlife in Grand Teton.
"Sprinter" (Spring+Winter)
As winter conditions persist in the park, keep safety in mind when planning to venture into the backcountry.
Safety in the Backcountry
Skiers and snowboarders are reminded that your safety is your responsibility. You must rely on your own good judgment, adequate preparation and constant awareness. Backcountry users should be in good physical condition and stick to routes that are within their ability and comfort levels. Hypothermia and frostbite can set in quickly, and are difficult to care for in the backcountry. Take preventative measures to avoid the dangers of cold weather; look for signs of hypothermia and frostbite on members of your group. Traveling alone can be especially dangerous; always give friends or family a detailed itinerary and stick to your plan. Permits are required for all overnight backcountry trips.
Avalanche & Backcountry Information
If you are planning to travel in the backcountry during the winter and spring, be sure to check the local avalanche forecast. Avoid known avalanche paths. All skiers and climbers traveling in avalanche terrain should be equipped with, and know how to use, an avalanche beacon, probe pole, and shovel. For current conditions, call 307-733-2664 for the U.S. Forest Service avalanche report or go to: bridgertetonavalanchecenter.org.
Hypothermia is caused by exposure to cold and is aggravated by wind, exhaustion, and wet clothing. Warning signs include: uncontrollable shivering, incoherent speech, lethargy, and exhaustion. Remove the victim from the elements as soon as possible. If in doubt, seek immediate medical attention.
For weather information, links to weather forecasts and avalanche reports as well as average temperatures and precipitation, visit the Weather page.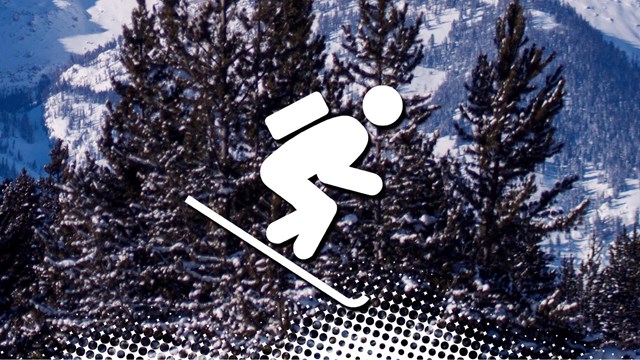 Be Safe in the Backcountry
How to have a safe ski and snowboard in Grand Teton's backcountry.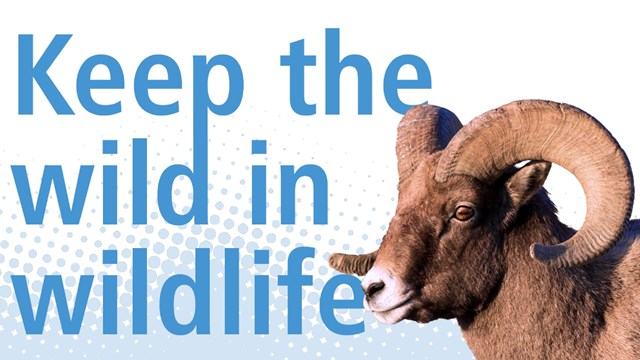 Know Where You Can Go
Protect sensitive winter wildlife by giving wildlife space. Follow all wildlife and temporary closures.
Last updated: May 4, 2023