Biking in the Park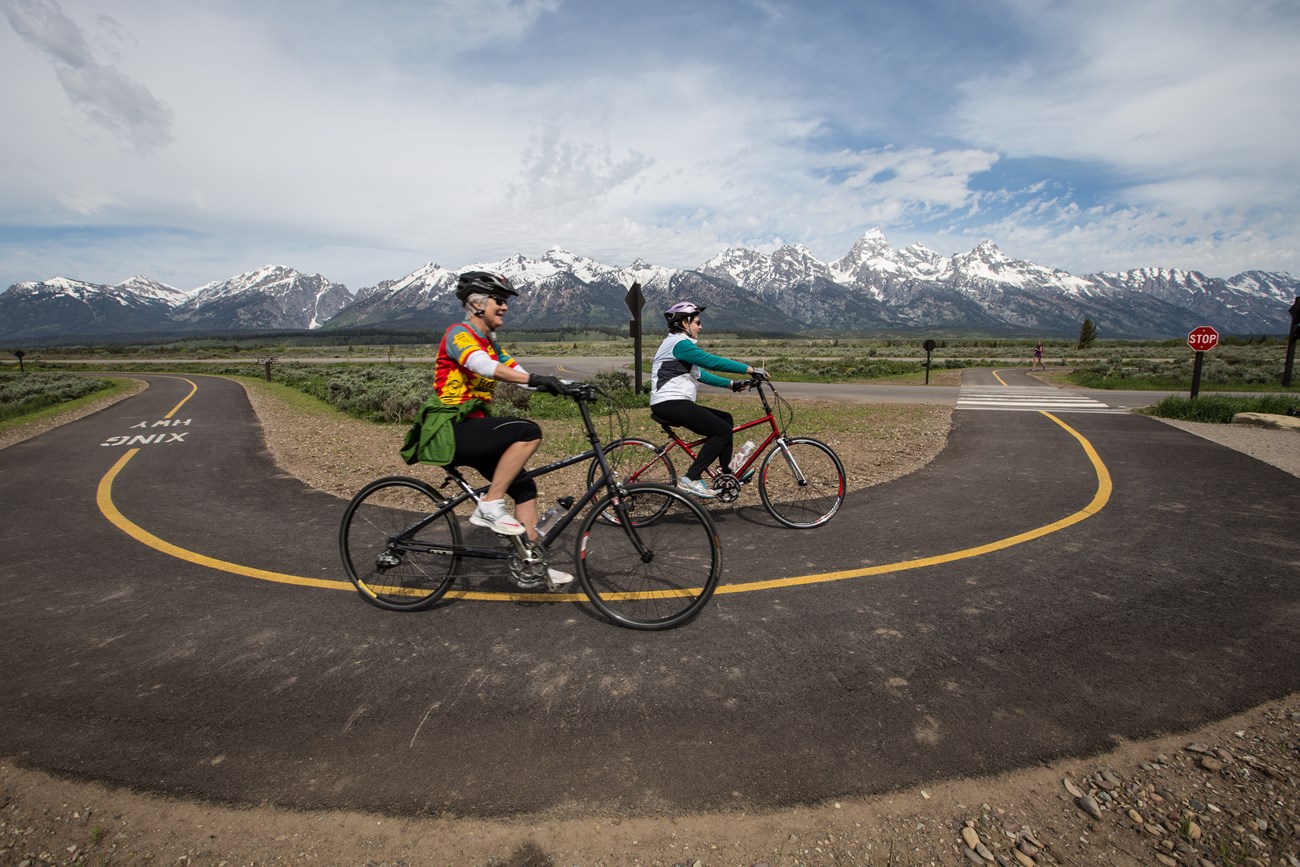 There are few things better than biking on long and winding roads, exploring pathways designed for views, and mountain fresh air to fill your lungs. Biking in Grand Teton is an exhilarating experience for both the expert and beginner. With these safety tips and knowing park regulations everyone can have a great time biking in the park.
The Grand Teton Pathway
Bike, walk, and ride at the base of the Tetons on the Grand Teton Pathway. Explore the park at your own speed while experienceing the grandeur of the Tetons. Travel through the vast sagebrush steppe and feel the exhilaration of the elements.

The pathway extends from the town of Jackson, north to Antelope Flats Road. At Moose Junction the pathway follows the Teton Park Road to Jenny Lake. There are six hubs along the route with parking and bike racks at Gros Ventre Roundabout, Blacktail Butte, Dornans, Moose, Taggart Lake, and Jenny Lake.
The section of pathway through Grand Teton National Park opens seasonally after snow has melted from the pathway surface and park maintenance workers have swept it. The section of the pathway along the National Elk Refuge from Jackson to Gros Ventre Road is closed from November 1 to April 30 due to elk migration.
The Grand Teton Pathway is part of an extensive pathway system through the town of Jackson extending into Teton County. Please visit the Teton County website for maps of the pathway system.
Persons with physical disabilities may use other forms of electric and battery operated transportation.
The pathway is closed from dusk to dawn for wildlife and public safety.
Pets are not permitted on the park pathway. Guide dogs used for the sole purpose of aiding a person with physical disability may travel on the pathway. Ask at a visitor center for suggestions on where to exercise your pet or visit the pets page for a brochure with recommendations and regulations for pets.
Road Biking
Biking is allowed on all paved roads in Grand Teton as well as the Two Ocean Lake Road and Grassy Lake Road (both gravel).

The Teton Park Road is closed to vehicles between the Taggart Lake Trailhead and Signal Mountain from November 1-May 1. This section is open to biking when the road is clear of snow but is not plowed during the winter months. The road re-opens to bikes usually by April 1.

Some roads in the park have only a very narrow shoulder, or lack one altogether. Extreme caution must be used. Ride with the direction of traffic, in a single file line. Be alert for vehicles, wildlife, and other cyclists. See the map below for suggested routes. Be sure to follow park guidelines when biking in the park.

Biking is not allowed on hiking trails in Grand Teton. For mountain biking opportunities, travel into the Bridger-Teton National Forest. Ask for information about area trails at a bike shop.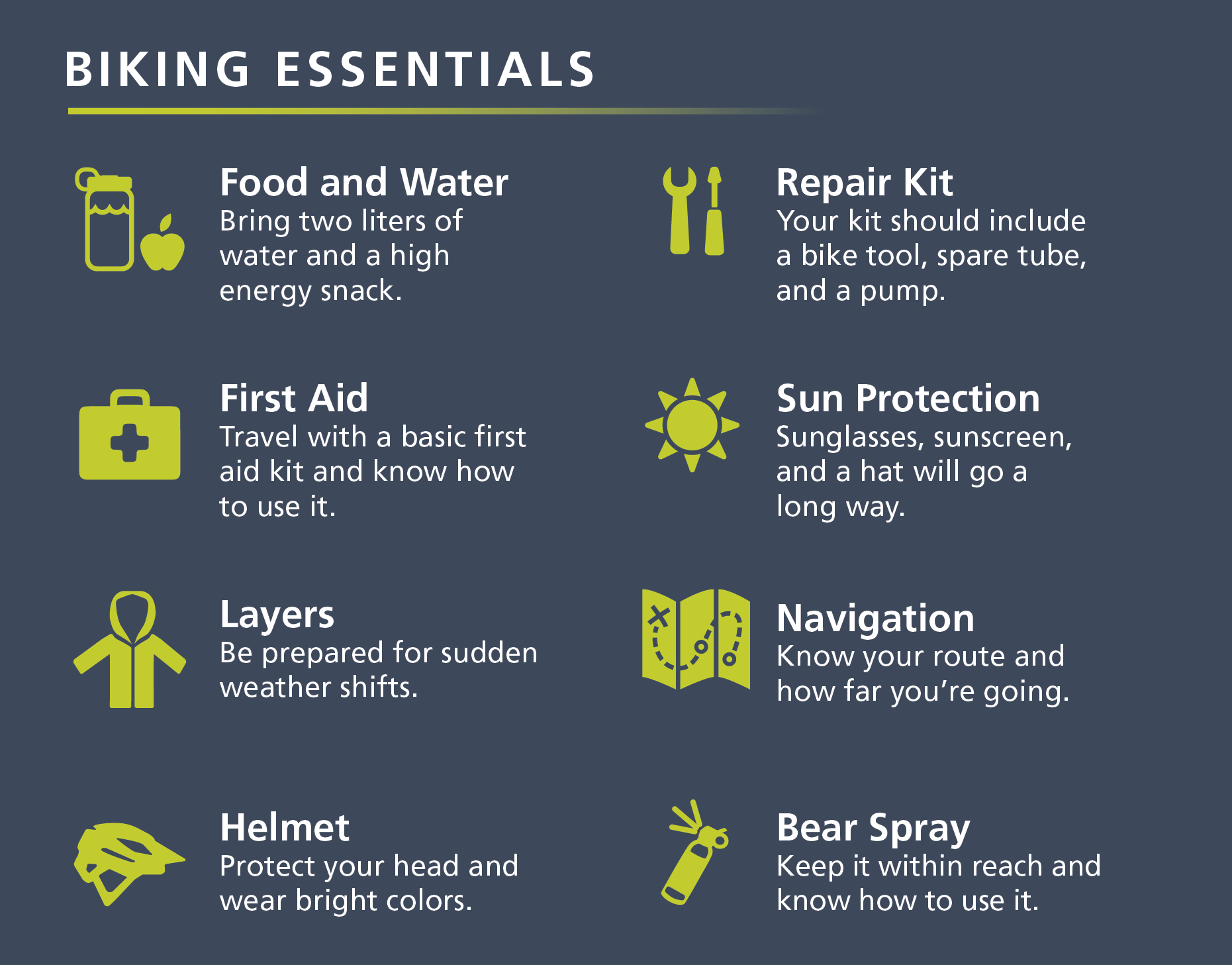 Things to Know
Bicycle Regulations
Bicycle riders in the park and parkway must obey the same rules and regulations that apply to motorized vehicles.
Electric bicycles (e-bikes) are considered bicycles if they have fully operable pedals and an electric motor of less than 750 watts(1hp).
Bicycles are allowed only on paved and unpaved roads and the pathway, unless otherwise posted.
Bicycles are not allowed on any park or parkway trails or in any backcountry areas.
Bicycles are not allowed on roads closed to vehicles except when posted.
Riding a bicycle abreast of another bicycle on paved roads within the park and parkway is prohibited. Ride single file is for your safety and compliance.
During low visibility and between sunset and sunrise, bicyclists must display a white light or reflector from the front and a red light or reflector from the rear. Drivers are often distracted when driving through the park, be aware ride defensively.
A fee is charged when biking into Grand Teton National Park.
Safety Tips
Wear a helmet at all times.
Use hand signals to communicate with drivers.
Maintain control of your speed.
Never leave food unattended, including bike panniers and backpacks.
Animals may be on or near roads or the pathway. Never feed, approach, or harass a wild animal. Maintain a distance of 25 yards from bison, elk, moose, and other animals, and a distance of 100 yards from bears and wolves.
When riding e-bikes, follow all applicable regulations and be aware of these special safety considerations: Mount and dismount the bike carefully. The added weight of the battery and motor assist technology can add 20 or more pounds to the weight of the bike. Obey speed limits. Some e-bikes may exceed park speed limits with the motor engaged. Pay attention to traffic. Drivers may not be aware that an e-bike rider is traveling close to their speed. Slow down at intersections. Make eye contact with other drivers before crossing the intersection.
Bike rentals are available throughout Jackson Hole from multiple vendors and bike shops.
For more information about biking in National Parks, visit the
NPS biking page
.

Additional Grand Teton Information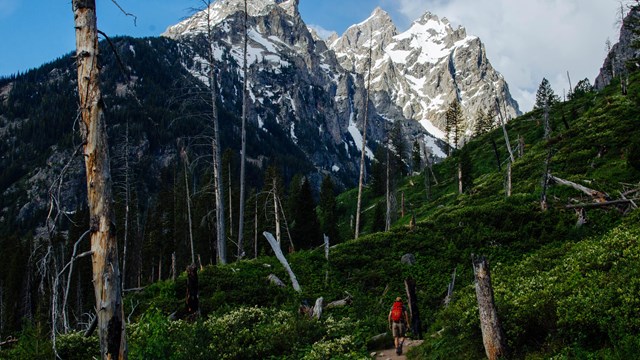 Hike in Grand Teton
Explore hikes throughout Grand Teton National Park.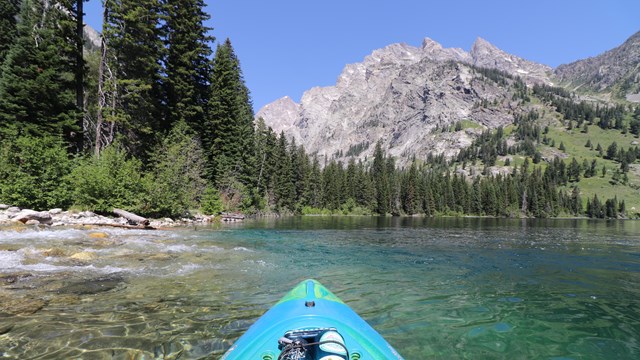 Boating and Floating
Paddle on Jenny, String, Leigh, or Jackson Lake.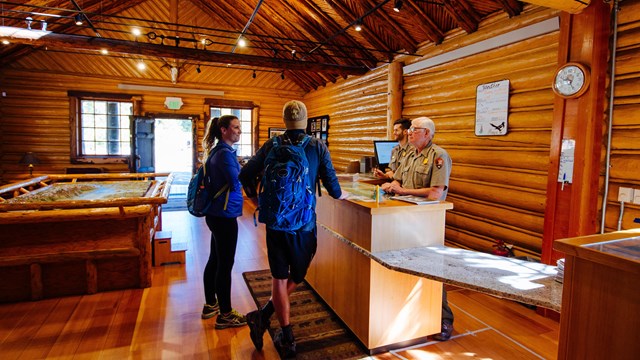 Talk to a Park Ranger
Find a visitor center in Grand Teton.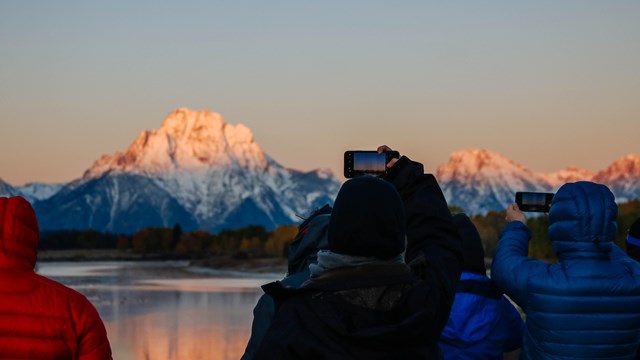 Plan Your Visit
Learn more about Grand Teton and plan your trip here.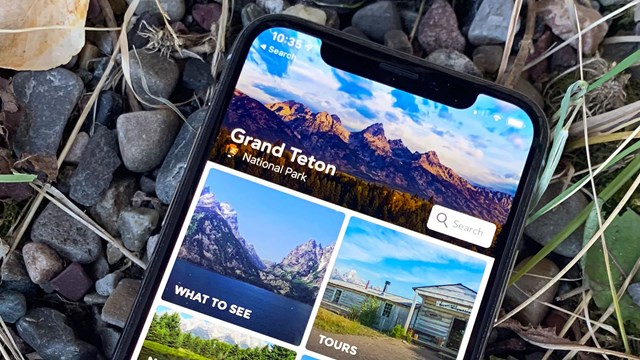 We have an app for that
Download our new app before you get here! Explore Grand Teton and discover places to visit, find a bite to eat, and a place to stay.


Last updated: March 15, 2023