Operating Hours & Seasons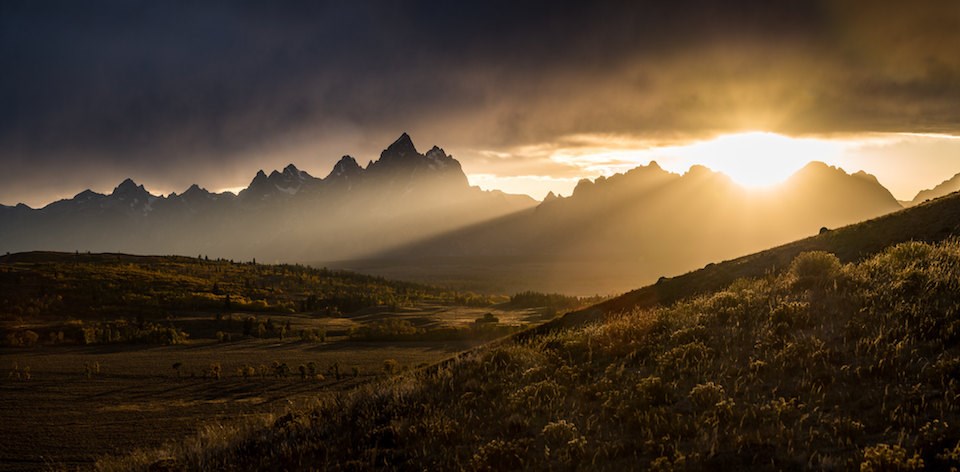 Grand Teton National Park is Open
Grand Teton National Park is open 24 hours every day, year-round. The most popular months to visit are May through September. During the busy summer season, most roads and facilities are open and a full range of programs are available to enjoy. From November through April, some roads, all campgrounds, and most visitor facilities are closed or have reduced hours. Check out the links below for more information. Alerts and other closures also occur please see Alerts & Current Conditions page.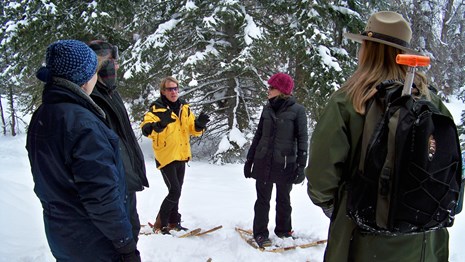 Discover Snow in Grand Teton
Play in the snow! Ski, snowshoe, or go for a walk in this winter playground. Explore winter in Grand Teton National Park.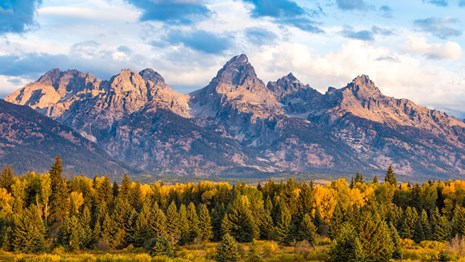 Experience Fall in Grand Teton
See golden aspens and red hawthorns put on a fall color show. Watch elk rut and wildlife migrate. See the grandeur of the Teton's.
---
2020 Season Status and Dates
Facilities and Services
All dates are subject to change. We will continue to evaluate and adapt to changing COVID-19 guidance and adjust operations as needed.
Moose
Facilities/Services

Opening

Craig Thomas Discovery and Visitor Center
Visitor Information, permit, and bookstore
June 16
Exhibits and Auditorium not expected to open.
Aquatic Invasive Species Watercraft Check Point
June 5
Snake River Launch
June 5
Gros Ventre Campground
May 29
Menors Ferry Historic District
Area open for walking. Buildings closed and ferry not running.
Menors Ferry Store
Not expected to open.
Chapel of the Transfiguration
Not expected to open.
Laurance S. Rockefeller Preserve
| | |
| --- | --- |
| Facilities/Services | Opening |
| Laurance S. Rockefeller Preserve Center | Not expected to open. |
| LSR Preserve Parking Area | June 16 |
Jenny, String, and Leigh Lakes
Signal Mountain
Facilities/Services

Opening

Signal Mountain Lodge
Reduced Rooms Available
June 5
Needle Gift Store & Timbers Gift Store
June 5
Signal Mountain Gas Pumps
June 5
Signal Mountain Convenience Store
Take-out food and beverages
June 5
Signal Mountain Campground
June 5
Signal Mountain Showers and Laundry
June 5
Signal Mountain Marina
June 5
Chapel of the Sacred Heart
Not expected to open.
Moran
| | |
| --- | --- |
| Facilities/Services | Opening |
| Aquatic Invasive Species Watercraft Checkpoint | June 5 |
| Deadmans Bar River Launch | June 5 |
| Pacific Creek Landing River Launch | June 5. Closes on August 31 for construction. |
| Jackson Lake Dam River Launch | June 5 |
| Cunningham Cabin Historic District | Area open |
| Triangle X Dude and Guest Ranch | June 7 |
Jackson Lake Lodge
| | |
| --- | --- |
| Facilities/Services | Opening |
| Jackson Lake Lodge and Facilities | Not expected to open. |
Colter Bay Village
Facilities/Services

Opening

Colter Bay Visitor Center
Visitor information, permits, and bookstore.
June 16. Exhibits and auditorium not expected to open.
Colter Bay Campground
June 5
Colter Bay RV Park
June 5
Colter Bay Convenience Store and Gas Station
May 22
Colter Bay Cabins
June 15
Colter Bay Tent Cabins
June 5
Colter Bay Launderette and Showers
June 5
Colter Bay General Store
June 5
Ranch House - takeout food and beverages
June 15
John Colter Cafe Court - takeout food and beverages
June 15
Horseback Riding
Not expected to open.
Colter Bay Marina
June 5
Leeks Marina & Lizard Creek
| | |
| --- | --- |
| Facilities/Services | Opening |
| Lizard Creek Campground | June 12 |
| Leeks Marina | June 5 |
| Leeks Pizzeria | Not expected to open. |
| UWNPS - AMK Ranch | Not expected to open. |
Other Services
| | | |
| --- | --- | --- |
| Facilities/Services | | Opening |
| Mountaineering | Exum Mountain Guides | June 15 |
| Mountaineering | Jackson Hole Mountain Guides | June 15 |
| Overnight Lake/Kayaking | Rendezvous River Sports | June 12 |
| River Fishing Trips | Grand Fishing Adventures | June 15 |
| River Fishing Trips | Grand Teton Fly Fishing | June 5 |
| Scenic Float and Fishing Trips | National Park Float Trips | June 5 |
| Scenic Float and Fishing Trips | Snake River Anglers | June 5 |
| Scenic Float and Fishing Trips | Triangle X Ranch | June 7 |
| Scenic Float | Barker-Ewing Float Trips | June 5 |
| Scenic Float | Heart 6 Ranch | June 5 |
| Scenic Float | Solitude Float Trips | June 5 |
| Scenic Float | Signal Mountain Lodge | June 5 |

Last updated: June 18, 2020