Operating Hours & Seasons
Grand Teton National Park is Open
Grand Teton National Park is open 24 hours every day, year-round. The most popular months to visit are May through September. During the busy summer season, most roads and facilities are open and a full range of programs are available to enjoy. From November through April, some roads, all campgrounds, and most visitor facilities are closed or have reduced hours. Check out the links below for more information. Alerts and other closures also occur please see Alerts & Current Conditions page.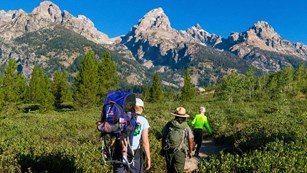 Your Mountains are Calling
Grand Teton has a lot to offer whatever your interests. Explore the Plan Your Visit pages to help with your trip planning.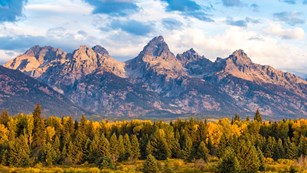 Experience Fall in Grand Teton
See golden aspens and red hawthorns put on a fall color show. Watch elk rut and wildlife migrate. See the grandeur of the Tetons.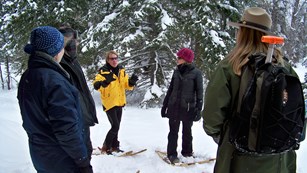 Discover Snow in Grand Teton
Play in the snow! Ski, snowshoe, or go for a walk in this winter playground. Explore winter in Grand Teton National Park.
---
2021 Season Status and Dates
Facilities and Services
All dates are subject to change. We will continue to evaluate and adapt to changing COVID-19 guidance and adjust operations as needed.
Moose
Facilities/Services
Opening
Closing
Craig Thomas Discovery and Visitor Center
Visitor Information, permit desk, and bookstore open daily. Exhibits open.
May 1
October 31
Aquatic Invasive Species Watercraft Check Point
May 22
September 12
Moose Landing, Snake River Launch
April 1, Spring opening of wildlife closure
December 14, Winter wildlife closure
Gros Ventre Campground
April 30
October 10
Menors Ferry Historic District
Area open for walking.
Menors Ferry Store
Not expected to operate.
Chapel of the Transfiguration
May 8
Laurance S. Rockefeller Preserve
| | | |
| --- | --- | --- |
| Facilities/Services | Opening | Closing |
| Laurance S. Rockefeller Preserve Center | May 30 | September 26 |
| LSR Preserve Parking Area | May 1, Spring opening of Moose-Wilson Road | October 31, Winter closure of Moose-Wilson Road |
Jenny, String, and Leigh Lakes
Signal Mountain
Facilities/Services

Opening

Closing

Signal Mountain Lodge
May 14
October 17
Needle Gift Store & Timbers Gift Store
May 14
October 17
Signal Mountain General Store and Gas Station
Groceries and camping supplies. Gas pumps open 24/7, self service.
May 14
October 17
Signal Mountain Campground
May 14
October 17
Signal Mountain Showers and Laundry
May 14
October 17
Signal Mountain Marina
May 22
September 6
Chapel of the Sacred Heart
Check locally for opening
Moran
Facilities/Services

Opening

Closing

Aquatic Invasive Species Watercraft Checkpoint
May 22
September 12
Deadmans Bar, Snake River Launch
April 1, Spring opening of wildlife closure
December 14, Winter wildlife closure
Pacific Creek Landing, Snake River Launch
Area open
Jackson Lake Dam, Snake River Launch
Area open
Cunningham Cabin Historic District
Area open
Triangle X Dude and Guest Ranch
May 22
October 6
Jackson Lake Lodge
| | | |
| --- | --- | --- |
| Facilities/Services | Opening | Closing |
| Jackson Lake Lodge | May 17 | October 3 |
| Mural Dining Room | May 17 | October 3 |
| Pioneer Grill | June 7 | October 3 |
| Jackson Lake Lodge Corrals | June 15 | September 28 |
| Jackson Lake Lodge Shops | May 17 | October 3 |
Colter Bay Village
Facilities/Services

Opening

Closing

Colter Bay Visitor Center
Visitor information, permits office, and bookstore open daily. Exhibits are open.
May 7
October 4
Colter Bay Campground
May 24
September 26
Colter Bay RV Park
May 6
October 3
Colter Bay Convenience Store and Gas Station
Gas pumps open 24/7, self service.
April 17
October 10
Colter Bay Cabins
May 24
September 26
Colter Bay Tent Village
May 24
September 6
Colter Bay Launderette and Showers
May 6
October 3
Colter Bay General Store
May 24
September 26
Ranch House
May 24
September 26
John Colter Cafe Court
May 24
September 20
Colter Bay Corrals
June 15
September 5
Colter Bay Marina (water levels permitting)
May 24
August 14
Leeks Marina & Lizard Creek
Facilities/Services

Opening

Closing

Lizard Creek Campground
June 11
September 13
Leeks Marina
May 22
September 6
Leeks Pizzeria
June 18
September 12
UWNPS - AMK Ranch
Closed for construction 2021 season
Rockefeller Parkway, Flagg Ranch

Last updated: September 10, 2021