Temporary & Wildlife Closures
Please check the Superintendents Compendium page for additional restrictions and laws. If you have specific concern or question about a closure please call 307-739-3399.

Seasonal Closures
Grassy Lake Road within the John D. Rockeffler, Jr. Memorial Parkway from Flagg Ranch residential intersection to the west boundary of the parkway. (From the end of the Yellowstone winter use season (generally March 15) through May 31 (or later as posted due to remaining snow conditions))

Willow Flats is closed to public entry from May 15 to July 15 or when posted.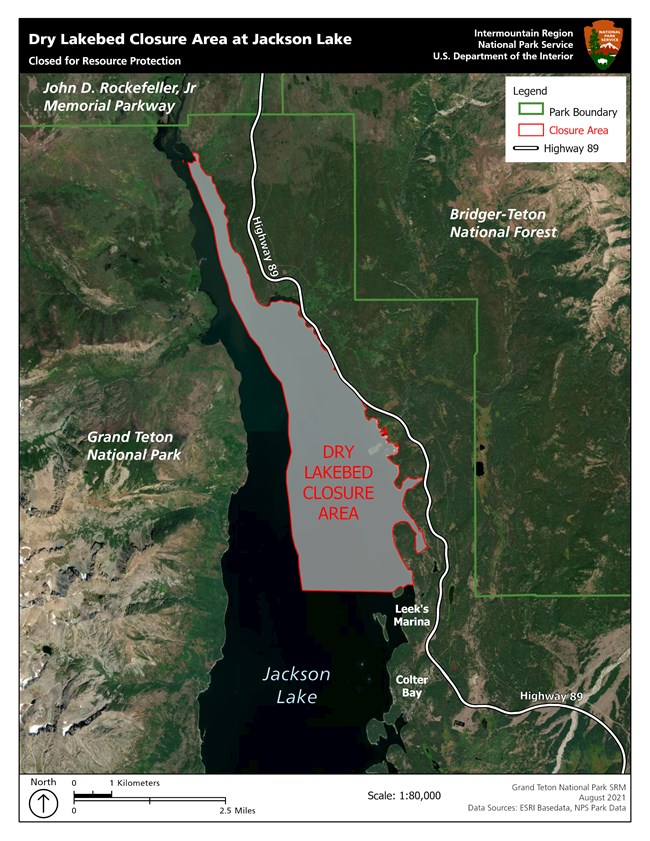 Dry Lakebed Closure Area at Jackson Lake
The area commonly referred to as the dry lakebed portion of Jackson Lake, below the high-water mark, north and west of Leeks Marina, to the boundary of the John D. Rockefeller, Jr. Memorial Parkway is closed. Dry lakebed access at Leeks Marina remains open. A public closure for the areas of Jackson Lake exposed by low-level conditions will help to preserve at risk resources. This closure is necessary to protect sensitive resources due to low water levels. The closure will be in place until the presence of season-persisting snow cover.
Last updated: October 1, 2021