Safety in Bear Country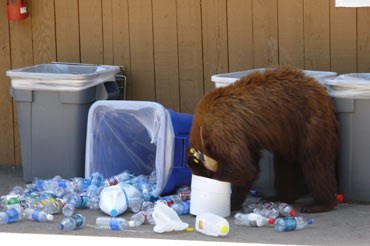 Exploring Bear Country
Black bears and grizzly bears thrive in Grand Teton National Park and the John D. Rockefeller Jr. Memorial Parkway. You may encounter a bear anywhere at anytime. Some of the most popular trails pass through excellent bear habitat. Bears will usually move out of the way if they hear you approaching.
Your safety is important to us.
Please read our bear safety brochure before hiking or camping in the park.
Food Storage
When not in immediate use, store all items with an odor in a bear-resistant food storage locker or in a hard-sided vehicle with doors locked and windows closed day and night. Do not leave coolers in the back of a truck or strapped to a rack. Only have the items out that you are actually using, and restore them when finished.
Never store food, garbage or toiletries in tents. Improperly stored or unattended food will be confiscated and you could be cited and fined. Properly store food, drinks, coolers & food boxes, stoves & grills, cookware (clean or dirty), toiletries including bug repellent and sunscreen, pet food and bowls. Place all garbage in a bear-resistant dumpster.
Bear Aware!
It all smells to a bear, please take care and lock it up! If in doubt, store it. Immediately report careless campers and all bear sightings to the campground kiosk or nearest ranger.
More information about bears in the park:
A number of books provide information on hiking and camping in bear country. Visit Grand Teton Association to purchase books.
Last updated: January 6, 2020