Road Information
FOR THE MOST UP TO DATE ROAD INFORMATION
Grand Teton road information call 307-739-3682
For Wyoming Department of Transportation (WYDOT) Road Information call 1-888-WYO-ROAD, 511 from your cell phone or http://www.wyoroad.info
NEWS RELEASES: click here
SEASONAL ROAD CLOSURES
The Teton Park Road from Taggart Lake Trailhead to the Signal Mountain Lodge is closed to motor vehicles from November 1 through April 30. The Signal Mountain Summit Road and Moose-Wilson Road from the Death Canyon Trailhead to the Granite Canyon Trailhead are closed to motor vehicles from November 1 until road and weather conditions permit, usually sometime around mid-May. Other roads such as Antelope Flats, Deadmans Bar, Grassy Lake, Pilgrim Creek, Schwabacher, and Two Ocean are closed seasonally based on conditions. Check at visitor centers or call 307-739-3682 for the most up-to-date information.
YELLOWSTONE ROADS
For Yellowstone National Park road information, check online Yellowstone Live - Roads or phone 307-344-2117. During winter, the roads in Yellowstone are closed to motorized vehicles except the road from Mammoth Hot Springs to Cooke City, MT.
PATHWAY CLOSURES
Paved multi-use pathways throughout the park are open whenever predominately free of snow and ice.
SEASONAL ROAD CONSTRUCTION
Each summer Grand Teton National Park works on road construction projects to improve visitor experiences. For the latest road construction information, read below or call 307-739-3682.
Pavement Preservation: Summer and Fall 2019
Updated 8/16/19
Weekend work will take place on Saturday, August 17. Work will take place on the north park road, beginning at Colter Bay Junction and traveling south. Work will include micro-surfacing, which is a smoother surface, similar to pavement. Motorists should expect up to 30-minute delays as the highway is reduced to one lane of travel. Work will take place between 8 a.m. and 7 p.m.

Beginning next week, August 19:

1) Road construction crews will continue to micro-surface between Sargent's Bay Turnout and Jackson Lake Junction. Motorists should anticipate up to 30-minute delays.

2) Crews will then move to micro-surface Leeks Marina Access Road. Visitors should expect 15-minute delays.

3) Once the micro-surfacing work is completed, crews will return to fog-sealing and striping the remaining sections of highway, including Spread Creek to Elk Ranch Flats, Moran Junction to Jackson Lake Junction, and Sargent's Bay to the southern boundary of the John D. Rockefeller Jr. Memorial Parkway. Motorists should anticipate up to 15-minute delays. Work will take place between 7 a.m. and 8 p.m.

Travelers are advised to drive slowly and maintain the recommended speed limit. Visitors can expect temporary delays and reduced speed limits in these mobile construction zones.

Visitors can call the park road information line at 307-739-3682 or visit the park's Facebook and Twitter accounts to get information about road work locations in the park. Road work locations are subject to change. All work is weather and temperature dependent. Once fog sealing has been completed, road crews will begin striping work, as well as work on pathways and pullouts.

In addition to the pavement preservation work, the final phase of emergency repairs related to the June 2017 washout of the Gros Ventre Road will occur late this summer. Work is expected to begin in late-August.

Thank you for your patience as we conduct preventative road maintenance.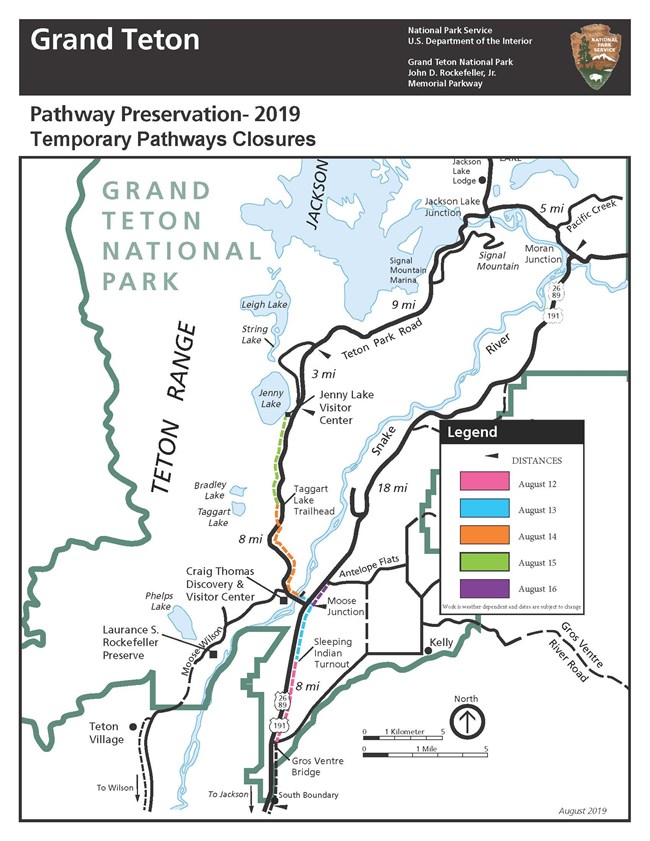 Pathways Preservation: Closures August 12-16
Beginning Monday, August 12, through Friday, August 16 visitors will see minor closures along the pathways located in Grand Teton National Park. Park pathways will be closed in five phases, beginning at the Gros Ventre Roundabout and proceeding north. Each phase will last one day.
Work on the pathways will consist of minor asphalt patching and fog sealing. While sections of the pathways are closed, visitors will be directed to ride on the road with regular traffic. Visitors are encouraged to plan ahead and use sections of the pathways that do not have closures. All work is weather dependent.


Last updated: August 16, 2019