Park Roads
Grand Teton National Park covers nearly 310,000 acres of mountains, lakes, and plains including the major peaks of the Teton Range and the northern half of the valley of Jackson Hole. Grand Teton is open all year, though some areas of the park are inaccessible by car from approximately November through May due to seasonal winter closures.
Grand Teton Road Status Map
The map below shows the status of park roads and road construction. Click on a road segment or colored icon for more detailed information. Conditions in Grand Teton can change quickly, especially during winter. Updates to this map may be delayed, so check back often. Short-term road closures and delays may not be shown on this map. For addtional real-time road status check with the following: For Wyoming Department of Transportation (WYDOT) Road Information call 1-888-WYO-ROAD, 511 from your cell phone or http://www.wyoroad.info .
Below is only a short list of road status definitions, for additional details please see WYDOTs definitions.
No Unnecessary Travel 
The road is open but travel is not recommended due to hazardous driving conditions. Generally, this advisory is posted during winter months due to extremely icy conditions, when visibility is limited due to blowing snow, or when a combinations of conditions makes travel ill-advised.
Reduced Visibility
 Visibility less than 400 feet for any reason.
Dry
 The road is free of puddles and standing water.
Wet
 There are puddles and standing water present; spray coming off cars.
Slick
 Long, continuous sections of icy or snow packed roads. Greater than 50% of road section is icy or snow packed.
Slick in Spots
 Short, non-continuous sections of icy or snow packed road. Less than 50% of road section is icy or snow packed.
Drifted Snow
 Drifts of any size that cross the white line and cause a driver to feel a bump or a pull on the steering wheel.
Blowing Snow
 Snow propelled by the wind across or along the road surface at least 1 foot above the ground.
Black Ice
 A thin coating or glaze of ice on the road that is particularly dangerous as it may appear to be a film of water or may not be visible/discernible at all.
Road Construction
Each summer Grand Teton National Park works on road construction projects to improve visitor experiences. For the latest road construction information, call 307-739-3682.

Moose-Wilson Road Construction
The southern portion of Moose-Wilson Road between Granite Canyon Entrance and the LSR Preserve is under construction. It is open to through traffic with possible 20-minute delays. Granite Canyon Trailhead is closed, seek alternatives. More Information.
Yellowstone Roads
For Yellowstone National Park road information, check online Yellowstone Live - Roads or phone 307-344-2117. During winter, the roads in Yellowstone are closed to motorized vehicles except the road from Mammoth Hot Springs to Cooke City, MT.
---
Winter Road Information
Winter driving may be challenging; park roads are often covered with ice or hard-packed snow; winter storms create white-out driving conditions. Make sure your vehicle is equipped with winter or all-season tires and carry tire chains when driving over mountain passes. For updated road information in the park call: 307-739-3682. For Wyoming Department of Transportation information, visit their website: http://www.wyoroad.info/ or call 1-888-WYO-ROAD (only available in Wyoming) or 307-772-0824 or 511 on your cell phone.

The park's main roadways, Highway US 89/191 and Highway US 26/287, are plowed and open for winter travel from the town of Jackson to Flagg Ranch just south of Yellowstone National Park. These travel routes offer outstanding mountain vistas and wildlife viewing opportunities. Park roads are often snow-covered and icy. Be prepared for winter driving conditions and carry a winter safety kit in your vehicle for emergencies. In addition, wildlife can linger near park roads, so be alert, and drive slowly for their safety and yours.
Seasonal Road Closures
Roads in Grand Teton close in the winter for recreational use and to provide corridors for wildlife. The Teton Park Road and Moose-Wilson Road close on a schedule, see below. Other roads close based on conditions.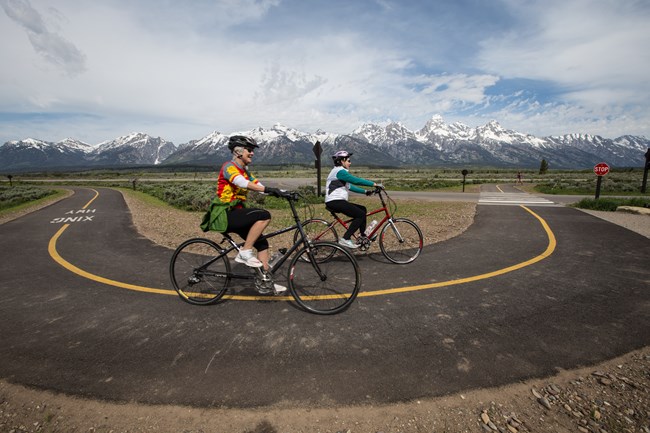 Grand Teton Pathways
The paved Grand Teton Pathways throughout the park are open whenever predominately free of snow and ice. Use of the pathway is prohibited at night, specifically from 1/2 hour after sunset to 1/2 hour before sunrise. For information check out the Biking in the Park.
Road and Transportation News


Last updated: August 2, 2023