Backcountry Camping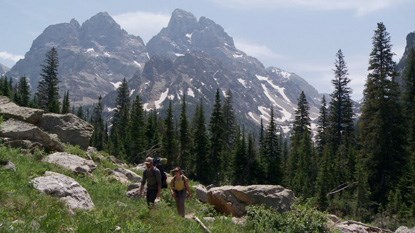 Backcountry reservations go live on the Monday, Feburary 11 at 8 am MST.

A trip into the backcountry requires advance planning. Download the backcountry trip planner for more details. Park-approved bear canisters must be used in the backcountry. The park provides canisters free of charge for use in the park. Visit the Backcountry Reservations page to learn more about the reservation process and submit a reservation. To learn more about current conditions visit the Jenny Lake Climbing Rangers blogspot.

BACKCOUNTRY VIDEO
Watch the park's new video to help plan your adventure to the high country in Grand Teton National Park. Learn about safe travel, camping in bear country, clean camping practices and summer weather. Follow this link to the video. MORE

When planning a backcountry camping trip in Grand Teton National Park, backpackers should expect to travel no more than 2 miles per hour. Add an additional hour for every 1,000 feet of elevation gain. Also, trip planning that requires going over more than one pass in a day is not recommended.
All backcountry camping requires a permit. Backcountry camping permits are issued on a first-come, first-served basis no more than one day before the start of your trip. Apply for a permit at the Colter Bay and Craig Thomas Discovery and visitor centers, and at the Jenny Lake Ranger Station. Climbing permits are NOT required, but backcountry camping permits are required for all climbing that involves overnight camping. Backcountry camping permits while climbing or mountaineering must be obtained at the Jenny Lake Ranger Station during the summer.
Fees
$45 for advanced reservations, booked through Recreation.gov
$35 for walk-in permits
Bear-proof Canisters Required for Overnight Stays
Backpackers are required to carry approved bear-resistant canisters except where food storage boxes are provided.
On some specific alpine routes where a climber is bivouacing on a high rocky ledge where bears cannot go, park-approved bear canisters may not be required. Bear-resistant canisters are provided by the park or visitors may use any of the following approved canisters during the overnight stays in the park backcountry.
Watch our video podcast about food storage.

To find out which food storage canisters are currently approved by the Interagency Grizzly Bear Committee, go to the Safety in Bear Country page.

Reservations

Requests for advance reservations are only accepted beginning Monday, Feburary 11 through May 15. All reservations are processed through the website Recreation.gov in real-time.
A non-refundable service fee of $45 will be charged for each reservation (fee is per trip, not per person). One-third of the sites are reserved in advance, leaving two-thirds available for walk-in permits. Walk-in permits will be assessed a $35 fee per trip.
Some camping zones fill quickly. Download the backcountry trip planner to review regulations and a map showing the authorized camping zones. Individual party reservations can consist of up to six people. Groups of 7-12 people must camp in designated group sites indicated on the brochure map. View maps of the backcountry camping zones.

Backcountry Regulations
Pets, bicycles and vehicles are not allowed on trails or in the backcountry.
All overnight camping requires a permit.
Carry out all of your garbage.
Prevent erosion by hiking on established trails. Cutting switchbacks causes soil erosion.
Horses have the right-of-way. Step off the trail and remain quiet while horses pass.
Observe and photograph wildlife from a safe distance. Do not approach or feed animals.
Prevent contamination of waterways by burying feces in a hole 6-8 inches deep at least 200 feet from streams and lakes. Pack out used toilet paper, tampons, sanitary napkins and diapers in sealed plastic bags. Do not bury or burn them.
All backpackers must carry and use an approved bear-proof canister. For more information see the Bear Safety page.
For Your Safety
This is bear country. Make bears aware of your presence and avoid surprising them by making loud noises like shouting or singing. Please watch our "Which Bear Did I See?" and "Protect Wildlife, Keep Your Food Safe" videos.
Carry drinking water. Bring tablets or water filtration devices to purify water in the backcountry.
Be prepared for rapid weather changes; bring rain gear and extra clothing. Thunderstorms occur frequently during the summer. Please watch our "Summer Weather" video for more information.
High elevation may cause breathing difficulties; pace yourself.
Snow melts gradually, leaving valley trails by mid-June, canyon trails by late July. Be careful crossing snowfields and streams.
Tell someone where you are going and when you expect to return.
Solo hiking and off-trail hiking are not recommended. Check with a ranger for current information on trail conditions.
Avoid Crowds

During July and August trailhead parking areas fill early, especially at South Jenny Lake, String Lake, Lupine Meadows, Death Canyon and Granite Canyon. Parking on natural vegetation results in permanent damage to plants; violators will be ticketed. In paved parking lots, parking illegally will also result in a ticket. An early start will help you avoid parking problems.


Last updated: February 11, 2019