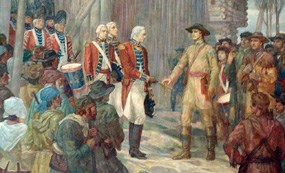 A 30-minute movie on Clark's western campaign is offered every 1/2 hour. This film, Long Knives, is a great way to learn about Clark's exploits in the Illinois Country and is a good way to begin a visit.
A six-minute audio program is provided in the Clark Memorial. This program will guide you through the seven murals and the story they represent. Additionally, there is a special audio tour of the Memorial focused on its unique architecture. For more information, click here.
The visitor center offers brochures, maps, handouts, and other information about the history, the people, and other sites. Exhibits within the building explore Fort Sackville, the various cultures involved in the Clark story, and other facets of the conquest of the Northwest Territory.
Costumed living history programs are randomly offered. These programs frequently are available for groups (please call ahead.) Please note that large groups are encouraged to make reservations. Group reservations